Forza Horizon 3 update brings stability improvements and bug fixes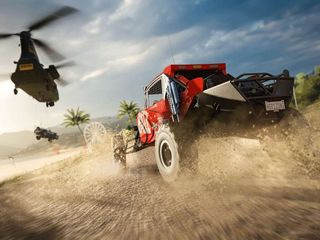 Forza Horizon 3 is about to receive its second update since launch, with a range of fixes and improvements on both Xbox One and Windows 10. The patch aims to primarily improve performance across a range of PC hardware, while also implementing various bug fixes and balancing tweaks on both platforms.
Today's update will begin rolling out to both Xbox One and Windows 10 owners from 7 p.m. PT.
Here's a full list of what's changed in the update:
Stability
Fixed an issue where having a microphone enabled in the game but no speech pack installed would cause the title to crash on Windows 10
Fixed an issue that would cause a game crash for some Windows 10 players when entering Maroondah Road Bucket List event
Fixed an issue that would cause a game crash for some Windows 10 and Xbox One players when joining online Bucket List Blueprint challenges with mismatched DLC
Fixed an issue that would cause a game crash for some Xbox One players when pausing the game
Fixed an issue that would cause a game crash for some players when collecting Loyalty Rewards while in a Convoy
Fixed an issue that would cause a game crash for some players when using the AMD R9 Fury X graphics card on Windows 10
Fixed a TDR for Windows 10 players
Performance
Players running four-core setups on Windows 10 should see CPU improvements
Improved thread layout changes for eight-core setups on Windows 10, resulting in improved performance
Improvement to performance in upgrades and tuning screens on Windows 10
Fixed a stall when driving in Byron Bay on Windows 10
Stall fixed when applying Drivatar liveries while driving on Windows 10
Stall fixed when driving in free roam on Xbox One
Wheel Support
Improvements to force feedback dead zone and FFB performance when driving on tarmac on both Xbox One and Windows 10
Fixed a bug so that wheel button prompts now match the in-game bindings on Windows 10
Actions that must be mapped are now identified in the UI and number of actions that must be mapped has been reduced on Windows 10
General Improvements
Fix for photo mode being blurry for some Windows 10 players
Groove music playback improvements on Xbox One
Upgrade basket UI now supports mouse input for Windows 10
Fix for bug that prevented Windows 10 players from progressing past the Start screen with no internet connection
Added Master Volume option for Windows 10 players
Fix to Advanced Camera functionality in left and top views in Paintshop (Xbox One and Windows)
Fix to enable Rewind when returning from Co-Op to Solo (Xbox One and Windows)
Added option to mute microphones in-game (Xbox One and Windows)
Player can now continue driving when fuel runs out (Xbox One and Windows)
Gameplay Changes
Horizon Edition cars that boost either Skills or XP no longer provide a benefit in Online Adventure
Fixed an issue where the Perk "The XP Bump" worked in Online Adventure. Now it provides no benefit outside of single player racing
Added a 30-second cooldown to the Drift Tap Skill
Reduced the amount of XP awarded for banking Skill Chains
Reduced 3-Star score target on the following Drift Zones: Mountain Scramble, Mountain Foot, Reservoir, and Gold Mine
Previous Horizon Edition cars removed from Wheelspins; new Horizon Edition cars added. The new HE cars are the BAC Mono Horizon Edition , Chevrolet Corvette Z06 Horizon Edition, Lamborghini Countach LP5000 QV Horizon Edition, Mercedes C 63 AMG Coupé Black Series Horizon Edition, MG Metro 6R4 Horizon Edition, MINI Cooper S Horizon Edition, and the Subaru Impreza 22B STi Horizon Edition
Added the name of the current Championship to Car Select in Online Adventure to help players choose a suitable car
Horizon Edition cars display the correct bonus for Wheelspins
Fixed an issue where the Landmarks stat was incorrectly listed as 21 instead of 19, stopping players reaching 100 percent complete
Today's changes follow an update that released earlier this month, which mostly focused on improving performance on the Windows 10 version of Forza Horizon 3. It appears Playground Games is still targeting the PC version with these patches, which launched in a less stable state than its console equivalent.
How is Forza Horizon 3 running on your PC? Make sure to let us know how today's update affects your performance!
See on the Microsoft Store (opens in new tab)
Matt Brown is Windows Central's Senior Editor, Xbox & PC, at Future. Following over seven years of professional consumer technology and gaming coverage, he's focused on the world of Microsoft's gaming efforts. You can follow him on Twitter @mattjbrown.
Fuel can run out? I've played for hours and never noticed that.

I was thinking the same thing!?

I believe you have to set your damage to simulation for that to have any effect.

"Reduced the amount of XP awarded for banking Skill Chains" why?

To encourage actual racing rather than skill chain farming.

A sort of exploit was found where by using the right combination of perks, car and performing a drift while driving against a long wall resulted in lots of xp earned in a short time. If done right you could level up about 100 times by exploiting this for about 50 minutes or so. Also this is the reason why they are limiting the "drift tap" skill to once every 30 minutes since it was the heart of the exploit. Posted via the Windows Central App for Android

Damn, they always remove these by the time I end up playing a game. =P

I am so close to buying the ultimate edition! I love the demo on the Xbox One, loved Horizon 2 and my new EVGA GeForce GTX 970 SC GAMING ACX 2.0 just arrived today and it plays Forza 6 APEX at 60FPS max settings at 1080p. I can only imagine Horizon 3, nearly maxed at 1080p. This seems like the perfect storm for me to part with $100+.....I.....must......resist! Fortunately, I'm going out of town this weekend so that makes it easier not to buy the game! Wallet, spared. It's great to see timely updates for the Xbox One and Windows 10 versions.

Hold your horses. People on the Forza forums have reported that they have massive performance issues even though they were able to run Forza 6 on ultra settings. You should try the demo when it is released before buying the expensive edition of FH3.

Thank you for the info. I wasn't aware of that. I'll look into it. I hope the PC demo is released sooner rather than later.

I hope this fixes the bug for me where my groove music playlist would start randomly skipping like it was a scratched cd

My groove playlist is unplayable because of the skipping.

Works a lot better just to play Groove music seperately and forget the radio.

You can blend the volume of Groove into the game much easier by using the in game audio settings.

Just got a controller for my W10 laptop. Bought this game immediately. Unfortunately vid card won't let me run it full-on. Still looks great though.

Can i play forza in my Windows 8.1 tablet?

The Windows version of Forza Horizon 3 is for Windows 10 and, available through the Windows 10 Store. The game is not available for Windows 8.1.

No, the game requires Windows 10.

Can upgrade my tablet 8.1 to windows 10?

You can upgrade to Windows 10, but you'll need to pay the Windows 10 licence fee. I'm assuming you didn't take the free upgade offer (because if you did, you wouldn't ask) which was available for a whole year. And even if you upgrade to Windows 10, a mere tablet device can't handle a triple A title like Forza Horizon 3. Keep in mind that, this isn't just an average mobile racing game like Asphalt which is around 1.5 GB in size, where Forza would take around 60 GB.

Thank you.. True the forza is 60GB .. So im stay on windows 8.1 instead go to windows 10?

This game is an absolute disaster on Windows 10. It's a stuttering mess on a GTX 1080 and 6 core CPU. It's a horrible port and a disgrace to both Microsoft and Turn10. AVOID. However, if you want to run it exclusively on an Xbox One then it is an excellent game. It just should never have been released on Windows 10 until it was ready. 3 patches in and it's still unplayable on high end hardware.

Wow, I'm surprised it doesn't run well. I have been playing gow4 on my Xbox and decided to swing over and play on my of some. My old 4gb gtx760 plays it at 1440p high settings at around 45-50fps without any issues. I was actually thinking about finishing up the game on oc bc it looked better. Sorry to hear you are having issues with fh3. As both are 1st party studios I would have thought they would pretty much be in the same boat in pc performance.

Yeah I'm running a 1070 with quad core and I can only do high at 1080p while maintaining like 30-45 fps. I'm wondering if its an issue with the GTX 1000 series GPUs. Anyone else with current gen Nvidia GPUs having a good experience?

i guess you just have to be lucky because after this patch im running it fully maxed at around 40-50 FPS, this patch improved a lot for me. Running: FX-8350 8-core 4.0GHz, 8 GB Ram, R9 390x Nitro.

Wanted ti get it, but then i saw 87gigs popping up into my face and said " nope. I am done eith big games over 40 gigs. Really ******* optimize your engine or get people to your team getting it done. Cant be that these games are bigger then cod.. Like really "

Open world games are always bigger than games running with smaller maps. Also, as we're moving towards 4K and bigger there's need for bigger textures for them to look better on those displays

The engine part is just a small part of the game. Textures and all that is what takes the disk space. And since better graphics is the way things are going it sounds like your choice of games will be severely limited if game size is such a major issue for you..

You kidding right?.... Posted via the Windows Central App for Android

Uh, if you can continue driving after fuel runs out, what's the point of having the fuel run out?
Windows Central Newsletter
Thank you for signing up to Windows Central. You will receive a verification email shortly.
There was a problem. Please refresh the page and try again.