Forza Horizon 3 gets its first patch, here's what has been fixed and improved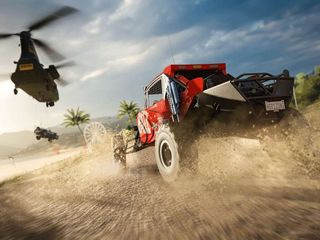 Microsoft has released the first patch for Forza Horizon 3 for Xbox One and Windows 10, with a number of fixes and improvements for the open-road racing game.
The change log is available on the official Forza website:
Windows 10
Fixed a performance issue on Windows 10 that caused stuttering with high or unlocked framerates on certain hardware configurations
Improved stability on Windows 10
Disable mouse move detection while driving
The Windows 10 video options screen will no longer ask users to save when no changes have been made
Additional options have been added to the Windows 10 Advanced Controller Menu. These include: Steering wheel sensitivity, Invert Force Feedback, Centre spring scale, Damping scale
Fixed a problem where pre-order cars and the Halo Warthog were not appearing in the Windows 10 version of the game for some players
Wheel Improvements
Logitech G27 is now registered correctly on Windows 10, so the correct default mapping will be applied
All wheels with enough buttons have had the horn added to their default mappings on Windows 10
Fix to dead zones for acceleration and braking axes on wheels
Default mappings for all TX Racing Wheel variants
Fixed a bug where custom input mappings would not save successfully
General Improvements
The Social and Rivals tabs will now unlock for players with Xbox Live Silver accounts
Fixed a bug where the racing line would sometimes disappear
Controller hot swapping is now available. Players can switch between controllers/their keyboard whenever they choose (including the wheel)
Various content fixes for cars
Microsoft added that the game's developer's Turn 10 Studios and Playground Games are working on more fixes and improvements "including force feedback and wheel support, general stability and performance, and more."
Check out our Forza Horizon 3 review
See at Microsoft Store (opens in new tab)
Windows Central Newsletter
Get the best of Windows Central in in your inbox, every day!
Steering wheel sensitivity was highly needed. Took me a long time to adjust to how sensitive the Xbox 360 wheel was and it was driving me nuts for awhile. Posted via the Windows Central App for Android

I wish they would fix the groove music playlist radio station. Songs randomly start skipping like you are listening to a scratched cd.

Yes! And a shuffle option.

I was wondering if that was just me. Is there somewhere we can report that bug? I don't ususally think about bug reports for games.

That's a good question. I'm not sure. But it does happen often for me. Sometimes as often as every 3 or 4 songs.

hmm, haven't had that happen yet on xbox. been streaming fine and also been switching playlists often too. wonder what causes it.

Have they fixed the bug with using the Elite controllers? Was wondering why I couldn't beat one of the first races in the game till I found a forum pointing to a bug caused by playing with the Elite controllers. Switched back to the normal one and the race was 10x easier. Weird.

Hmm.... Might explain my up till 2am session last night. I refused to concede and won that night street race.

Link? I use the elite controller and haven't noticed any bugs. I'm wondering what the problem is.

I think it's your trigger buttons not being able to be pushed down all the way. You have to adjust your limiting adjustment so that you can hold the trigger all the way down. I had this problem on Forza Motorsport Apex and was wondering why my car was so slow in the first race. I adjusted the trigger buttons so i can press it all the way and my car magically sped up to what it was supposed to be.

Background music hasent been working at all for me lately, keeps stopping

Xbox One improvements?.....

Crazy size for just an update... it's like downloading the entire game all over again. 47.5GB....

Check my shelby gt350 tune .my gamer tag is dimitrisdim14 ,if anyone wants to download this tunning
Some specs for this tunning
All wheel drive
0-97km/h 1.9 sec
0-160km/h 4.5 sec
Top speed 433 km/h
Launce- acceleration 10
Speed 8.8
Handling 8.6 http://youtu.be/xNzoo_8KI_I
Windows Central Newsletter
Thank you for signing up to Windows Central. You will receive a verification email shortly.
There was a problem. Please refresh the page and try again.