Forza Horizon 4 update brings the LEGO Speed Champions Bugatti Chiron and more
A new LEGO car is up for grabs with this latest update.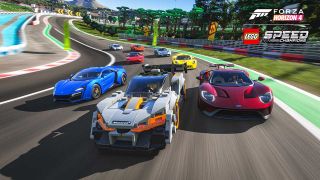 (Image credit: Xbox Game Studios)
What you need to know
A new update is coming for Forza Horizon 4.
This update adds the LEGO Speed Champions Bugatti Chiron for anyone who owns the Speed Champions expansion.
It also adds several fixes and improvements.
Playground Games has detailed a new update for Forza Horizon 4. This update is adding the LEGO Speed Champions Bugatti Chiron. This new LEGO car is available for anyone who has purchased the LEGO Speed Champions expansion. To access this new car, simply complete the new event in the northeast.
There also some new cars coming for round 3 of The Eliminator:
Level 2: 1959 Jaguar Mk II 3.8
Level 2: 1966 Hillman Imp
Level 3: 2010 Ford Crown Victoria Interceptor
Level 3: 1996 Chevrolet Impala Super Sport
Level 4: 2014 Volkswagen Golf R
Level 6: 2012 Porsche Cayenne Turbo
Level 7: 2015 Audi RS 6 Avant
Level 7: 2014 Alfa Romeo 4C
Level 8: 2011 Mercedes-Benz SLS AMG
Level 9: 2016 BMW M4 GTS
Level 9: 2017 Chevrolet Camaro ZL1
Level 9: 2016 Lamborghini Aventador LP750-4 SV
Level 10: 2011 Bugatti Veyron Super Sport
In addition to everything above, this update is adding a remix of the Halo-themed event, where you have to guide a Warthog and escape the Covenant in the midst of an autumn shower. For an in-depth look at everything being added in the February 10 update, you can check out the newest episode of Forza Monthly below.
Best of the best
(opens in new tab)
Xbox Game Pass and Xbox Live Gold in one

Xbox Game Pass gives you access to over a hundred games for one monthly fee. Xbox Game Pass Ultimate also adds Xbox Live Gold to the package so you can play online with your friends.
Xbox
(opens in new tab)
Main
Windows Central Newsletter
Get the best of Windows Central in in your inbox, every day!
Samuel Tolbert is a freelance writer covering gaming news, previews, reviews, interviews and different aspects of the gaming industry, specifically focusing on Xbox and PC gaming on Windows Central. You can find him on Twitter @SamuelTolbert.
Looks like they have nothing to do at Microsoft. Amazing where they find the time to do this. Quite telling.

Pretty sure they find time to do this because they're being *paid* to do this. lmao

I'm not paying for mediocre...

You don't have to, and the best part is the LEGO DLC part is optional. Why are you so triggered? Find a hobby or something. Play a different game. Don't comment about things you don't like. I've never seen someone so upset about something they didn't care about.

What are you even talking about? Playground Games is literally paid to make, maintain and update Forza Horizon 4. Why on earth wouldn't they be pushing out a monthly update? They've been doing it without fail since the game launched.

Taking time out to code and build a Lego car into a racing game that's supposed to be about real cars. 🤔
This is what the once glorious company has become.

Guess you never played horizon 3 with the hotwheels cars and track?
You sound like a troll and or don't really know what the horizon series is all about. Go and play that boring overrated walk-simulator.

What's wrong with walking simulators?

Have you been living in a cave? There's a whole DLC about Lego. It was a huge deal and it's actually superb. Horizon has never been 'real'. There's a Warthog from Halo in it for goodness sake. Not to mention how you can drive a Ferrari across a field. Go troll somewhere else because you're not very good at it.

More like you not taking the time to understand, and because you don't, you push your uneducated opinion. Forza HORIZON is an arcade style game, the game is less intended for simulation and more for fun. There are actual racing simulators out there if that is what you are looking for. The company Turn 10 has made leaps and bounds progress in their games. Forza MOTORSPORT is more of a simulator than Horizon is. There are settings to change the difficulty as well as well as make it more like a simulation if you like that kind of thing. Your comment looks like it mistaken for a Gran Turismo or The Crew, that would represent mediocrity. The company has been making better games each go, perhaps it's you that's changed since. Anyways, why come here to argue about how much you dislike something. Don't you have things you like that you can go say nice things about? Probably not because you're here.

Microsoft Studios publishes the game. Turn 10 is the developer. They have the time to make games because that is what a game developers job is to do. Your ignorance is telling.

Playground Games are the developers.

Microsoft isn't the developer.

One guy isn't on the lego fanboy train and immediately gets shot down. Having a difference of opinion isn't trolling. Thinking the lego expansion is ridiculous isn't about realism. The "you can drive a Bugatti over a mountain" argument has lost all credibility, please move on.

This game isn't about realism, obviously. It's an arcade like racing game, the other Forza is more of a simulator. This kind of makes your main point irrelevant.

Look at that image, there's only one toy car...(that's not to scale BTW.)

Part of the whole not being a realisim game is the fact that you can race real cars along side the Lego cars, the world's don't have to be separated.

😄😄😄Is almost midnight here in Johannesburg and as they say, go to bed happy. Enjoyed the buggati line..

It's fine for someone to not like something, but he was blaming Microsoft, which is false, they aren't the developer, they didn't make the decision to include Lego cars, Playground Games did. And the wording of the original comment wasn't so much one about an issue with this DLC perse but seemed more like a veiled jab at Microsoft specifically, because I'm guessing Hiswona has some kind of beef. Also, as expressed by others this has been something in all the Horizon games (the step away from realism at times), so people are just perplexed as to why this commenter is choosing to single out this one moment when there has already been a pattern of blending the real with surreal.

They are owned by Microsoft, so we can't be sure there is no input into the games from the powers that be, particularly when it comes to partnerships between the game and large franchises. On a personal view, Lego isn't surreal in the game, it's out of place. You also mentioned the the "blend", of which is another ill thought factor to me. The whole lego and 'real' world mixture, plus the lack of cars at the start gives the impression the devs had pressure from a higher power to get it done quickly to fill the Motorsport void, so they compromised content for aesthetic, as was the case with Forza Motorsport 7 too.
Windows Central Newsletter
Thank you for signing up to Windows Central. You will receive a verification email shortly.
There was a problem. Please refresh the page and try again.