Forza Motorsport 5 GOTY, Madden NFL 16 discounted in this week's Deals with Gold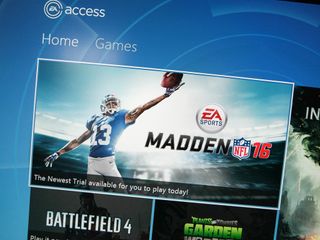 This week's Deals with Gold promotion sees a 40 percent discount on the Game of the Year Edition of Forza Motorsport 5: Racing for Xbox One, which is now available for $23.99. Madden NFL 16 is also on sale, with the deluxe edition of the game down to $47.99. Tomb Raider: Definitive Edition, Need For Speed Rivals, and Yasai Ninja round off this week's deals.
Xbox One:
Xbox 360:
The deals are valid until Feb. 22. What are you guys interested in this week?
Source: Major Nelson
No backwards compatible games on the 360 is a little sad to see. I keep grabbing those, still trying to get down mirrors edge.

£6 for Oddworld, insta buy. Since I didn't already have it and am ashamed of that.

Same for me - 8€ in Germany :-) Played the original Abe's Oddysee almost 20 years ago, but not the remake.

Guys can any of you tell me for definite if Forza does local multiplayer/splitscreen gaming? Looking for an Xbox one splitscreen racing game. Thanks in advance Posted via the Windows Central App for Android

It does, though the GotY version is pretty lame. You would be better off waiting for a Forza 6 sale.

Cheers for that! Posted via the Windows Central App for Android

What is the Super Bowl Edition of Madden? It costs the same price as EA Access, which has Madden in the Vault, so IDK why.someone would prefer ot.

About same price as last time for fm5 goty, good that I held off on buying fm6 vip, bought rivals already on PC traded in xb1 copy got for birthday during xb1 launch towards a xbox gift card 1st time it went on sale on xb1 store only lost $6 on that conversion, got horizon season pass a few sales ago. So I guess fm6 vip is all im buying this week

1 thing I dont get with fm6 is why bother implementing rivals if your only going to never update monthly sure theres leagues(something turn10 has tired with rivals mode over the years) but if your not into live multiplayer(or not skilled enough) its a waste
Windows Central Newsletter
Get the best of Windows Central in in your inbox, every day!
Thank you for signing up to Windows Central. You will receive a verification email shortly.
There was a problem. Please refresh the page and try again.