Forza Motorsport 7 walks back VIP pass change following player backlash
By Dan Thorp-Lancaster published
After receiving backlash from fans over changes to Forza Motorsport 7's VIP pass, Turn 10 is looking to make amends.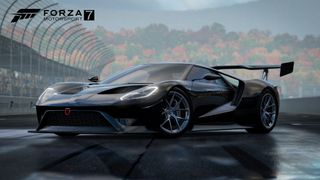 Facing an influx of criticism over changes to the VIP pass bonuses in Forza Motorsport 7, developer Turn 10 Studios has decided to walk things back. In a letter to the community, Turn 10 Studio Head Alan Hartman, explains that Forza Motorsport 7 will change its VIP system to give players extra credits on all races. As a bonus, Turn 10 is throwing in some extra cars and credits as an apology as well.
To recap, Forza's $19.99 VIP pass provided players with a quicker way to progress in previous installments of the game, by offering permanent credit bonuses at the end of races. In Forza Motorsport 7, the bonus for VIP members was moved to five consumable "Mod cards" that only carry five uses each. Once VIP members burned through their 25 uses, they would have to secure more Mod cards from random loot boxes.
Forza Motorsport 7 Ultimate Edition (opens in new tab) buyers were the first to spot this over the weekend thanks to their early access period and the fact that the VIP pass is included with their purchase. Most concerning was that the Microsoft Store listing wasn't clear about the new limitation at first. Microsoft later updated the description to clarify the limited nature of credit bonuses, but only after the fact.
Now, Turn 10 says it will return to a system that will work just as it did in Forza Motorsport 6, "offering a 2X base credit bonus after every race." There's no word on when the feature will land, but Turn 10 says it will release it "as soon as possible" with an update.
In the meantime, VIP pass owners are getting some extra goodies. For starters, Turn 10 is sending all Forza 7 VIPs one million credits. In addition, all VIPs will get the following four additional Forza Edition cars:
2016 Jaguar F-TYPE Project 7 Forza Edition
2017 Chevrolet Camaro ZL1 Forza Edition
2017 Acura NSX Forza Edition
2010 Maserati Gran Turismo S Forza Edition
Lastly, Hartman addresses PC issues, pointing out that the team has already shipped an update to the game to address some issues. The team says it is "working around the clock" to find and resolve issues as they're reported.
Forza Motorsport 7 is available now starting at $59.99. For more, be sure to check out our Forza Motorsport 7 review.
Dan Thorp-Lancaster is the Editor in Chief for Windows Central. He began working with Windows Central as a news writer in 2014 and is obsessed with tech of all sorts. You can follow Dan on Twitter @DthorpL and Instagram @heyitsdtl. Got a hot tip? Send it to daniel.thorp-lancaster@futurenet.com.
We did it lads!!!!!! We fought City Hall and won! I'm buying the Ultimate Edition today.

Tenacious D reference?! LOVE IT!

We? What exactly did you tell MS?

I seriously cannot believe they did not see this coming in the first place. If any community is going to backlash hard, it's the gaming community. What were they thinking?

What were they thinking?

Money, money... oh and money.

I wasn't sure what to think before... I am glad there is still a shed of loyalty at Turn 10... Even if a little too late...

Let's not forget that Microsoft first-party titles are all littered with micro-transactions. Forza has always had its own way of handling it, but I wouldn't bet against someone above the studio pushing this forward. Forza is one of Microsoft's biggest franchises, it cannot afford to get bad press for making needless crappy decisions that affect its most dedicated followers.

I wonder if it had anything to do with sales figures...

This is a nice change. I haven't used any of my mod cards yet as I've been trying to get through the Forza cup as quick as possible to open up all the showcase cars. I wonder if they might stack and give me a 200% bonus? I'll be rolling in dough and cars pretty quickly at that rate with just a few long-distance races. I've currently got just under a million credits and the additional million plus the $325k weekly reward at my tier today will let me buy at least one of the top dream cars in the game. A good day indeed.

Well they try get 20$ for nothing, but people not idiots. Its good change going back like it must be from the beginning

Surprising move, but very welcome. I actually had no problem with the original offer, but thid is very nice. A tip for VIP players: Do not use the precious 100% bonuses on short races. Set a long race spanning 30-40 laps and get 10x more money.

I've been saving mine until I have a better idea of when to use them. Thanks for the info.

The message in the news section says three Forza Edition cars and a credit bonus. Under gifts, I have 1,000,000 credits, Camaro ZL1 Forza Edition, F-Type Project 7 Forza Edition, and Gran Turismo S Forza Edition. Hopefully the NSX Forza Edition will come later.

I quit the game from the dashboard and restarted it, and the NSX Forza Edition showed up. The funny thing is that the message in the news section changed from three Forza Edition cars to five Forza Edition cars. Seems strange, but I am happy to have the fourth free car.

And wow, it gives 40% credit boost and +20,000 credits at Dubai. I think I found my new credit grinding car :)

Good to see they came to their senses. This is a premium game not a freemium title. Especially when gamers have spent almost $100 dollars to even buy the game to play.

Thumbs up to Turn 10 for sorting out this mess in the best possible way.

The mess they created. They tried to screw gamers even more but had to backtrack because people complained...

A small win with no impact for regular players not interested in throwing extra cash in the game. Now they need to change back to giving extra credits when changing the difficulty and removing assists like in every Forza so far.

They are testing waters with this anti-gaming policies. - They tested "paying to play online" and won when Sony also started charging people to play online.
- They tested "paying to play online on PC" and lost when PC gamers told them to fo.
- They tested "DRM/always online..." in 2013 and lost when gamers (not MS fans) told them to fo.
- They have been testing "game as a service and microtransactions", looks like they are winning this as all their major franchise are packed with it, they have game modes where you have pay to win.
They are testing the "loot box gambling bs" and looks like they are winning that as XB "Fans" are defending it by saying "they don't mind" or "it's optional" or "it's business today and everyone is doing it"...
- They are testing "gaming maker hardly investing in making games", I don't know if they are winning this. XB fans will defend this by saying "exclusives don't matter", but they'll keep losing as long as Sony keeps making games... Here they tried to screw players paying 100 bucks for a game, but lost when enough people criticised them. I think we can make a difference, but we must all criticise those anti-gaming bs moves that they make and not defend it like company "fans".
Windows Central Newsletter
Get the best of Windows Central in in your inbox, every day!
Thank you for signing up to Windows Central. You will receive a verification email shortly.
There was a problem. Please refresh the page and try again.