FOX Sports Go is now a universal Windows 10 app for PC and Mobile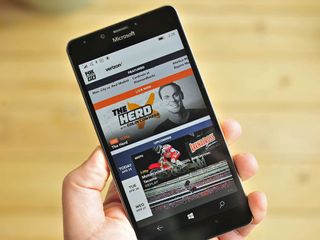 The FOX Sports Go app in the Windows Store has been updated and is now a UWP app for both Windows 10 and Windows 10 Mobile
As with the earlier apps made for Windows Phone and Windows 8.1, the new Windows 10 version of FOX Sports Go offers fans access to many of the company's sports TV networks and shows, including (depending on your region of the U.S) FOX Sports, FOX Sports 1, FOX Sports 2, your regional FOX Sports Network, FOX College Sports and FOX Deportes.
The app also provides live games from the MLB, NBA, NASCAR, along with live NFL games on Windows 10 PCs. Do keep in mind, however, that the app does require a login from your cable or TV satellite provider. '
Interested? If so, you can grab the updated Fox Sports Go app from the Windows Store at the link below. And be sure to let us know what you think in the comments!
Thanks to David for the tip!
Download FOX Sports Go from the Windows Store (opens in new tab)
Cant wait to hear from actual new apps coming to Windows 10/Mobile .. very scarce those news these days

Which one do you need? There's CBS, FOX News, ABC News, NBC, Wall Street Journal, NYTimes, USA Today, tons of news apps.

Oh crap, I read that as "news" apps. Sorry, my bad.

What if you aren't a cable subscriber?

Lots of free content just can't stream live events.

I mean, that's standard. Network apps require network subscriptions. Fox Sports Go live streams have zero ads (just blank spots), so they have no revenue stream.

The Standard sometimes sucks!
I rather have live streaming with ads than no streaming!

Gotta call out those advertisers then, them fools ain't hip... =p Ugh, I'm at work...so boring lol =p
Windows 10 RULZZ yer FACE!!!

Not available in 920 why? Therhold user

I thought there would be more news instead of just video.

It's a live stream of the multiple FSG cable channels, not a sports news app.

The app itself seems pretty unusable, lots of bad reviews. I just tried logging into Comcast and both PC and mobile versions shutdown. Anybody else have any luck?

"lots of bad reviews"

For the 8.1 app, yes. It had some issues and that is what you are reading. The UWP app is the updated version so any bad reviews carry over. The UWP app just went live today so there should be no new reviews about this version yet. I'm using it right now on Verizon on a few devices and it's working great.

The new version of the app is actually pretty great. I'd rate it a 4 star so far. p.s. I'm using AT&T for my login Posted from Windows Central for Windows 10

Still waiting on the Xfinity X1 or NBA apps

Looks good! I'm a big fan of Fox Sports Go since I can stream MLB games without a MLB.TV subscription.

Great news, the Windows 8 app crashed like crazy the few times I tried to use it.

i don't see "Built for windows 10" tag appear for the app. So is it win8.1 app or win10 app?

Another UWP. This is great news. Keep them coming.

The worst sports app ever, it's so terrible on so many levels. I'm not just talking on windows but ios and android, and even more terrible on amazon fire stick.

Hopefully the new version actually works. The Win8.1 version was worthless on PC and mobile.

As an update, the new version actually works quite well. Much improved over the Win8.1 version.
Windows Central Newsletter
Get the best of Windows Central in in your inbox, every day!
Thank you for signing up to Windows Central. You will receive a verification email shortly.
There was a problem. Please refresh the page and try again.