Freda ebook reader for Windows Phone bumped to 2.6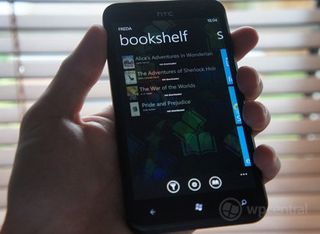 Freda, the free ebook reader for Windows Phone, has been updated to version 2.6, which introduces a number of new features and improvements. We previously looked at the app back in November when the developers were eagerly seeking beta testers for a previous update, so it's good to see Freda continue to receive invested time and effort to further improve the user experience.
So what's new in version two-point-six? The Turnipsoft team have worked hard to translate the UI for French, German, Swedish and Slovak users, further opening up the service for international consumers, but that's not all. Find the full changelog below:
Improved Metro-style appearance (including a jump-list view of the 'bookshelf')
FB2 format
Ability to backup and restore the bookshelf using SkyDrive storage
Better handling of CODE, PRE and DIV elements
Advertising no longer displayed on the main front screen
Bulk-download feature to get multiple books at once
Low-memory mode for better performance on low-end hardware (Lumia 610, etc.)
Password lock
French, German, Swedish and Slovak UI localisation
Numerous stability and performance fixes
Not a shabby update. In fact it's quite a leap forward. If you're into ebooks and haven't given this app a try, be sure to do so as it supports EPUB (DRM-free), FB2, HTML and TXT formats to keep you busy. Freda sports customisable controls that enable the user to alter fonts and colours, while inserting annotations and bookmarks, as well as the ability to look up dictionary definitions and translations.
The app can render EPUB formatting (eg. bold / italic text, margins and alignment) and can display code, images and diagrams. Book sources supported include Feedbooks, Smashwords and the Gutenberg Project catalogues. SkyDrive, DropBox or Calibre can be used to share existing book collections with the app for on-the-go reading. If that wasn't enough, Freda can also download books from websites using the built-in web browser. Favourite books can then be pinned to the home screen for more convenient access.
You can download Freda and Freda+ ($0.99 / £0.79) from the Marketplace. Difference between the two versions is advertisement removal.
Rich Edmonds is Senior Editor of PC hardware at Windows Central, covering everything related to PC components and NAS. He's been involved in technology for more than a decade and knows a thing or two about the magic inside a PC chassis. You can follow him over on Twitter at @RichEdmonds.
I'm still confused why there is no .mobi or .pdb support?

Because epub is superior? pdb is all but dead (does anybody actually use it anymore? Barnes & Noble switched to epub a long time ago) and mobi converts flawlessly to epub using calibre.

@RepoUK: Fair question. To be honest, we think Freda is big, complex and buggy enough already, and including additional book formats is likely to make it bigger, more complex and more buggy. After much agonising, we added FB2 format, which seemed like an acceptable trade-off because FB2 is an open, well-documented, simple format, which does not come in 101 different variants. Also, it is popular in Russia, which is a big market opportunity for WP7.
MOBI/PDB is a different proposition: it is a proprietary format, which comes in many different obscure variants (different compression algorithms, various kinds of file structure and DRM encryption ... ). None of these is fully documented. So if we implement a MOBI-reader, the chances are that some proportion of users will find they have books whose filenames end in ".MOBI" or ".PDB", which Freda can't read. Even if it's only 1% of users, count in it: every last one of them will leave a one-star review - and we really can't afford that. The best answer is to use Calibre (see http://www.calibre-ebook.com) on you PC, Mac, Linux box or whatever - that provides a good solution for library management, and also does a good job of converting many of the different MOBI variants into EPUB.
Hope that helps - Jim (jim@turnipsoft.co.uk)

+1
Exactly what I have done. Use Calibre and convert from any format to ePub. Then put the books on SkyDrive. Works great with Freda!

Jim would be right. I can't know about bugs because I don't see them. But on the issue of caliber, it is an awesome utility for books. I use it often.

The bulk import looks nice, but freda quits on it. Got about 200 books storen on my SkyDrive. Would happily pay for it if the import would work.

@arielext: please tap the 'email for support button' to send me a log file - that should show me details of what happened when the app last ran (and quit). The bulk download from SkyDrive did work OK in beta-testing, so whatever issue you're experiencing should be fixable.
Thanks, Jim

My favorite thing is that they replaced the horribly pixilated graphic for the splash screen.

@Jim Chapman.
Thanks for the answer. It's always impressive for a developer to answer a question directly. I have been using Calibre for some time but I've got a large collection of .mobi books from when I used Mobireader on WM6.5.
It does beg the question however, if Calibre can do the conversion then why can't Freda? If there's a problem with the conversion are users really going to know that it was Calibres fault and not Fredas? Additionally there are very few books that I've had problems with and I would say 100% of those are either home user scan and OCR of coprrghted books which have been saved incorrectly or files which have partially been corrupted as they've been uploaded and downloaded many times on usenet et al.

@RepoUK: "if Calibre can do the conversion then why can't Freda?" is a fair question! I have actually looked at Calibre's code for deciphering MOBI format - but I concluded that to port it into .Net C# would be something of a project (it being in Python, a language that I am only minimally competent at). Also, the Calibre source code is licensed under GPL v3, so if I start using it in Freda, it means Freda has to be open source too - and that model is not compatible with the Microsoft WP Marketplace (or my hope to make a few pennies of advertising revenue). I know there is still a lot of demand for a .MOBI book reader for WP7, and the idea is still on the list of 'possible future developments for Freda' if ever the circumstances are right. But that would basically mean "some expert person publishes an accurate and complete detailed spec (i.e. psuedo-code for unpacking/decoding) for .MOBI format, under a license that is explicitly free for commercial use".
Windows Central Newsletter
Thank you for signing up to Windows Central. You will receive a verification email shortly.
There was a problem. Please refresh the page and try again.