FreePrints photo printing service comes to Windows Phone 8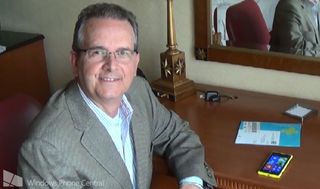 Casual Connect is an event dedicated to casual videogames, but you'll often run into more than just game developers and PR people. One such attendee was Cal Morrell of Avenquest Software and Photo Affections. They've created a remarkable photo printing app for Windows Phone 8 that photography fans (especially Lumia 1020 owners) are going to love called FreePrints.
We sat down with Cal, who walked us through FreePrints' features and the process of optimizing the app for Windows Phone 8. Note that this app is currently available only in the United States, but we do have good news for international users (and our hands on video footage) after the break!
From your phone to reality
FreePrints is a free Windows Phone 8 app that allows you to select photographs from a variety of sources and then have them professionally printed and shipped to your door.
The first time you use the app you'll go through a quick tutorial that explains how the app works. Then it's time to set up your account and start linking your various picture hosting accounts to the app.
FreePrints can edit and print images from a wide variety of sources:
Your Windows Phone
Dropbox
Facebook
Flickr
Instagram
Picasa
SkyDrive
The beautiful thing about this app is that you can combine images from all of those places into a single order. Just select the photos you want from a source, press Back on your phone, and then select another source to keep adding pictures to the order. Wherever you are in the app, you'll see the total number of pictures in your shopping cart at the top-right corner of the screen.
Ordering process
After choosing the pictures you'd like to have printed, FreePrints gives you the option to crop and rotate the individual images. Users can select from numerous print sizes: 4 x 6 inches, 5 x 5 (Instagram ratio), 8 x 10, and many more, all the way up to 20 x 30.
Once you've got your order lined up, you can choose between standard shipping (5-13 days) and expedited (4-6 days). The FreePrints app accepts credit cards and PayPal as payment.
Your photographs will arrive by mail shortly thereafter. Photo Affections is a reputable printing service and the pictures they deliver will be of the highest quality, not the rush jobs you'd get from a one-hour printing place. They won't fade and will last for years when stored in an acid-free album.
Free prints for a year!
To promote the FreePrints service, all users get 85 free 4 x 6 prints per month. Your free prints must be unique – you can't print the same image twice for free. You'll only pay for shipping, and the FreePrints shipping prices are actually lower than what Photo Affections charges on their website.
Users can also earn extra free prints by sharing the app with their friends or posting about it on Facebook and Twitter. In fact, you can sign up with my invite code pacevedo1 to hook me up with a free print. Why not, right?
Get it now (or soon)
Do the couple in the picture have pets now? Are they even still together??
Avenquest has worked closely with Microsoft to optimize FreePrints for Windows Phone 8. If you want physical prints of your photos, this app has a lot to offer. It's currently available only in the US, but will launch in the United Kingdom, France, and Germany soon as well. Hopefully more countries will follow!
FreePrints – Windows Phone 8 – 5 MB – Free – Store Link
Paul Acevedo is the Games Editor at Windows Central. A lifelong gamer, he has written about videogames for over 15 years and reviewed over 350 games for our site. Follow him on Twitter @PaulRAcevedo. Don't hate. Appreciate!
Looks like it could be a pretty slick service.

Yeah, real slick sonny boy❕

Would use this awesome app if it was available for Canada

Came here just today the exact thing

When will this be available in the UK.....

Just made an account. I got you Paul. :p

Wow I have 12 photos I want to get printed already with my 1020!

Will definitely be utilizing this service!

I wonder how this compares to SmileBooks Print.

Only thing I see wrong is that the PayPal option shows an error code whenever I press the icon

Sorrt about that. I think we resolved the issue on the server-side.
Enter promo code 'WPCENTRAL' at checkout to get a free 5x7 photo ptint with your order.

Bloody love this, cant wait for its UK release. Very glad to see more services that find out on their globe

Is the 85 prints per month limited to each user, or is it limited to 85 per household?

Question...When sending prints through this app on my 1020 to be developed, will I get the full resolution picture like I do when loading to the PC or AT&T
locker?

You should probably copy the HighRes photos over to SkyDrive. Once you done that via USB to PC just choose the highRes photo from SkyDrive within the free prints app.

Unless you manually upload the full res pics to one of those services doesn't seem like there is a way for the app to access them.

For whatever its worth at anything but the largest sizes they offer, you won't get more than 5 megapixel resolution in the print, anyway. And the "consumer" level large format printers aren't much higher than that.
In other words, you can copy the pictures to Skydrive or something, but you won't get better prints from the effort.

(4x6" 300dpi -- which is a resolution most photo printers can't come close to hitting -- is a only a 2 megapixel image.)

What a terrific service, thanks for the article Paul, this will appeal to all photo users, not limited to 1020. :)

Thanks for bringing that to our attention. I think we resolved the issue on the server-side.

Why not worldwide? Or at least app available to store in UK and asia.

I just ordered 20 pics for 3.99. That includes 1.00 for expedited shipping. Wonderfully made app too. Thanks!

This is an extraordinary move for our platform. Props on this one. Paul has been ON IT lately.

Very cool service, and app has a great design to it. Just placed my order for some photos from 1020, and used your promo code Paul. I can't wait to see the prints.

App crashes when I attempt to put my order together and check out. It saves my order on reopening the app, but crashes before I can finalize and send my order.
Just me? Trying to send about 20 pics from my 920.
Edit: got it to go through. I had to start over and reselect the photos. When filling the order details from a contact, the state didn't change from AL. When ordering, you may as well round out the order as shipping price jumps a dollar at 21 and 31.

i am going to give this a whirl with the pics i took yesterday at my sisters going away party!

Not availabe in Canada :(

Looks great, however it get stuck if it "Fails to upload" a photo. I think the problem came from my trying to upload either a .tiff file or just a large file from my saved images Album. Of course I could filter these if Microsoft would just allow you to see an actual file directory (grrrr). In any case, the App is active but refuses to let you get past the upload page if a file fails to upload :-(
This is happening over WiFi so its not an AT&T thing. L920

OK, I did manage to get past the upload page. If you hut the "Retry" buttons several times it will eventually allow you to delete the files. I suggest this be started somewhere.
Minor issues for the Dev: as with many WP Apps, when the keyboard pops up it often buries the field you are trying to fill in. Also, the PayPal payment option is not working.
These are small things to tweak (except the PayPal issue). The App is slick, well thought out and looks great. And the service sounds wonderful. Can't wait to see my Prints! Thanks!

I think we resolved the issue on the server-side; thanks for letting us know!

Just ordered recent pics taken with L920. If results exceed expectations, will definitely support the company

I signed up and ordered pics, lets see how it turns out. If its a good service I will keep using the app.

Would be interesting to note that on the 1020 you do not have access to the full res images through the OS so this is no good for printing those, only the 5MP ones. You can only get to the full res images by copying the off of the phone through a PC.

USA is not the entire world... ;)

Is the USA restriction based on Windows live account you use on your WP or place of current residence?


The shipping address is the real limitation. They have to establish printing locations in the various territories.

Or charge more for the international shipping which would likely dissuade international users due to the cost comparison to local merchants.

I was so excited reading this, now when is this available in Australia as I can't download the app :(

Regarding the Nokia Lumia 1020, we're looking to support full-resolution uploads in an upcoming update. I just recently got to play with this phone for the first time and was really impressed by the camera. I can't wait to see some of these photos on some of our larger print sizes. I see that some of you are having trouble with the app. We know we have some issues and we know we can only make the app better.

Oh and for those of you wondering... I personally use a Windows Phone 8X by HTC. I love the thing. I was an iOS user for 5+ years, was on Android for 6 months, and have been on Windows Phone ever since!

For those of you who have yet to order, enter promo code 'WPCENTRAL' at checkout to get a free 5x7 photo print with your order.

woop woop, you're awesome. thanks for the additional freebie! this is going to make photos on my new 1020 so sweet!

I see they also have an app for Windows 8.

Just got my first set. Wow! Great quality, fast service, couldn't ask for more. I'm going to spread the word to all my family in Other platforms too. Look for the famous "MadSci Bump" in sales! :-)

Nice! Hope mine come in the mail today too.
Windows Central Newsletter
Get the best of Windows Central in in your inbox, every day!
Thank you for signing up to Windows Central. You will receive a verification email shortly.
There was a problem. Please refresh the page and try again.