Yes, the Windows 10 PC free upgrade offer ends today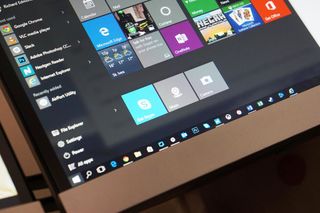 Microsoft's free offer for consumer Windows 7 and 8.1 PC owners to upgrade to Windows 10 for free ends later today. The exact time for the offer to end could actually spill over into Saturday, July 30 for most time zones.
Officially, Microsoft's fine print says the free upgrade offer ends at 11:59 a.m. on July 29 in your local time zone, which is what the "Get Windows 10" app says when users bring it up on their PC. However, according to what a Microsoft spokesperson told Tom's Hardware, the end of the free Windows 10 upgrade offer will occur at 11:59 p.m. UTC-10 on Friday, July 29. That means if you are in the Pacific time zone in the U.S., the offer will end on Saturday, July 30 at 2:59 a.m. If you are the Eastern zone, the offer ends at 5:59 a.m. on Saturday.
However, that's not a guarantee, according to the report:
If you need some extra time to get your Windows 7 or 8.1 PC updated to Windows 10, you can set your PCs clock back and you might be able to get that deadline extended, but again that's not for certain. If you want to check on when the free Windows 10 upgrade offer ends in your local time zone, you can click below to Timeanddate.com; a page has been set up for that very purpose. The bottom line: if you want to avoid spending $120 for a Windows 10 upgrade, you might want to get going right now.
Check to see when the free Windows 10 upgrade offer might end in your time zone
So what about Windows 8 users??
7 to 10 - Check
8.1 to 10 - Check 8 to 10 ?? Because a few of my friends who are still on 8 for some reason didn't see the upgrade even now. Weird. I know 8 to 8.1 was via store which isn't possible anymore.

I think they should do a clean install of windows 10. and just after installing windows 10 they should have activate with the windows 8 key.
They should hurry up else the offer is closing almost.

I think they have to upgrade to 8.1 first, and then to 10.

From their support page:

During the free upgrade, you can use a valid Windows 7, Windows 8, or Windows 8.1 product key to activate Windows 10 (Version 1511 or higher). The following types of product keys are supported:
Product keys included in the packaging or the Certificate of Authenticity (COA) attached to your PC that came installed with Windows.
Product keys included in the confirmation email you received after buying Windows from an online retailer.
Product keys included in the box the Windows DVD came in.
Product keys you bought using Windows Anytime Upgrade or Get Genuine Windows.
If you bought a Windows 8.1 Pro Pack product key, you can use it to activate Windows 10 Pro.
Note
Some Windows 7, Windows 8, and Windows 8.1product keys can't be used to activate Windows 10, such as product keys for volume licensing, including Generic Volume Licensing Keys (GVLK) and Multiple Activation Keys (MAK), and Windows 7 Enterprise, Windows 8 Enterprise, and Windows 8.1 Enterprise.
To see if your device is running Windows 10 Version 1511 or higher, select the Start button, then selectSettings > System > About, and make sure that Version shows 1511 or higher.

To use your Windows 7, Windows 8, or Windows 8.1 product key to activate Windows 10:

Select the Start button, then select Settings > Update & security > Activation.
Select Change product key, and then enter the 25-character product key.
After Windows 10 is activated, a digital entitlement will be given to your device based on the product key you entered. This means that you'll no longer need to enter a product key to activate Windows 10 on this device.

On some devices that came pre-installed with Windows 8 or Windows 8.1, the product key is provisioned in the device firmware. On these devices the product key will be verified during setup, and then the appropriate edition of Windows 10 will be installed.

But what about Laptops that came with 8 ?
I know that version 1511 allows activation via a product key from 7/8.1 but laptops don't have that. Also does the upgrade actually install 10586.494 or the old 10240?

Look at the bottom of his post, it says something about that. Also, some laptops with 8 (like mine did) have stickers with the product key on the bottom of the laptop, have you checked there?

Thanks man ! It should help :)

welcome !!
though some key may not work like they said volume licensing keys.
So better follow this link
http://www.ghacks.net/2015/08/30/how-to-clean-install-windows-10-directl...

10586.494 for direct upgrade from 7/8.1.
from 8 it needs clean install then activate it with win 8 product key. or first 8.1.
for clean install you will get 10586.164

Thanks Prithwish. :) Good to know.

or follow this link http://www.ghacks.net/2015/08/30/how-to-clean-install-windows-10-directl...

You don't need to do a clean install, you can upgrade direct from Windows 8 but you need to burn the ISO or make a USB disk. While the upgrade tool won't upgrade windows 8, the Upgrade is supported by the full ISO

they accept win 8 key also . read my above comment to know what they said on their support page.

Just had a client with laptop stuck on 8.0 and updates not working. Jammed in my win10 boot usb and upgraded direct with no trouble. Since they started accepting keys as opposed to installations in sure it's all nice and smooth, as it should have been from the start.

You have to upgrade 8 to 8.1 first. It was still in the store about 2 weeks ago when I did an update to 10 for a friend. You must have all your Windows updates completed before the upgrade from 8 to 8.1. As an alternative method, try this: http://www.cnet.com/how-to/how-to-download-the-official-microsoft-window... Good luck, as the clock is ticking!

I upgraded from 8 to 8.1 to 10 a while ago, recently reinstalled OS, USB boot didnt work and did 8 to 8.1 again, the key didnt work to get to 10, I called tech support and the lady reset the key from thier end and it worked, now have a Windows 10 key so reinstallation in future wont be an issue. Good luck and hope it works for those trying before the windows (pun intended) close.

See, that's what. Its kind of a complicated process. Just imagine if all W8 users had to call just to get an activated 10. Wish there was an easier method. Because one friend tried the same you said and it didn't work.

Easiest method is a clean install. Don't need to upgrade anything then. Better yet, clean install to a new HDD and you can go back to your original Windows to slowly migrate everything over.

they just need to run the windows update. which is what i did monday on my windows 8 laptop and it popped up the upgrade screen.

Windows 8 users can upgrade direct to Windows 10 by downloading the ISO using the media creation tool and burning to a DVD or using Rufus to create a USB Flash disk. Once it's on the disk, insert it into the computer and run the setup program from within windows (Do not try to upgrade by booting off of the disk, it will do a reinstall / clean copy). It's a common myth that you can't upgrade windows 8 and only 8.1, the fact is you just can't use the upgrade tool but need the whole ISO disk. Once upgrade all programs (other then ones not compatible with windows 10 and flagged during the upgrade process) are still there, all the settings are the same and it's a complete upgrade.

I just did a fresh install of Win8 on a laptop. After that I ran Windows Update and installed 160 or so updates. Immediately upon reboot I got a full-screen notice that Windows 8 is no longer supported and to either upgrade to 8.1 or "Learn more about Windows 10". Doing the 8.1 upgrade from the store right now.

I don't think you needed the 160 updates. You could just jump from 8 to 8.1.

Yeah, I could've skipped the Win8 installation altogether since I have the Win10 media, but I was curious is all.

Happy Anniversary Windows 10

Feverishly upgrading my 4 laptops...

Enjoy.. And if possible, do notify if you're getting 10586.494 directly. :)

Bye² window 10.. See your next time

I'm curious what happens if you create an install DVD with the Media Creation Tool? I'm guessing the install will work after today but will the activation fail?

That's a really good question sir.
My guess is the activation will fail

Seems fairly obviously the case, no?

Yeah, real obvious, is that why you used the definitive phrase, "seems fairly"?

Worst case scenario, it'll refuse to install the OS without a key. Really, you should just install the upgrade and rollback to Win7 or 8.1. Not worth the risk.

Exactly, Even though I want to keep using Windows 7 (because of Media Center) on one of my machine, I upgraded it anyway and reverted back to Windows 7. Why throw away a free upgrade? I might be using the machine later on for something else that Win 7 is not a requirement.

Just FYI: the media centre for Windows 10 hack is real easy and we've been using it with no issues for 3-4 months (release build).. My only worry is whether it'll continue to function upon Anniversary update.

If you install and activate it today on your PC, it will continue to activate thereafter. If you don't upgrade your PC atleast once before 30th, it won't activate later.

Hasn't it been the case all along that you need only "reserve" your copy of Windows 10 on/before July 29, after which point you can upgrade whenever you want? Today's deadline isn't actually for completing the upgrade - so wouldn't it actually make more sense for people to "reserve" now, and upgrade directly to the Anniversary Update?

"Reserving" had to do with getting a spot in the queue when the OS was first released so the servers weren't trying to handle thousands of simultaneous downloads. I expect they'll want it activated (meaning installed) by the cut off. Why take the risk? Just update and rollback until you decide to make the change.


Wishful thinking on my part, I guess - my brother gave me his (16GB) Dell Venue 8 Pro yesterday in a panic, because there isn't enough free space to perform the upgrade. It needs 8GB, and I managed to free up about 5GB. I'm sure that I can figure it out, but I'm not sure that I can figure it out by midnight tonight...

Okay, I did a 32gb tablet the other day, and there is a method. Get rid of everything you can. Right click on your C: drive and clean it up. Make sure you get rid of previous Windows install files. Next, download the Windows 10 ISO (https://www.microsoft.com/en-ca/software-download/windows10) and create a bootable USB (needs to be 4gb, if I remember; get an 8gb or 16gb just in case if time is a constraint); Be aware, it will get formatted. Get an OTG USB (micro usb male, standard usb female connectors) patch cable. You can get both for between 10$ and 20$ combined at a brick and mortor shop. Plug the usb into the cable into the tablet and install Windows 10 that way. You can probably bypass the 8.1 upgrade if it's not there already. The whole process will likely take two hours with a decent wifi connection.

Or install to a separate drive on the same system. It validates on the motherboard & hardware config, not hdd changes

You need to actually update before the deadline. HOWEVER, you can update then roll back to W7 or whatever if you like. And then when you're ready to join the 21st century you can install W10 for free again.

So since my surface pro 2 already has windows 10 from the free upgrade, in the future if I go back to 8.1 I can download the installer and get back on 10 for free?

Well you only have 30 days to roll back out of Windows 10. If it's been longer than that you probably shouldnt try it unless you're willing to possibly pay to reinstall Windows 10.


It depends on what time zone your account and pc are currently on I think. That sai my main issue is that both the upgrade box and windows update trying to update separately

Oh, no.. Here goes the long, slow road. Damn. I wish they could extend it another year. Oh, well.

Wouldnt it be more beneficial for them to end the free offer and get users to return to buying new devices, which is where they get revenue from?

Good, midnight upgrade for me!

I doing my aunt's PC right now

I just posted the deadline on Facebook. If people are too stupid not to get it now, fark them

Uh-oh. Nobody will pay, so old versions will be used in purpituity. I don't think this is a good call by Microsoft. People expect free now. I "tied" my windows 8 key to my windows 10 ID (preview build). Does that mean that licence is usable on a future new install?

On the same hardware, yes. With diff hardware you need to call MS for activation

We're having a real difficult time upgrading my neighbor's 7 to 10, she's frustrated having to ask for help and now we have to tell her it's all for bother. I'm going to have to move.

If you absolutely don't have time to get it done, check my post in the forum "Time is running out" - short version: Make a portable Windows 10 1511 on usb, boot from it, enter your win 7/8/8.1 key.

I think I will activate hearing impairement or color blind option in Win 7 and take advantage of free upgrade after tomorrow

Yes! Thank you! No more worries about my Windows 7 machine being force-upgraded. 10 sucks, is full of bugs, and may be ready in the future. For now, good luck with the beta test, everyone!

You do know that the 'beta' test isn't compulsory?
The builds available as non-Windows Insider builds are VERY stable and have few bugs or no bugs at all.
I don't know what you're complaining about.

You don't know what are taking about. Right now Windows 10 has been as stable as Windows 7. Take off your foil hat and get the Windows 10 upgrade before it is too late.

Bye² window 10, see your next time

I've got a specific problem. I have only the product key for bought Windows 8 Pro few yers ago. The PC in question with that OS is abroad and is not currently reachable to me. Is there a way to upgrade only the key?

Have you tried using the media creation tool? I honestly havent, so I don't know for sure if it'll work, but it's worth a look.

Hoping MS release an updated active installs figure shortly (before Anniversary rolls out to Xbox, which will also be interesting!). Must be looking at at least tomorrow 500m after the last minute rush?

And now people will start complaining about Windows 10 not being free anymore...

I stayed up late last night to upgrade my Windows 8.1 PC. Now I have two Windows 10 PC's.

Lol, Waiting at the last minute eh? Glad to see you liked Windows 10 more than 8.1

I would have done it earlier but I experienced a boot up issue with my other Windows 10 PC. Since they fixed that bug, I was finally confident to install it on my primary PC last night. It seems to be running perfectly fine!

I need to repair a corrupted hard drive today to make sure I can get it

I love Microsoft, I'm a fan of their products, but Windows 10 free upgrade offer should be extended. The goal is to reach 1 billion users with Windows 10 by end of 2018, and lets be honest, if more than 50% of marketshare of Windows is still on Windows 7 the probabilities of these users to pay for a Windows 10 license is low. Just my 2 cents.

They've had a year. Don't reward them by bailing them out of their ignorance. At some point they'll either have to buy an upgrade or buy a new computer. Either way, they deserve to pay.

Agreed. If people, after a year still haven't taken up on the free offer... That one's on them. Besides, more and more games require to run DirectX 12 and appearing in the Windows Store. Both require Windows 10. They'll have to upgrade eventually.

You only miss it when it's not available!

I tried upgrading for 2 days with error after error and also twice earlier in the month. I have severe arthritis and AS, so have to tried as and when I can either sit for long periods or type without to much pain. I waited until the last month because of all the people saying about having trouble or other saying about it allowing ways onto your system. I have all our documents, including bank statements, letters and family photo's on my machine and my attitude that that start was, if MS can get information from the machine, then others can also. Lately people have told you what settings need changing to stop the biggest part of this, so decided to install it and had all the problems. It's just one of those things and there is nothing I can do apart from stick with windows 7.

I would assume that most people who wanted the free W10 update have already done so. The rest will probbaly not upgrade until they buy a new machine or 2020 when W7 is no longer supported.

2 laptops, a tablet, and a PC. Was a clusterf*ck but got `er done! Also got an old XP PC updated to Win7.

I tried for 2 days with only 1 hours sleep and kept getting errors, yet I fell asleep play a game last night and the laptop started installing it again, but it's stuck on 23%. I have upgraded PC's before and never had the problems this has caused, but the error code information says the upgrade failed due to 2 things trying to access the same files. There was only their upgrade running, so it was the thing causing the trouble. If I don't get it for free, then I will stick with windows 7. After all Microsoft are saying they will not meet the target amount of systems using the OS, but I can see why when people trying to upgrade get all these problems.

Did you make usb stick using media creation tool?

Yes, I done that the first time trying

Ok, use the usb stick to boot into your device and then choose Custom not Upgrade. Have your previous eligible windows key ready.

Sorry about the delay in getting back to you. I fell aseep that night playing a facebook game and woke up to the laptop installing windows 10 a different way, but it fully installed and has worked fine. I have never had the laptop decide to do this type a thing on it's own before, but I thought MS might have had somethingt to do with it, as I complained to them about all the errors that night. Tbanks for the help and advice.

I done this because it was suggested when I installed windows 8 on my other old system

Finally installed win10 on my Surface Pro 1 with win8.1pro with numerous errors this morning. Time to go back to sleep!

I was going to install it on my Mac but I was too lazy, i was too busy the last 365 days to find time to do it
Windows Central Newsletter
Get the best of Windows Central in in your inbox, every day!
Thank you for signing up to Windows Central. You will receive a verification email shortly.
There was a problem. Please refresh the page and try again.