Fuelboard for Windows Phone will enable you to keep track of your Nike FuelBand progress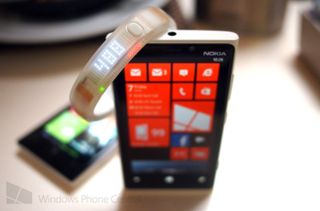 Nike is yet to produce an official FuelBand app for Windows Phone, but fear not as there's currently an unofficial solution that will be published by another developer. Fuelboard will enable those who own a Fuelband to keep track with how they're progressing through the day with numerous statistics and graphs presented in a Modern UI.
As one can see from the images bundled with this article, Fuelboard will pull down daily and historical data from a Nike account. This includes activity, fuel, calories, steps, distance travelled and duration. Graphs are included to better present the data in an easy-to-digest format. First impressions: it looks real nice.
So if you use a FuelBand (we took a look at the FuelBand versus competitor product Fitbit One), you'll be able to check out how you're doing while on the move. Unfortunately there's no Bluetooth sync support, but we'll take baby steps over nothing at all. We'll have more information when the app is available, so stay tuned to be notified when the app is available on the Windows Phone Store.
Windows Central Newsletter
Get the best of Windows Central in in your inbox, every day!
Rich Edmonds was formerly a Senior Editor of PC hardware at Windows Central, covering everything related to PC components and NAS. He's been involved in technology for more than a decade and knows a thing or two about the magic inside a PC chassis. You can follow him on Twitter at @RichEdmonds.
I am getting back into regular fitness now that the kids are getting older. Planned on getting one of these products. Is the Nike better than either of the Fitbit offerings? or is there a 3rd option? Was thinking of picking up the Fitbit Aria WiFI scale until I found out that it only runs on 802.11b.

Are any of these truly smart? Like being able to differentiate between walking, biking, riding in a car, or going up an elevator vs walking up stairs?

What's wrong with 802.11b? It's not like the scale will be streaming video or anything.

no I know, but if I set the router to mixed mode then when the Aria is connected then everything else will be scaled down to b mode, regardless if the devices or N or G.

As a FuelBand owner, I can tell you is great for walking, running, working out, and playing sports. You'd be very interested to see how many cals you can burn and fuel you can gain from a round of golf! It can differentiate from being in a car to walking that distance (since it uses your wrists' movement to calculate steps/cals/fuel)
It is NOT good for biking (wrist is stationary) or swimming. It is water resistant, but not water proof.

Does it recognize sports by itself? or do you need to go into the app and set the times that the activity took place? I'd like to get something that I can use regularly, worried a bit about the novelty of these kind of devices wearing off quickly. I'd use it mostly for running and working out.

I have been using the Fitbit Aria for about three months now. It works great. I got my wife and kids to get on board and they like it as well. Been using the Fitbit app on my 928 and it is always up to date and easy to use. I just purchased the new Fitbit flex for my wife. After I get it charge up and use it a bit I will repost the results.

That would be great. I may still get the Aria, but I'd want to set up a dedicated 802.11b AP so that it doesn't downgrade my N devices when it uploads. I like the look of the flex, although it doesn't have an altimeter.

I stopped using my Fuelband for two reasons...

One, I got the white one, and it turned yellow. It's fairly gross.

And two, it didn't sync with Windows Phone. Once that can happen, I might look into wearing my very cool LED watch again. If it can be bleached.

As far as I know this isn't good for biking since its based off of movement. When on a bike your wrist doesn't move much. Good for walking, jogging and climbing steps or stairs. Until Bluetooth is supported I'll hold out

Can you put the band on the ankle?

It doesn't close, but you can put it around your ankle. I do that when doing flutter kicks and such stationary exercises.

This is good news, and the screen shots look good, but as far as I know Nike hasn't released an auth API yet. The developer must be using some unofficial method.

Earlier this year Nike actually did open up some of their data for developers to access Nike+ info: http://developer.nike.com

You need to login to access any of the data, but you can pull some basic FuelBand and running info, so it's likely the developer is using this new API.

That's just the "API playground" - they haven't actually provided an authentication method with which to use those things. I looked into it a few months ago :)

Ah - I missed that part. Looks like the auth methods are "coming soon". I've had this stuff bookmarked to play with eventually, but just haven't gotten around to digging into the details yet.

Windows Phone store is full of apps without an authorised API.. One more wouldn't hurt, would it.. ? ;)

I bought my Fuelband last November and have been using it every single day of this year. I am very happy with it.
The reasons I choose it over the fitbit (this was before fitbit wrap):
-I find the design stylish
-Waterproof (I only take it off when I shower, I have read complaints of the screws rusting from showering).
-Wrist design ensures it's always on and you will not lose it (people were accidentally leaving their fit bit in their pants and washing it in the laundry).
If you are looking for a super accurate device that can differentiate between run, walk, stairs, etc this does not do it. It simply tracks your activity based off of arm movement. It uses a point system that has no real measurement. Walking 2.5 miles nets me about 700 points. It does track your calories burned and steps. I do not put a lot of focus on these. I really only use my band for a baseline of activity.
I'm very active on weekdays and strive for 2500 points Mon-Fri while weekends I only strive for 1000 points.
I'm happy to answer any other questions about it.

1000 points on weekends?? Do you move at all? Haha.

I love mine too, but my goal sits at 4000 everyday, I average closer to 5000, and have hit over 8000 before. If you don't mind me asking, what do you do for a living? I have a tough time hitting under 3k a day just chasing my kids around, yet the average according to Nike for my age group is around 2000.

I work IT at an animal sanctuary. It's a desk job. I walk my dogs 3.5 miles and do a 45-60 minute workout every weekday. Some of my workouts are lifting which doesn't net me as many points as the cardio ones. Last week I had 18,000+ fuel which is about 2.5k a day over 7 days.
Weekends are my rest. I game a lot and do a few things around the house.

Motorola Motoacv is superior to all these.
GPS, ANT+, FM tuner, Droid connectivity (wish it would pair to WP), BT, Pedometer, MP3 player.
Website that will help you track your activity level and will export a multitude of formats.
Only problem is that there is no WP app. :-(
Oh and Motorola has stopped making it since Google bought Moto.

Has the developer got a website or looking for beta testers ?
Nike fuelboard with wifi or Bluetooth auto sync would be massive........ Hope this guys gos all the ways !!!!

I love the display on it would be nice if the new Fitbit had a display on it instead of the dots was really disapointed why fitbit chose to go with no display on the band! I gave my Fitbit Flex away and went back to my Fitbit one but now the Nike Fuel Band is looking really cool!
I am also looking into getting the Basis wrist band it has the Heart Rate Monitor built into the wrist band much like the MIO Alpha but the MIOALPHA is kind of useless with no Apps for it but it does work with Heart Rate monitor apps on the Android and the iOS... The Basis does it all http://www.mybasis.com/
I am wanting to try out the Nike fuel band next until I can get my hands on a Basis...

I have been using a Fitbit Zen and a Nike Fuelband together for some time now. To be honest I am into each one in different ways.
The Fitbit has a great graphical site where the data is uploaded to and gives a much better representation of activity and weight lost / progress made towards fitness than the Nike website.
Coupled with a great app like Fitbit Tracker I have all of the information to hand.
I mainly use the Fuelband as a watch these days, though the LED's are still used to give me an indication towards my daily goal, and getting that final "GOAL" graphic is always a bonus.
Probably partly because they are worn on different places of the body, they give different results for calories burned and steps taken, but I think I prefer to rely on the Fitbit as being the more accurate. The trouble is theres no way to see which is right or wrong.
I'd welcome a Fuelband app though, even if it was only to check up on more daily figures.
Windows Central Newsletter
Thank you for signing up to Windows Central. You will receive a verification email shortly.
There was a problem. Please refresh the page and try again.