Full file system access discovered in Windows 10 Mobile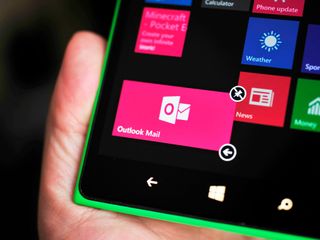 Microsoft's Windows 10 Mobile is a very different OS from previous versions of Windows Phone in one respect: it is a more full-featured OS. This feature should not surprise anyone as Windows 10 Mobile share the same kernel, some APIs, and other coding similarities with Windows 10 for PC, Windows 10 on Xbox One and even IoT. Logically, this should mean that Windows 10 Mobile can be pried open to reveal its internal file structure like a true OS. Think of Windows Mobile and Android, for instance.
Now, over at XDA, instructions have been posted on how a user can gain full file system access to Windows 10 Mobile. Posted by snickler, who is well known at XDA, the details are not for the faint of heart. However, those wanting to do this are likely already developers and those with more advanced coding skills. For regular consumers, on the face of it this does not do much except let you damage the OS.
Snickler notes in the forum thread:
To pull off the hack, you will need Astoria Tools/WConnect, djamol's Root Tool, PuttyGen, Pagent, and an SFTP program.
Besides the full instructions, some limitations were also posted. For the most part, however, this opens the doors for some real advanced hacking on Windows 10 Mobile as some of the system files can now be replaced or added to through this method. For a long time now, Android has enjoyed the hacker/tinkerer base at XDA, but Windows 10 Mobile may bring that forum back to its roots just yet.
We should caution, if you do not know any of those tools listed above, this is not something you should pursue. However, if you are a developer or tinkerer who likes to play, now is your chance.
Source: XDA Forums; Thanks, Jeremy Sinclair, for the info and screenshots
Windows Central Newsletter
Get the best of Windows Central in in your inbox, every day!
Daniel Rubino is the Editor-in-chief of Windows Central, head reviewer, podcast co-host, and analyst. He has been covering Microsoft since 2007 when this site was called WMExperts (and later Windows Phone Central). His interests include Windows, laptops, next-gen computing, and for some reason, watches. Before all this tech stuff, he worked on a Ph.D. in linguistics, watched people sleep (for medical purposes!), and ran the projectors at movie theaters because it was fun.
Waiting for a custom Rom of Win10 Mobile to put on an Android device.
Just wait.

I'd like to replace Windows Phone 8.1 with Ubuntu. Posted via the Windows Central App for Android

Ubuntu mobile is pathetic.

Not only is that just your opinion, but you would do well to realize that some people say the same thing about Windows Mobile.

Actually as much as I'm rooting for Ubuntu touch, it does feel way more like a beta still. So not entirely an opinion but sort of =) Even windows 10 mobile preview feels more complete.

Full circle - xda was set up to thinker with windows mobile and here we are again years later lol

Just as PPCgeeks was....I reember going there every day for new builds, that site is dead pretty much as after WM, it died off...

Hah you guys will have your phone now but when it reaches RTM, you won't be able to tinker anymore. Mwahahahhaahah

I'll leave the speculation to fortune-tellers.

What you said, makes zero sense.

Unlikely. Though this would be great for viruses/root kits/exploits/malware. Maybe even defeat Android in that category. Don't forget piracy.

Windows 10 mobile? Definitely feels more like Windows Mobile 10 now.

Windows mobile allowed you to do a lot of stuff on the system base

Like adrian said, in Windows Mobile you could dive deep into system files and registry...and pretty easily at that.

Windows do this before Windows Mobile...

& thats why xbl never made it past poc on wm

A less-invasive way to do this is to use the File Explorer app and search your phone for a known file. (Music, Video, etc.) When found, tap-hold and select properties. At the top of the window, you'll see Main OS and tapping that takes you right to root. A bit more work each time, but for casual poking and prodding, it should be fine. You can also create a shortcut on your PC to C:\ and then copy the shortcut via USB to your device, and then tapping that in File Explorer will also take you to root.


Right, but this is accessing the root from a PC, which opens up many more possibilities for hacking and tweaking than can be done within the phone itself.

No, it does not. You can do nothing with your phone system folders on your PC, access is denied, basically you can just view files and copy to your pc. But you can do some stuff with the default phone explorer app in some folders.

I have already done that and tweaked my phone alot , very late WC

lol, yeah, no. Instructions using this method were just posted this afternoon. Nice try, though!

I have the root tool since 2 weeks in my phone, he isn't liying, you can search it in WMPU

So thing is...you guys realize that this is a very different method, right? That the MTP method "...doesn't truly give full file system access as there are files and folders that aren't accessible still. " That method was not complete, this one is. My guess is, like me, you are speaking above your pay grade here.

http://forum.xda-developers.com/windows-10/windows-10-mobile/jailbreak-i... ;)

This isn't the same thing we are talking about here. You're confusing things. I mean, it says it right in that opening post of that article you linked to:

"Hence, this is not a Complete "Root Access" but we are working on it to gain Full SYSTEM Access."

I mean, c'mon guys. This method does give full system access.

I just posted what the OP was talking about, just to let you know that he meant that a sort of "jailbreak" was already there :)

lol, that's only because he has no idea what was posted today does or how it is different. He is under the impression that this just "tweaking his phone", which is not new. This is a lot more powerful. This is the problem with posting advanced hacking on phones. The majority of people here really do not know what they are doing, lol. They then post things in comments and sound silly.

High 'lol' concentration...

Daniel, bro, I could change my lock screen image since liek forever ago. Way old news. :P

Daniel , FS access has been in the customPFD and WPtweaker since over 10 days , late guys
I just know more than you do
Tweaking has alot in meaning , like tweaking my phone with Fs files , isn't that a possible sentence ?
works with a toggle ;)
This is really over 2 weeks old
Learn from WMPU then you'll know how advanced they are over you , like C'mon some news here in your site is over 2-3 days old , and some of them hasn't even been posted while it's so important , like the secret volume up and down combo , have you posted this ? Wmpu has gone far beyond you

Right we are talking Interop unlock (unlimited side loading and access to most registry and then there is ROOT and that is everything. 2 different things but depending on your skills, you might not even see the difference.

I only want to save WhatsApp chat history file.. Wish I had access to on 8.1

can you say HOSTS adblocking?

Trying as soon as I get home.
Edit: It works!!!! Omg this is amazing!

I did this a few weeks ago when the initial updates were posted on XDA. I used the same host file that I have setup on my Surface (thanks to a forum post here on Windows Central). The speed difference is amazing! It really makes a huge difference This is a little different than the older process, but definitely more powerful. I'm curious to see what else the XDA folks can do!

Wait, what? You mean on Windows Mobile too, it works ?

I don't get the advantages of editing the hosts-file. What speed difference?

the HOSTS file controls what web addresses are allowed in/out of the device, put simply. But putting in a whole boatload of advertisement URLs and stuff, they (meaning the ads) won't reach your device.

Built -in SSH server? On Windows? Doesn't seem right to me.

Sorry, why? SSH is the standard for secure shells, and it's indipendent from the OS. Do you have alternatives? O.o

Remote powershell access lol

You can't change LTE bands can you? I guess it's more of an antenna level firmware access and not OS level?

That's an hardware thing I guess

Wait, what? Weren't you against posting anything related to Astoria tools or anything to do with them? Why the sudden change?

They are only against posting the links to aquire the tools.

...and the whole discussion about APK files and where to get them, violations of EULAs, etc.

Now that is so cool. Still I'm hoping a lot of features like call recording will be working out of the box without rooting a phone. Also since they plan to launch continuum at some stage I can't really imagine not having better access to some of the system resources.

@miarkus you can record call in windows 10

Yes, it will be there by RTM time.

Yeeeesssssssss,can't wait for hacking tools,pirates games and ROOT!!!

If you want to root and pirate games, go buy an Android. People like you will only give WP a bad name.

I don't see this happening because of Microsoft's EULA.

Every time I see IOT... I see Lol, briefly.

Whenever I see rodneyej I see unicorns and rainbows

Whenever I see unicorns and rainbows I see Ninja Cat and Windows 10

Whenever I see Ninja Cat and Windows 10 I do not see rodneyej.

Not really sure what this means hehe But as long as it isn't detrimental to the security of my phone, then yay


It means having access to C:\, basically :) not dangerous even if you enable it

So this would give you the ability to remove unwanted programs in the OS. Like removing one note, music or even office!?

Installed updates yes the base program no

The fact that the hack requires Astoria indicates to me that some critics were right about the fact that opening the windows phone ecosystem to android apps will lead to security vulnerabilities. While i know people are excited about this but easy root access is one of the things that make android more prone to hacks.

The Android subsystem has very little to do with this hack. This, theoretically, would've been just as possible if there hadn't been an Android subsystem.

This is bad news - now that system files can be exposed so easily, how long before the malware starts appearing?

Linux's system files are even more open. How's the malware on that OS?
Lol, this comment is silly. You have to jump through hoops to even do this. Hell, you need to download unofficial, leaked tools! Your malware worries are overblown, for both Windows and Android.

Linux lacks malware for the sole reason that there is a small userbase associated with it, most of whom are techies and won't get infcted anyway. Malware is found on the systems with a large userbase of easy targets.

Someone needs to hack Windows 10 mobile to sync with Zune.

Doesn't seem like anything that won't be patched in the next release. Though i'm confident that MS is seeing what they do with the platform to get some ideas on what to change (or extend)

Already done this on my 535. I have the interface of a 1520 and android apps!!

Yet I can't have hidden folders...

If you can edit the HOSTS file: I'm all in.

I am still waiting until final...

WC guys are such hypocrites. They say they want to moderate these posts related to leaked tools in the forums, yet they write articles and link to the instruction sites.

They only said they won't link to the download links for the tool themselves.

I suppose the registry can be edited? Posted via the Windows Central App for Android

Ah, miss the times on XDA hacking WP7 on HTC HD2. snickler is an awesome dev and has helped me out on multiple occasions. Maybe it's time to get back into the hacking game again xD hopefully Cotulla can pull something like MAGLDR for Lumias!

That would be awesome! MAGLDR v2 reloaded ;) HTC HD2 forever!

You mean we would eventually be able to change the Windows logo at the start-up screen for something more personal?

I wish it was just like w10 desk, I mean, all that shite is already there, you don't have to unlock anything just type regedit or show hidden system files and do what you got to do, like setting the black theme(there's an article for that right here :P)

So this means its vulnerable right?

You do the same in REGEDIT via Windows OS. Does that mean it's vulnerable too?

How about a PIN option on the File Explorer on WP10?

//To pull off the hack, you will need Astoria Tools/WConnect, djamol's Root Tool, PuttyGen, Pagent, and an SFTP program.// My reaction..

Ability to access system files is good update if you are only developer. Personally I do not like system files and folders in user generated files and folders.
--------------------------------------
There should be option in settings app to lock and unlock this feature. And only registered Developer should be allowed to unlock this feature. So that hacking can be curbed......

I can tell you really don't understand how this hack works.

where will be the recieved zip file via bluetooth in windows phone 8.1 ????

Perhaps now I can customize de list of sounds available to WhatsApp. The list is too limited. I want configure a different sound for groups and people but the list has only default sounds. And configuring the the phone's configuration make you loose the ability to make sounds differents from groups.
Windows Central Newsletter
Thank you for signing up to Windows Central. You will receive a verification email shortly.
There was a problem. Please refresh the page and try again.