Future NexDock shipments on hold due to power issue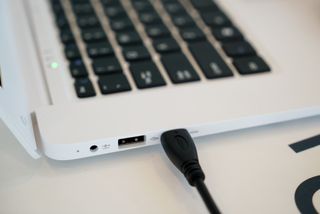 The company behind the NexDock lapdock accessory is reporting that some of the first units that shipped to customers are having issues powering up and that it has decided to suspend future shipments.
NexDock allows Windows 10 Mobile phones to work like PCs when connected to the accessory, via its Continuum feature. The first shipments of the device began earlier this week. Now, in an update on its Indiegogo page, the company has revealed a problem with some of those units:
There's no word on how many of the units have been affected by this power issue. The company warns that future NexDock shipments could be delayed even further while it tries to find the source of the problem. It adds:
Thanks to Hans for the tip!
Windows Central Newsletter
Get the best of Windows Central in in your inbox, every day!
I received my unit and it works, I tested it using ms display dock until my usbc to hdmi cable comes in today. It works pretty good but the Bluetooth touch pad is laggy and works reverse for 2 finger scrolling vs using the phone itself as a touch pad which works great. I am wondering if these can get some software updates to improve things like that.

Bummer. I hope they can resolve it soon.

I don't know if mine really powers on since i don't have a mini-HDMI cable to test it with yet. also kind of disappointed it basically requires a docking station and external power. probably view this as a novelty item. build quality is pretty nice though.

I am with you. It really is not a very good solution. So much set up to get it to work. It would have been nice if it had a USB C port that allowed for one simple cable connection. At least I got in when it was $79.

With the build quality if they put in a higher res screen and and actual dock solution in a 2.0 version I would probably buy it for more than the $79 i spent on this one. I ordered some cables so I can use it a little more efficiently. so we'll see sunday when they get here.

I ordered a cable,but had to cancel. Read it only went to 720P

This is a really horrible product. It is not worth $79. I have yet to find a cable that will work with it, other than the $100 Microsoft adapter, that needs to be plugged in. I have found no straight USB-C to HDMI that will work. They had a nice video, but it is all marketing, it just does not work as advertised.

I have to return the cable I received today, gives usb error when connected to 950xl, connects to xps15 fine. This is bad if we can't find a working cable. They were supposed to add usb-c if they met a certain goal which they never did. I had bought it hoping that would be the case, needing an adapter makes it less of a complete package.

I successfully connected my 950XL via DisplayDock to NexDock, and I also connected NexDock to my Dell XPS15. I like how it looks and have not experienced any issue with it not turning on. I am thankful that being an earlier backer actually got me a nice device to use.

What connector are you using? The only thing that ever has worked for me is Microsoft's adapter. I am hoping for a different solution with this,one that does not require the adapter to be plugged in. It does not make since to use as a laptop if I need to constantly plug in the adapter.

Microsoft Display Dock = what you called "Microsoft's adapter". Display Dock is the connector as envisioned by Microsoft since it is more than just a video passthru and it keeps the phone charged. Windows Central featured a third party adapter from Minix that also provide a way to charge, so I'd recommend that as an alternative. I was ready to by a straight USB Type-C to HDMI connector, but then I realize that it wouldn't work that well since 950XL will be drained out of power very quickly without a power source to recharge.

Well, I know that these sorts of things are "the risks" involved in doing this kind of kick starting support, but this is still a horrible experience. My third horrible experience, in fact. Anyhow, I hope mine works when I get it. I'm really just interested in testing out Continuum on this type of device because a mobile dumb screen makes sense. It really is too bad that the USB-C fundraising goal wasn't met. That would have been the preferred option. As long as I can get the testing in, I'll be satisfied. Right now, these phones can't really be expected to do real work (that I do) - particularly with the newly redesigned and terrible absolutely terrible UWP Remote Desktop App. God, I hate the new app. :(

I backed the Superbook on Kickstarter. I hope the Superbook turns out better than the NexDock.

I've used so far as a second monitor to my laptop and it also works well with my iPhone. I ordered a $10 usb-c to HDMI adapter on monoprice to test it with my Lumia 1520 - we'll see if it works. I have the issue where it does not turn on unless plugged in, but so far for $79 I'm very happy with the product!

I received mine on Saturday and am SUPER dissapointed. The 2 finger scrolling is AWFUL! Miracast resolution looks terrible. Plus I had to spend $40 on a USB-C to HDMI cable. This is going on eBay. Maybe we'll be able to buy the HP Elite shell
Windows Central Newsletter
Thank you for signing up to Windows Central. You will receive a verification email shortly.
There was a problem. Please refresh the page and try again.