Future Surface Pen could be powered by the light on your device's display
A new patent could hint at a future Surface Pen can harvest its power from the LEDs in your Surface's display.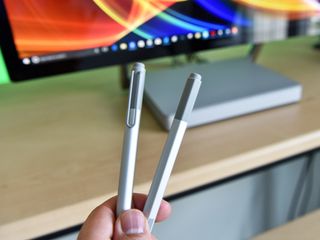 (Image credit: Windows Central)
Microsoft was recently granted a patent that could mean a Surface Pen future without batteries. The patent, first spotted by Digital Trends (via OnMSFT), was published on June 7 by the US Patent and Trademark Office and describes a housing that would provide power to the Surface Pen by harvesting and storing energy from the light emitted by your Surface's display.
The housing holds a panel of solar cells that would sit near the tip or the pen so it remains close to the screen while inking. The solar cells would be configured to absorb light through a window, transferring it to an optical diffuser that would then use the generated energy to recharge the pen.
"Due to the close proximity of the stylus to the touch screen during harvesting, the intensity of light that is collected from the electronic display is significantly higher than intensity from ambient lighting in a room or from outdoor lighting," Microsoft says. "The higher intensity light may lead to harvesting at a faster rate."
For charging while not in use, Microsoft also provided an example of a dock with an LED light inside that could charge the stylus while at rest.
It's worth keeping in mind that this is just a patent, so it's entirely possible we'll never see this idea make its way to a final product. Still, it's an interesting look at one of the ideas Microsoft is exploring for a potential future stylus. And it's not the first look at Surface Pen innovations we've seen in recent months. In February, two patent filings showed that Microsoft is experimenting with a touch-sensitive clip and a haptic feedback mechanism that could make their way into a future product.
Windows Central Newsletter
Get the best of Windows Central in in your inbox, every day!
Dan Thorp-Lancaster is the former Editor-in-Chief of Windows Central. He began working with Windows Central, Android Central, and iMore as a news writer in 2014 and is obsessed with tech of all sorts. You can follow Dan on Twitter @DthorpL and Instagram @heyitsdtl.
Doesn't Samsung do something similar with the s pen in Note series?

Not the same. The S-Pen is an passive stylus (Wacom EMR) with the active part 'in the display'. And this works with an electro magnetic field. That's why you can only use it very close to the display.
N-Trig on the other hand is an active pen and needs energy to do anything at all.

Really cool idea. I wish they'd just make it not so slippery.

I'm convinced that Microsoft plans to make everything shown in their most recent product vision video. Could this be the beginning of what's demonstrated at the 1:40 mark? Either way very interesting.... https://youtu.be/w-tFdreZB94

Good Catch! Looks like that could be the inspiration.

I'm with your this. I keep going back to this video whenever Microsoft release anything. Take a look a Surface Hub 2. It is straight out of this video.

They should just have worked together with Wacom. I really like my Surface, but that pen is stupid. Plain stupid. My wacom tablet from a decade ago is more accurate...

You should buy a Samsung device. They use Wacom EMR with their S-Pen. You can even use your old Wacom Pen if you want.

how is it "stupid"? and how is it inaccurate? Are you an an artist and you're finding it inaccurate when drawing?

What wavelength? Blue light filter causes pen not to charge would be an interesting issue but the led on the dock would fix that. But then why not charge with wireless in that spot. Magnets!

MSFT SURFACE is unstoppable 🤩

I think it would be more cool if the pen can be wirelessly charged by the display (option as oppose of light). ☺

Except that this requires no change to the Surface device while your suggestion means significant changes to the screen tech.

nice idea, but practically ultimately ineffective. We don't have solar panels at this point in time that are that efficient. I don't have my surface pro on full brightness, nor do I need it on full brightness, to save on battery. And the charging, I think, would likely mean significant -on screen- time to make recharging relevant, which is also not a reality in real world use in my experience. It's a nice idea/patent, But it will be but a gimick in real world use, and not significant recharge the pen. I think real sun exposure, could. The solar panels will have to be more efficient, though. I think the touch sensitive clip is also something of a gimic. I don't myself using it. I think what would be relevant patents to explore and implement with the surface pen, in my exprience: -new pen tips with an even better pen and paper feel. The latest surface pen is close, but still feels like rubbing on a screen. -more durable nib materials. I have had to replace the default nibs on my surface pen twice in the last 3 months. They wear quickly. -an alarm in the pen. I've lost count how many times I accidently forget my surface pen. A bluetooth proximity alarm or light flash, when the pen is too far away from the surface device, would be nice. - two more buttons: both user programmable through windows settings, just like the top eraser button. - a patent for a new pen design that supports common battery sizes. Currently the new pen supports a special AAAA type battery. Never used it before in my life. AA or AAA batteries are more common. Another headache in proprietary design. -a patent for a smart hinge/latch design to actually lock my surface pen to the surface pro, minimizing loss of an EXPENSIVE pen. -a patent for more options to program the pen button. A big miss I have is for example opening a new onenote note. Currently I can only program the pen to open a default onenote page. I want to be able to open a custom template page in a specific section in onenote. I can't do this at this point in time. -a patent to be able to use the pen button as a camera shutter button over bluetooth.

I live in a relatively small town and can pick up AAAA batteries in at least three stores. They are also available online.

The display should be the pen's source of power and not the charging station.
Remove the battery entirely.

Cool! Maybe an additional kinetic energy in the mix? We move our hand around when we draw or write right?
Windows Central Newsletter
Thank you for signing up to Windows Central. You will receive a verification email shortly.
There was a problem. Please refresh the page and try again.