Intel CEO says future Windows 8 tablets to start at $200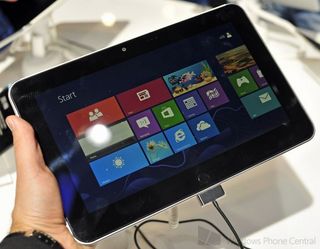 Head on over to web retailers like Newegg or Amazon and you'll see that the cheapest Intel based tablet you can buy running Windows 8 is about $430 (Acer Iconia W150). That's not too bad when you consider the potential of the system with the ability to actually install desktop applications. But what if we could go lower than the $400 dollar mark? Totally possible according to Intel's CEO.
The bigwigs at Intel are boasting that prices of Windows 8 touch devices will dip to new low prices soon. You can thank the engineers working on the next generation Atom processor named "Bay Trail". Atom might bring PTSD type memories from those netbook days, but it's gone from "the little processor that could" to something that could shake up the mobile market. Bay Trail is expected to the most powerful Atom processor and will double the computing performance of the current crop. In addition you can look forward to all day battery life, weeks of standby, and devices with designs as thin as 8mm (0.3 inches).
When and for how much, right? Paul Otellini, CEO of Intel, has this to say:
Unfortunately, you probably won't be getting your hand on Windows 8 device with Bay Trail until Q3 of this year at the earliest. That's when the quad-core processor is expected to become available. Is it possible that some future "Xbox tablet" might use it or an ARM chip?
We're already expected a future wave of tablets running Windows 8 in the 7-inch range. Even one under the Surface family. That $200 price point seems more probable with a smaller, more portable device. It's somewhat hard to imagine devices around the size of the Surface to drop to that low price.
Anybody out there interested in future Atom products? Would you rather have Windows 8 or Windows RT in the 7-inch tablet range? Sound off below!
Source: CNET
Get the Windows Central Newsletter
All the latest news, reviews, and guides for Windows and Xbox diehards.