Gabriel Aul steps down as Windows Insider chief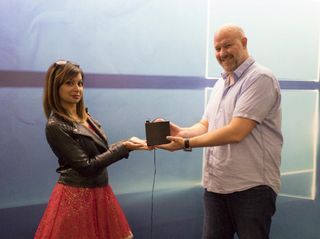 Windows Insider chief Gabriel Aul, who has helmed the program for Windows 10 PC and Mobile going on 18 months now, has announced that he is stepping down from that role. In his place, Dona Sarkar, who has long been involved in Windows development, will take the reigns as the face of the program.
In a blog post, Aul notes that his decision to step away from being the face of the Windows Insider program was made so that he can focus more on his primary duties on the Engineering Systems team:
Aul notes that he will still be involved in the Windows Insider program, albeit from a more behind-the-scenes role. In his stead, Dona Sarkar, who has been involved in Windows development since Windows Vista, will be the new face of the Windows Insider Program. Says Aul:
If you're interested, you can read much more from Aul in his full blog post. For more, you can also follow Dona Sarkar on Twitter.
Windows Central Newsletter
Get the best of Windows Central in your inbox, every day!
Dan Thorp-Lancaster is the former Editor-in-Chief of Windows Central. He began working with Windows Central, Android Central, and iMore as a news writer in 2014 and is obsessed with tech of all sorts. You can follow Dan on Twitter @DthorpL and Instagram @heyitsdtl.
But we made Memes. Think about the Memes????!?

People are already making memes: https://twitter.com/greg_carpentier/status/738092425349083142 (wait for it)

This is the internet, memes will always come. Sent from Turing Machine

Engineer us devices worthy of being called flagship devices, especially Windows based phones.

Software engineers are not the hardware team. It's best to understand the problem first before critiquing it, otherwise you sound silly.

Taken completely out of context. I was pushing to have him create MORE flagship devices. I own 950XL and using it now in Continuum and all morning. I've convinced others to purchase their own 950/XL. They are flagship phones! I would assume that the software and hardware engineers work intimately to resolve problems. Don't be so quick to judge, otherwise you sound silly. We both sound silly. :)

You got faced, man. Accept it. Posted via the Windows Central App for Super Nintendo

I hear the sound of back peddling! But yes, lesson to be learned for all, don't judge people by what they say on the internet. Posted from my Lumia 950

Funny. I used to encourage people to Windows phone. Now I move them off WP and onto iPhone.

Chlamydia? Haha Posted via the Windows Central App for Android (V10 or 5x)

I thought Gabe handled the tooling and process side of things not the actual OS development? Posted from my Lumia 950

Right, because hardware and software are designed completely independently of each other. You might want to read up on how computers and software work before you start throwing around your arrogant ignorance Mr. Rubino.

What a prissy remark. Software engineers work alongside hardware engineers to create phones. One would have expected an editor of a site predominantly about phones to be aware of that, otherwise they would come across as rather silly.

I consider my 950xl a real flagship phone... By the way you should ping Panos Panay for that.

It's silly because if the phone came out from the start with one of the mozo back covers it would be considered a flagship phone. Just because the back was different. The XL has the best engineering possible to handle the 810 chipset which no other phone can compare. This was proven by notebookcheck benchmarks. It also has iris scanning which is going to become a thing now that samsung is going to start pushing it. It's early and hardware will get better but we were the first with it.

It's silly that any flagship doesn't allow for custom backs... I'm so happy that I can make my 950xl how I want it to be and not be another iPhone or Samsung s7 that's looking like every other of it's kind. Can't wait for my mozo back to arrive to make my phone look even more awesome than it is today. Good thing probably that taste differs...

MS is done making phone hardware, its old news.

Except for the fact that they said the complete opposite.


If only you were engineered with a brain.

Wishing nothing but the best for Dona!!

And hope she is as patient as Gabe, especially on twitter lol.

I agree. I hope both of them do well in their new positions. Posted via my Moto X Pure Edition using the Windows Central App for Android

If she doesn't have thick skin, she will need to get it. People are just flat out mean to Gabe. It is disgusting the way he and developers in general are treated.

Agreed. I was reading this news on twitter when it broke about an hour ago and people were on there asking for new builds! How rude!! Lol. Posted from the Windows Central app for W10M BETA

Gabe's patience is more incompetence. His team has shown little to no follow through under his "leadership".

Unacceptable :( ... Haha only joking. Thank you Gabriel. Good Luck Dona.

Ok. Gabe. We understand & support not only you but Dona also. Full steam ahead!

Best of luck Gabe! The calm with which you faced the queries of Insiders is part reason what made this program so great. Hope you give 100% to your Engineering Systems team as you desire. And Good luck to your successor, Donna Sarkar. Hope to have as good of a communication between her and insiders as we had with you. :)

WOW, big move. Gabe connection with the community was a work of art. I hope Donna follows suit.

Well, she's prettier than Gabel Aul :) I wonder if she'll be as engaged as Gabe was though.

lol, yes, it was Gabe doing refactoring of the OS and the 300 SKUs. There was no other, I dunno, Windows team under Myerson doing the coding. The server farms needed to push the updates are in his basement too, and I hear he's taking them with him. Good grief.

As usual, more good news. It never seems to end.

/r/winphonecirclejerk material right here :)

It's like OG Planet of the Apes getting on without Roddy Mcdowall. Or Nancy Reagan getting along just saying "Yes" Or playing some Rush 2049 in the arcade without seeing an FBI warning about drugs and winning. Back on topic: Gabe Aul did mighty fine work engaging the community. Skol!

Welcome to the Twitter hell, Dona!

Ok....... Happy to have you dear....

Leather jacket & skirt...I can see where Windows 10 PC & Mobile is headed.

Classy... let's judge the newly promoted female by her choice of outfit.

Lol... Well, tell me where she keeps her iPhone in that?

Likely somewhere you've never seen before, if ya know what I mean!!!!

Well, hope that makes an effect on making Windows look good and fashionable. LOL!

I like her...
Dona, will you marry me?

+1 She's adorable! Posted from the Windows Central app for W10M BETA

She's already married and has a cat. She occasionally posts photos from on her blog from her iPhone.

She has to have an iPhone. She is in the fashion business...

If she wears an iPhone, how is she qualified to act as a valid Insider Program frontend. How do the entrenched desktop windows folks plan to get an idea on mobile? W10 is still crap on tablets, and "anniversary minor tweak" will not change this.

Your devices don't get you a job, do they..?
And take your whine someplace else. Lumia 640XL LTE DS

Ahem!...my "device" always gets me the job.

So, everyone at the local Ford dealership had to drive a Ford? Employees of GAP can only wear clothes made by GAP? Workers at McDonalds can only eat McDonals 'cuisine'? Great logic.

Sorry, didn't know she's married! I retreat my proposal...

More like getting crappier for desktop enthusiasts & better for ipad users to remotely access

I'll miss Gabe :( Dona has some big shoes to fill!

It's really a Heart Broken moment for me..
Love you Gabe..
We miss you a lot

Hope she is as patient as Gabe

No chick could ever replace Gabe. Same goes for other Gabe, one that's making money off hats instead of coding Half-Life 3.

Gabe was pretty awesome, I hope Dona does the position justice. Those are big shoes to fill.

I need kronos mobile and tigertext apps for my job. I have to get a samsung ☹

Gabe never answered any of my questions on Twitter and I asked them alot! Hope Dona will.

He generally responds to the reasonable and well worded questions. Posted via my $30 Lumia 640

So you're calling me a dumb person, right? Gabe never answered any question about my HTC 8X device. There were tons of questions by plenty of 8X users, not just me..which never got answered by Gabe nor any other Windows Insider head person. So please, act a smart guy somewhere else.

He didnt say anything about you as a person, either your intelligence level or your ability to speak. His post does suggest that perhaps your tweeted questions were unreasonable or not well written. Your reply suggests he was not mistaken

So you're saying BataBole is dumb? Posted from my Note5/950XL

I did not imply that whatsoever. Posted via my $30 Lumia 640

The perfect response. Posted via my $30 Lumia 640

"She said that she has been waiting for this job for 11 years....The question is....How old she is now....."

Seems like a very important question.

Yay for diversity hires. Female and not white. Double diversity

While diversity is wonderful, being good at her job should be more notable. I'll celebrate when I see what she's made of and what she accomplishes in the Insider Program.

What you just said is both racist and sexist. Good job. Celebrating that you're not having men or whites hired is no better than being anti-Indian or anti-woman or anything else.

That infamous bug-delivery button. It should be destroyed.

I hope Dona shutsdown Cortana. It's to difficult so be a succes for everyone. Now only a few can really enjoy it. Thats not good.

I have.. correction: had, Cortana installed on Android until I realized it was sucking up over 10% of battery even when I rarely use it.

Not gunna happen. She herself wouldn't be able to do that either. It's a core part of the OS too. Posted via the Windows Central App for Windows 10
Using the Alcatel OneTouch Fierce XL for Windows 10 (Redstone)

Core part? It doesn't even shows up when using Dutch.

So she should take away something people use and enjoy because it doesn't work for you? I don't even have the words....

It doesn't work for a lot off people. You Americans think you are the hole world but there is a decline in sales. That's not because Microsoft takes the right decisions. Stop selling phones in Brazil and India doesn't help either. But he, who cares..... right?

Maybe you don't have words for those crybabies in America that can't buy all Lumia models because carriers don't care for Microsoft or updating your American phones. We in Europe can buy every model Microsoft makes and get all the updates there are.

Hmmm, big news. I wonder if they delayed new build so either one of two things could happen.
1. Gabe pushes the button on his last and really solid RS build
Or
2. Dona gets to launch her first build as head of the insider team. Either way, Gabe, you will be missed. Excellent work, cant wait to see what's next.

Congrats to both ppl and I hour they keep up the good work

Fed up with our "please, a new build" and our complaints... Aul leaves us to Dona.

....like Joke Belfiore before both ...she uses an iPhone. Check her twitter account... ROFLMAO

Of course, why wouldn't they? Its MS's primary mobile platform.

I hope she tries at least a Lumia device, though it said that she is a designer, the UI design and the stock looks of the hardware might not her cup of tea, at least she can help address on design-related and aesthetic issues more into the Windows development and give the design language some direction at least. Sent from Turing Machine

Well the main thing is indians they can't do anything and Microsoft hiring them. satya nadela and other Indians are fooling around ,to Microsoft if you want to rise fire them

Indians can't do anything in there country how can they do for another hiring them is a worst part

Hey @donasarkar bring back FM Radio and dark theme for Cortana!

The ability to use the FM Radio is there, you just need to download an app. All MS did was kill their own FM Radio app, not the actual feature.

In the eyes of the user though, W10M is missing an FM Radio unless they know they can download from the Store. FM Radio isn't just for entertainment and to listen with ad-machine, but it's actually a necessary utility that a 'smartphone' should have if its supported in the first place. This feature is handy on some situations such as during unfortunate events. It's better its preinstalled than nothing when its too late and you need it. Sent from Turing Machine

Where is Joe? Posted via the Windows Central App for Android

I'm going to miss Gabe, glad he's not leaving Microsoft though. Dona has pretty big shoes to fill but I think she'll do fine, after all I would prefer having 2 people dedicated to 2 jobs than have one person split their dedication, should be much better for everyone.

Maybe now someone will have time to fix the L930 W10 microphone bug!

She prefers an iPhone. That's all you need to know about the new manager. Posted via the Windows Central App

Well, its Microsoft fault as a whole why their mobile platform isn't been even used by their own employees. At least maybe she can share the good experience about it and implement it on W10M (as long as they wont just copy iOS). Hopefully she at least use W10M time to time, she might able to help point out and empathize the issue of it, especially on the design aspects, she is designed too after all (though not exactly UI/UX designer, but designers mind helps). Sent from Turing Machine

I think those employees develop the OS just because Microsoft pays them money. "We hope you guys buy Windows Phones whereas we keep using iPhones". Posted via the Windows Central App

With the current state of windows phone....Are they pulling or pushing it....??? Lol

His laziness and general incompetency will be missed by no one.

lol! he listened to all my complaints on twitter.

She looks like Raven-Symoné :D i hope she can see the future. :D :D

Nooooooo! Posted via the Windows Central App for Android... I'm sorry