Galaga Legions DX becomes the fourth Xbox game delisted from Windows Phone in 2014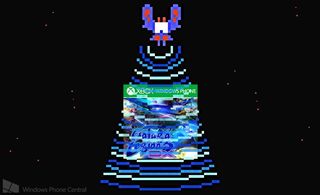 Galaga Legions DX wasn't the best Xbox game on Windows Phone. In fact, I named it as one of the five worst Xbox games of 2012. But still, it was that very rare thing: an exclusive Windows Phone game from a major publisher that never showed up on other mobile platforms (though it originated on Xbox 360). I even managed to get all of Legions DX's Achievements and write a guide for them.
You'll notice I speak of Galaga Legions DX entirely in the past tense; that's because it was delisted from the Windows Phone Store within the last few days. That makes it the fourth Xbox Windows Phone game to disappear this year. Tiger Woods PGA Tour 12, Tower Bloxx New York, and 3D Brick Breaker Revolution were all delisted in January. Only three new Xbox games have made it to Windows Phone in 2014, so we're actually one down for the year.
Not the Galaga you were looking for
It would have been great to receive the original Galaga on Windows Phone. That game may be kind of simplistic by modern standards, but it's also a legitimate arcade classic. Instead we got a port of Galaga Legions DX, the console sequel nobody asked for to the disappointing Galaga Legions.
Though it's not very Galaga-like, Galaga Legions DX isn't such a bad game. Sure, it lacks two-thirds of the XBLA game's content, but enough levels remain for a passable mobile shoot-em-up. With tons of ships on-screen at once and flashy visual effects, it's actually quite pretty.
The touch screen controls are where things went wrong. Legions DX suffers from literally the worst virtual stick I've ever encountered in a phone game. It's like the developers had never touched a smartphone game before and also forgot to playtest their creation. Check out our review for more details.
Adding insult to injury, the game sold for a whopping $6.99. You don't charge seven bucks for a below average mobile game and expect it to sell. Shame that Namco Bandai pulled the game instead of fixing its controls. If you're dying for some Galaga Legions DX, the Xbox 360 version is still available.
We've reached out to the publisher about the delisting and will update if they respond.
Galaga Legions DX – Windows Phone 7 and 8 – 124 MB – Delisted – Store Link
Galaga Legions DX – Xbox 360 – 126 MB – $9.99 – Xbox.com Link

(opens in new tab)
Windows Central Newsletter
Get the best of Windows Central in in your inbox, every day!
Paul Acevedo is the Games Editor at Windows Central. A lifelong gamer, he has written about videogames for over 15 years and reviewed over 350 games for our site. Follow him on Twitter @PaulRAcevedo. Don't hate. Appreciate!
Never bothered with this game.

Xbox titles should be more about quality than quantity.

I agree. Although, I would rather have games show up in WP at the same time as iOS & Android... apparently it's not possible for that to happen and be Xbox Live enabled.

It happened with Tetris Blitz so it possible.

I really didn't like Tetris blitz. I felt it was too noisy with advertisements and Facebook integration.

No, Tetris Blitz was not released on WP at the same time as iPhone & Android.
I specifically remember an iPhone friend being addicted to it a while before it was in the WP Store.

I don't understand why WP games don't work like Xbox 360... once you buy them you should be able to download them forever. Then this type of thing is not an issue.

Yup! It's both silly and annoying that they don't work that way on Windows Phone.

Definitely. You should tell Microsoft that. Details on how to contact them on Twitter can be found here.

Sounds like we are all better off that it was removed.
As a matter of fact, I've been less than impressed with all of Namco's WP games.

Pac-Man CE DX is a great game! If you go Namco, that's the way you should go. The Windows 8 version is even better.

I didn't like it's controls either.

Get your act together MS you fucking retards.

Watch the language please.

Paul , there should be a report option after each post , just a TIP :)

If I had a say, there totally would be. :)

If it was Dan, he would hv deleted it!

I must have missed something here. What did MS do?

Apparently MS said something about Rockartisten's mom & he is quite livid about the whole thing.

Yeah, get your act together!
We demand that MS keeps crappy games around forever! ... wait...

Offensive language blocked, have nice day!

Xbox is the main n the best features in achievements. Its seriously better than google play achievements. We want big games to be xbox enabled. Doesn't matter if small games aren't live enabled.

Yep, Xbox is the best social gaming platform and it is a great distinguishing feature from iOS and Android. Microsoft is blowing it. Help join the cause to rouse them. Details here.

Good article, bad game. Good riddance!

Like Paul I was one of those that managed to get all Achievements and I have to agree with him: Horrible touch controls, it felt so awkward and made this game pretty hard.
Three new games when four get pulled, can you imagine?!

The 360 version is great. I love it. Though, it's true mobile version stank. Not sure it's entirely devs' fault, most conventional/action games on touch screens simply don't work, that's why I cringe everytime I hear people asking for Halos (fps) or Gears, for Windows Phone. Get real people, these games suck without a proper controller, and a matching screen size.

I play lots of games on phones. Virtually every one of them controls better.

Hey someone please add me on Xbox live my gamertag is Ritabancr7mitra

The controls made it disastrous and even more disastrous is the fact they never tried to even fix them.

Hey Paul acevedo are you on Xbox live? Can u add me please i beg you i want at least one friend..i have no friend on Xbox please add me

Then play Xbox and make some. It isn't rocket science.

You can follow me on Xbox One or using SmartGlass. My Gamertag is EastX. But Robborboy's advice is good too. Also, try our forums - lots of people willing to make Xbox friends there.

Sent you an invite Paul,my gamertag is "The Dark Knight68" or something similar,I think.i have an 1800+gamerscore(I don't own an Xbox,just a wp8)
How do you get your avatar to do those cool animations like taking out that 1020?? :-o
Sorry for my noobness :P

Did you send the request from SmartGlass or just the Games hub? My main list is full but I can accept it from my Xbox One which has a higher friends limit. The phone my avatar has is called an avatar prop. Each one you equip your avatar with includes a unique animation. You can buy avatar accessories at Xbox.com on PC; I don't remember if we can shop for them directly from WP. My avatar prop was part of a limited time giveaway and is no longer available.

Oh,ok.
I sent it from my games hub on WP,like I said I don't own an Xbox console so I don't require smartglass. :(

Yes you can buy watever you want for your avatar from the phone

You should read our site more then! :)

A net loss of 1 Xbox game on WP in 2014 is absolutely unacceptable. Please join the #SaveXboxWP movement and help me cajole Microsoft into supporting their own platforms. Link is here, which includes details on tweeting them and voting in Uservoice.

so I paid $6.99 less than 4 months ago and now (after i got a new phone) no longer can download it? Who is to blame? I want my money back.

Contact support and ask for it

It's been gone for a while. I bought it while it was on sale last year. I realized it was gone when I got my new Lumia 1520 and couldn't find it on the market. I have now lost: Doodle Jump, Dodonpachi, Hydro Thunder Go, de Blob, NFS: Undercover, Tentacles, Chickens Can't Fly & Galaga. Plus have to re-buy Fruit Ninja. Microsoft sure knows how to screw the customers.

I just recently purchased this game, but deleted it to make room on my HDD. Does this mean I can never get it back? Did I just get robbed?

Well the first Bejeweled was delisted and is back, same for some other games.... Like joyride etc

Contact xbox support for a refound , i did it for 4 games

More Xbox live games being removed from the marketplace #SaveXboxWP :( even tho the game sucked from what I heard... Should of just made it a free game..
Windows Central Newsletter
Thank you for signing up to Windows Central. You will receive a verification email shortly.
There was a problem. Please refresh the page and try again.