Three Xbox games from Digital Chocolate, Electronic Arts pulled from the Windows Phone Store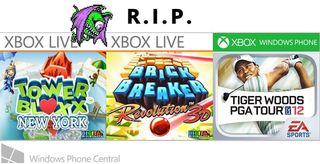 It's never good news when a downloadable game gets delisted, regardless of platform. But a delisting is especially unfortunate for Windows Phone users, because delisted Windows Phone games can't be redownloaded even by users who have purchased them. Nor can we back games up and restore them later. Just one of many issues we've lamented in the past that Microsoft still needs to fix.
Unfortunately, another couple of Xbox Windows Phone games disappeared from the Store at the start of the year: Tower Bloxx: New York and 3D Brick Breaker Revolution from publisher Digital Chocolate. Neither game was anything special – especially not 3D Brick Breaker. But again, you have to feel for people like yours truly who paid money for those titles and can now lose access to them forever.
In addition to those two vanished games, EA's Tiger Woods PGA Tour 12 has also dropped from the Store. Read on to learn about all three titles and what factors might have led to their disappearance.
Tower Bloxx: New York
This casual game launched alongside Windows Phone 7 in 2010. The Tower Bloxx series involves dropping block-shaped building floors on top of each other in order to create the tallest possible structure. Maybe that sounds a bit like the upcoming mobile Xbox game Throne Together, but Tower Bloxx is all about timing, not puzzles. Each block sways back and forth above the stack, and players just need to tap the screen to drop it at the right time.
Tower Bloxx: New York had a few things going for it: multiple game modes (including local multiplayer), a decently cute art style, and easy to learn gameplay. See our review for more details.
We'll most remember this one for its easy Achievements. The game only had five of them, and they could be earned in four or five hours total. Not the best way to extend a game's longevity – two modes had no Achievements at all. Still, Tower Bloxx was a staple purchase for mobile Achievement hunters.
Tower Bloxx: New York – Windows Phone 7 and 8 – 16 MB - $2.99 – Store Link (de-listed)
3D Brick Breaker Revolution
Digital Chocolate's sole follow-up to Tower Bloxx arrived on Windows Phone 7 back in December of 2010. This one should have been an easy win; how hard is it to make a brick breaking game in the style of Arkanoid? But 3D Brick Breaker Revolution turned out pretty awful; it's my pick for the worst Xbox Windows Phone game of 2010.
The first problem you'd notice with this one is its graphics. They are technically 3D, but extremely basic and low resolution. Simple 3D graphics can work, but only with talented artistry. 3D Brick Breaker is just ugly. It also ran at a poor frame rate on Windows Phone 7 devices, making the choice to go with polygonal graphics an even worse decision.
The game's Store page isn't quite honest about its looks, either. The screenshots show a portrait orientation when the Windows Phone version is played entirely in landscape mode.
As if the fugliness wasn't bad enough, 3D Brick Breaker is also super hard. Part of that difficulty stems from poor controls. The rest is just unfair game design and unrealistic Achievement requirements. In short, nobody is missing out too much by not playing this one.
3D Brick Breaker Revolution – Windows Phone 7 and 8 – 17 MB - $2.99 – Store Link (de-listed)
Tiger Woods PGA Tour 12
The third and final game to be pulled from the Store actually disappeared a while ago, but we're just now mentioning it. Tiger Woods PGA Tour 12 from Electronic Arts launched on Windows Phone 7 and 8 fairly recently: May 2013.
Tiger Woods 12 was part of Nokia's deal with EA that saw over 20 Xbox games appear on Nokia devices as timed exclusives. All of those games eventually became available to general Windows Phone audiences about six months after their initial release. All except for Tiger Woods, that is. It dropped from the Store before that could happen.
Unlike the Digital Chocolate games, we don't have to speculate about why Electronic Arts chose to remove Tiger Woods 12. In October of last year, EA decided to end its partnership with pro golfer Tiger Woods. The partnership had weathered a well-publicized infidelity scandal in 2009, but it couldn't last forever. Future games in the long-running golf series will simply go by the PGA Tour brand rather than using a golfer's name.
Getting back to Windows Phone, it seems that EA decided to drop Tiger Woods 12 from the platform rather than make it available to general Windows Phone audiences. A somewhat understandable move, although the game remains conspicuously available on iOS and Android. So maybe this one is a mystery after all. We've reached out to EA for comment and will update if they respond.
The loss of Tiger Woods PGA Tour 12 is a shame because it leaves Xbox Windows Phone gamers with only a single golfing title to play: Gameloft's Let's Golf 2. Tiger Woods took a more realistic approach to the sport, even allowing players to create and customize a unique golfer. Other than slightly dated 3D graphics (Windows Phone 7, after all) and mostly broken local Wi-Fi multiplayer, Tiger Woods 12 provided a solid and robust game of links.
Tiger Woods PGA Tour 12– Windows Phone 7 or 8 - $2.99 – 225 MB – Store Link (de-listed)
Disappearing acts
Sad to say, but there is quite a precedent for Xbox Windows Phone games dropping from the Store. The first games to go were licensed titles Fast & Furious: Adrenaline from I-Play, and Star Wars Cantina (pictured above) and Star Wars: Battle for Hoth from THQ, all back in Fall 2011. Several more games would follow in 2012 and 2013.
More recently, a whopping 11 Xbox games got delisted from the Store in September of last year. These included third-party titles and even a couple of Microsoft properties like Tentacles and Beards & Beaks. The reason for the mass delisting in all but one case was In-App Purchases. Virtually every Windows Phone 7 game that supported In-App Purchases got culled, though somehow a few Miniclip titles survived. One of the Unfortunate 11 – KenKen – did not support IAPs, and neither Microsoft nor Capcom has ever explained its disappearance.
One month later, three early Xbox Windows Phone 7 titles from Gameloft suddenly dropped from the Store: Assassin's Creed, Brain Challenge, and UNO HD. In this case, the delisting was a mistake, and all three games returned to life a short time later.
Next came Tiger Woods 12, and now Tower Bloxx: New York and the abysmal 3D Brick Breaker Revolution. The timing of the latter two games (the beginning of 2014) could provide a clue as to their disappearance. Perhaps publisher Digital Chocolate had signed an agreement with Microsoft to publish the games for a finite length of time. That could explain why they (like several other launch game makers) were allowed to self-publish Xbox games rather than being forced to use Microsoft as a publisher.
Whatever the agreement, Digital Chocolate didn't show much commitment to the platform. Neither game was ever updated, nor did the publisher produce more games after 2010. Of course we've reached out to Digital Chocolate for comment, and will update if they choose to respond.
Get the Windows Central Newsletter
All the latest news, reviews, and guides for Windows and Xbox diehards.
Paul Acevedo is the Games Editor at Windows Central. A lifelong gamer, he has written about videogames for over 15 years and reviewed over 350 games for our site. Follow him on Twitter @PaulRAcevedo. Don't hate. Appreciate!
How unfortunate :( #SaveXboxonWP8

Very unfortunate. Just to clarify, though, we are using the following hashtag: #SaveXboxWP. It's important that we're all on the same page so that people can find each others' posts and tweets on Twitter and re-tweet them to Microsoft.

Whoops! Thanks for the info! #SaveXboxWP My hope is GTA: San Andreas get XBL certified.

How did the #SaveXboxWP movement start out? I'm curious as I've come across that hashtag in the past.

It originally started out, after many months of frustrating build up, when Gameloft published their first non-Xbox game on Windows Phone, Asphalt 8, on 13 November 2013. So it's a pretty young movement, but it's picked up a lot of steam since then. Here is the original thread detailing the history behind the movement: http://forums.wpcentral.com/gamers-lounge/249754-asphalt-8-not-xbox-title-lets-mobilize-reverse-trend-savexboxwp.html

You dnt need Xbox when you rock with a playstation ;)

The benefits of Xbox features extend to any gamer, whether or not they own an Xbox console. Permanent record of your Achievements, cross-platform friends list, friends leaderboards, etc.

EA's Xbox title removed ,I don't want to live on this planet anymore. :'(

They are going to pull out all the xbox games

We're fighting to make sure that doesn't happen: #SaveXboxWP. Join us in telling Microsoft it's not okay to delist Xbox games that we already paid for: http://forums.wpcentral.com/gamers-lounge/249754-asphalt-8-not-xbox-title-lets-mobilize-reverse-trend-savexboxwp.html

lol indeed. You have to admit though, delisting apps is never fun.

Microsoft get your shit together

A shame legitimately purchased titles cant be backed up.

Indeed. That is unacceptable business practices and Microsoft needs to know that we won't tolerate such nonsense. Help us tell them: #SaveXboxWP

What happened to those "I'll only play Xbox live games" comments??? Don't see it anywhere... Hmm...

Here's one: I'll only play Xbox Live. Non-Xbox games are for lost souls.

Why would you expect those comments on games that aren't actually available to play?

i'll only play xbox live games... but to be correct never did andnever will pay for a title thats not xbl

dont forget pro evolution soccer 12 got delisted in jan last year....you're article picture for that was pretty funny ;p and i thought they removed that for PES 13 but thank god there's fifa 13 but i have a lumia 720

Yeah, I skipped over several delisted games like the PES titles and Twin Blades. I just wanted to mention the first games to get pulled and the most recent ones. Good eye though; good eye. :)

So sad that the number of xbox games is actually going down.

Yeah, man. We already have a paucity of Xbox games on WP. Losing more is not good. #SaveXboxWP

Getting pretty tired of Xbox games you pay for getting removed from the Store. These ones didn't affect me but still, all I wanna do is play that old Star Wars tower defense game. Le sadness.

Yeah, there were quite a few cool Xbox games on Windows Phone 7 that never got ported over to Windows Phone 8, which sucked. Even worse, though, is the current trend of delisting Xbox games. That's bullshit, right? People not being able to re-download the games they already purchased. Eff that. Wake up @Microsoft! #SaveXboxWP

These games were not very entertaining anyway. Won't miss them. I hope they do not pull carcassonne. It is a great one.

Ditto! I love Carcassonne on WP! I wrote up a guide for how to play online and used to regularly organize online matches: http://forums.wpcentral.com/windows-phone-games/232379-carcassonne-lets-coordinate-online-play.html

This is just plain dumb. Buying games and apps for windows phone is like buying drugs from a unknown dealer, you never know what you're gonna end up with.

This is why I hated the digital approach the Xbox One was heading. Thank GOD Microsoft retreated. I love my physical copy in my hand.

It must be noted that almost all delisted Xbox 360 games can still be redownloadable by people who purchased them, and presumably the same will apply to downloadable Xbox One games. It's just the Windows Phone and Windows 8 teams who don't understand the concept of ownership.


You're absolutely right. I can only think of a few ACE Combat skins that are not available anymore on my 360. On the flip side I've been burnt alot on my Windows phone. So that's why I personally don't trust shelling out $60 for a digital only purchase. Anything $10 and up I just gotta get a physical copy.

Not that I agree with the practice, but you don't really own any of the software you buy. At best, you've purchased a licence to USE the software, which can and will be revoked at any time with no repercussion to the distributor. It's also a talking point that most of the apps that are being de-listed are WP7 apps, and we're now on WP8 software and hardware. One way to look at this is that Xbox 360 games can't be played on the Xbox One, so it would follow that WP7 apps aren't guaranteed for WP8 users. Again, I don't agree with the concept, but I can imagine that's the line of thinking behind some of these decisions.

Semantics! But WP7 games were sometimes delisted before WP8 even came along. It's simply a flawed ownership system that the WP and Windows 8 teams have never seen fit to address.

Hating everything digital is the same as hating on cell phones and sticking with land line phones. Dumb, I can play every Xbox one game I've purchased on any Xbox one I sign in with my account. So what's so bad about that?

I don't hate nor did I claim to hate digital. Digital is GREAT as a service. I just don't care for digital as a product. I know it's a grey area and we all see it differently. That's cool. If we both buy Titanfall $60. You buy digital myself physical copy. 3 months later I can sell mine for $20-$30 bucks. You're just outta $60. That just don't do it for me.

You make a good point about you being able to buy the disc and then sell it to recoup some of the cost. This is why it's unacceptable that digital games currently cost more than disc games: you can find Xbox One titles for $48 brand new on Amazon, but if you want the digital version, you have to shell out $60 to Microsoft directly and then you can't re-sell them. It's rubbish. I'm especially irate about it because I want an all digital library: I like the idea of being able to sign into any console and play my games, not having to worry about scratched discs (kids in the house; anything goes), but most of all, I love being able to say "Xbox, go to Dead Rising 3" and not have to get up and go put a disc in the drive. Third-party retailers need to be given the right to sell digital download codes for XBox One gams (right now, they only sell DLC content). #DigitalEquality, @Microsoft!

My guess is you pay the premium for an all digital library. I will gladly pay the difference to not have to get up and switch a disc.

I already pay that premium by not being able to re-sell the disc; I shouldn't have to pay it twice (higher retail cost + not being able to re-sell it). It's bad business, contrary to Microsoft's original strategy for the Xbox One, and it's insulting to the customer.

"It's never good news when a downloadable game gets de-listed, regardless of platform" On Android I have never experienced this, especially regarding paid apps. I mean MS policy to pull something I already paid is pretty fucked up.

My windows phone is beginning to feel less appealing the longer i have it. Xbox music is just pants and now this...

Yup.. With you there.. I purposely got one so i could get some cheeves.. It pisses me off that you buy a game.. Delete it to play later. Yet you cant download it from purchase history unlike the 360. If you have paid for it then it is yours.. Fair enough if they close the servers for mp games but for single player games it takes the piss.

This is a real shame. They want the WP platform to grow, but they doesn't even seem to fully support it themselves sometimes. If Xbox on WP dies, and the OS stalls too much in new functionality and features, I'll probably leave. :( #SaveXboxWP

Used to play Tower Bloxx on my old feature phone all the time. Great game.

Damn, regretting my purchase of Tiger Woods now. Which really sucks cause it was actually a really fun game. I wonder if I contact support if I can get a refund for it that I could put towards Final Fantasy 3s crazy high price.

I've gotten refunds on some delisted games before.

Does this happen on the other platforms? Are old purchased apps lost forever too?

Honestly? Don't think so. Yes, sometimes are apps delisted, but mostly beacuse they violate TOS - so they are delisted in matter of hours or days after they appear and you get refund. But delisting after months or years? Nope. Plus, on Android it is really easy to sideload apps (which is however the primary cause of high piracy), so even after it is delisted and there is a copy of apk somewhere on the web, you are good to go. BTW, there is possible to sideload apps from sd cards on WP phones, but I am not sure if the file has to be somehow authorised through Store. Try to google appropriate xap files.

Hey, I just discovered that even those app mentioned in the article are delisted, you can still download appropriate xap files from their page. I am pretty curious if you can install them via sideloding on sd.

Thanks for the info. Im not into sideloading apps atm plus device doesn't have expansion slot anyway. If this is how ms treats digital only content then im glad they 180'd on the x1.

As Paul mentioned some way up, this behaviour only applies to Windows 8 and WP. But it is still wrong, no doubts.

It depends. I still run iOS 2 (yes 2) stuff on my iPad Mini and iPod Touch. It's the developer's call.

Sucks losing Xbox apps... But Tiger Woods 12 sucked on iOS and Android, not real sorry to see that one go...