How Microsoft can save Xbox games for Windows Phone: Part 3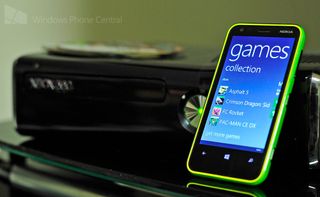 The implementation of Xbox games on Windows Phone is riddled with problems. While these range from "Darn it" minor to "Holy crap!" major, as a whole they threaten the viability of Xbox games on the platform. We believe Microsoft can still turn things around and make Xbox Windows Phone a mobile gaming force to be reckoned with, hence this series of editorials.
Part One of this series focused on the problematic Xbox Live certification process, and Part Two looked at both the importance of Xbox games to Windows Phone and the platform's need for popular game engine support. In this installment we'll tackle the simple need for proper volume control, the ability to redownload purchased games, and the weak advertising presence of Xbox Windows Phone games so far.
Three words: Independent volume control.
A Windows Phone's ringer inexplicably being lowered during gameplay
Here we have more of a generalized request, but it's so important to the gaming experience on Windows Phone (Xbox or otherwise) that I had to include it in this editorial.
Now, independent volume control isn't exactly a standardized phrase in the world of smartphones, but it absolutely qualifies as a basic, standard feature. It boils down to the ability to control the phone's ringer volume independently from game and app volume. Phones that have his feature (namely iOS, Android, and Blackberry) allow users to quiet a game down without affecting ringer volume.
Despite the practicality of independent volume control, Windows Phone 7 launched without such a feature in 2010. Nor did it make the cut for the Windows Phone 8 launch last fall. At this point, Microsoft has yet to indicate the feature is ever planned for the future. If we were to ask them today, we'd get a generic "We're always listening" response, but you can add one of those to 100 pennies and still come away with nothing more than a dollar.
How did independent volume control get left out of the Windows Phone feature set, and why hasn't there been more of a fuss from retailers and consumers? Put simply, it's not the kind of omission you'd notice during an in-store demonstration. Nobody gets a call on demo phones and they certainly won't alternate between playing games and receiving calls. People who only use their phones as phones would never even notice it's not there. But for gamers, it's an absolutely essential feature.
Skulls of the Shogun has proper volume sliders, but a universal way to adjust app volume is still needed.
I don't know about you, but I like to have my ringer turned to the maximum volume to ensure that I actually hear it. But the maximum volume (30) on the Lumia 920 and Samsung Focus I've owned is much too loud for gaming. It's loud enough to overpower (or at least rival) the radio in a car, and indoors it's bound to distract other people in the room and call unwanted attention to the player.
Some games like the lovely Skulls of the Shogun allow users to manually adjust both music and sound effects volume, but most mobile games just let you toggle sound on or off. Heck, Picnic Wars lacks volume controls entirely! This forces players to turn the phone's volume down to comfortable levels when playing games. I tend to prefer it between 15 and 20, but sometimes much lower depending on what I'm doing.
That's the problem though – forget to turn the volume back up after playing and your ringer volume stays down as well. I've missed more than a few calls as a result, and surely many of our readers have too. It's a nuisance that Microsoft can easily fix by storing two separate volume settings: one for games/apps and one for the ringer. Adjusting the volume during a game should not affect ringer volume and vice versa. As our EIC Daniel Rubino says, this is one feature that Microsoft needs to fix right now.
Xbox Windows Phone games must be available for redownload even if they get delisted.
Microsoft has yet to reimburse your friendly neighborhood Games Editor for this purchase.
Once users purchase any Windows Phone game or app, that title becomes tied to their accounts. If they delete the game after buying, they will generally be able to redownload it at a later date without having to pay for it again. It works much like the purchase system established on Xbox 360 in 2006.
Lamentably, if a game or app gets pulled from the Windows Phone Store for any reason, it instantly becomes unavailable for download. Several Xbox games have been delisted so far: Crackdown: Project Sunburst, Fast & Furious, Star Wars Cantina and Battle for Hoth, Twin Blades, MiniSquadron, and PES 2011 and 2012. Users did not receive advance notification of any of the delistings.
While delisted games still show up in the user's purchase history on the Windows Phone Store website, none of them can be redownloaded through any legal means. No one who purchased a delisted game gets an automatic refund, either. Some users have had luck procuring refunds in the form of Microsoft Points via Microsoft chat support, but there's no simple and guaranteed way to get reimbursed.
Of course Microsoft can't continue selling a game if the publisher pulls it or goes out of business. But when the money has already changed hands, why shouldn't the user retain permanent access to his or her purchase? Xbox 360 allows people to redownload most delisted games (with a few exceptions), as do many well-regarded storefronts like Steam. Admittedly, iOS and Android don't allow redownloading of games via the web. But both competing mobile platforms let users back up their purchased games on PC or other storage devices and restore them to the user's devices at will. Windows Phone owners don't have that option.
Even if refunds were quick and easy to get, the inability to redownload delisted software would still be a real problem. People replace their phones for a variety of reasons: the phone breaks, they upgrade to a new phone, or maybe they just use one phone at home and another at work. Or sometimes users delete a game for space reasons and plan to return to it later. If someone can't be confident that they will always have access to their purchased games, at minimum they're going to have less faith in the Windows Phone ecosystem. At worst, they'll think twice before buying each new game.
Xbox for Windows Phone needs proper advertisement.
This sort of ties in with last week's editorial about how everybody within Microsoft needs to be on the same page about Xbox Live for Windows Phone actually being an important selling point. To illustrate, let's look at what Microsoft actually does to promote Xbox Windows Phone.
Their advertising largely revolves around mentions on their own websites, Xbox.com and PlayXBLA. The Xbox.com page is fairly robust with the latest game release highlighted at top as well as a link to all Xbox games at the Windows Phone Store. The actual Windows Phone page is tucked away under the Games tab though, and thus not especially visible. PlayXBLA's promotion consists mainly of articles about Microsoft-published Windows Phone games. Those games come along so infrequently that you'd hardly know Windows Phone fits into PlayXBLA's purview, but we can hardly blame the PlayXBLA staff for that.
Beyond that, Windows Phone commercials like the one above sometimes mention Xbox games as a general feature, though they're mostly throwaway mentions and Windows Phone needs way more TV commercials anyway. Microsoft dedicated a tiny wall to Windows Phone games (seemingly chosen at random) at last year's E3, and Xbox Windows Phone received no mention of note at their E3 keynote presentation. Major ball droppage there, because the Xbox 360 team in charge of the keynote just plain doesn't care about Windows Phone or Windows 8.
Get more Xbox 360 owners interested in Windows Phone.
Is it more important to sell The Hunger Games and Maroon 5 than Windows Phones?
Last time, I mentioned that Xbox 360 users are a perfect target audience for Windows Phone because of the Xbox Live connection. But advertisements for Windows Phone on the Xbox 360 dashboard are even more rare than PlayXBLA articles. We saw a couple of avatar prop giveaways in 2011 (both of which were targeted only at specific users and so went unseen by most users) and if Windows Phone ties into a major sale like the Countdown to 2013, it will receive a small tile tucked away within the sale's overall section. Laura Foy's weekly Windows Phone-focused video series Hot Apps appeared on the dashboard for a while, though the series moved from the 360 to the Channel 9 website quite a while ago. Xbox 360 owners these days could be forgiven for not even knowing Windows Phone exists, let alone the virtues of its Xbox features.
The Xbox 360 dashboard's glut of non-gaming ad clutter is reviled by pretty much everyone except for the marketing people who created and maintain that ad structure. Those same black-hearted people have no interest in Windows Phone succeeding; they just want more advertising dollars to roll around in. But think of how much better Windows Phone would sell if it had a dedicated tile on the dashboard that led to a wealth of enticing videos and resources.
Looking past the dashboard, every major mention of the Xbox 360 and its successor console (E3 keynotes, TV appearances, etc.) should include some reminder that Xbox is also on Windows Phone, and if you like one you're sure to love the other. Use the established product to help the up-and-comer get where it needs to be.
Not done yet!
That was quite an eyeful, wasn't it? But we still have more to come. Come back on Tuesday the 12th to for Part Four – public relations, followed on Valentine's Day by Part Five – online features. Be assured that every important feature request (like backing up save data) will be addressed before this series wraps. If you enjoyed this editorial, please let us know in the comments below and tweet the article to everyone you think would benefit from it.
Get the Windows Central Newsletter
All the latest news, reviews, and guides for Windows and Xbox diehards.
Paul Acevedo is the Games Editor at Windows Central. A lifelong gamer, he has written about videogames for over 15 years and reviewed over 350 games for our site. Follow him on Twitter @PaulRAcevedo. Don't hate. Appreciate!