Windows Phone successes and failures at E3 2012
Windows Phone Central recaps the E3 2012 Expo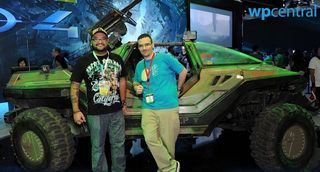 Mateo Nunez and Paul Acevedo at E3
E3 2012 – the Electronic Entertainment Expo turned out very much like we predicted. During their press conference, Microsoft touted upcoming Xbox 360 sequels: Halo 4, Forza Horizon, and Fable: The Journey; a new Gears of War prequel from Epic; plus several non-exclusive but cool console titles like South Park: The Stick of Truth, Splinter Cell: Blacklist, and Tomb Raider. They also announced several Xbox Live Arcade games, including Ascend, Lococycle, Matter, and Wreckateer. Oh, and Usher mystified us with a performance in the name of Kinect update Dance Central 3. I fear Harmonix may be in danger of running the dancing genre into the ground with these yearly sequels as once befell the music game genre, but time will tell.
Xbox entertainment library
We also knew to expect the rebranding of the Zune service to Xbox Music and Xbox Movies. Not a particularly exciting announcement, since nothing but the branding changed. The SmartGlass initiative is more noteworthy. Basically an evolution of the Xbox Companion App, it allows users to control Xbox 360 system functions (including the upcoming Kinect-enabled Internet Explorer), plus interact with movies, music, and games in new ways. Specifically, we can expect far more console titles to connect with Windows Phone – definitely a good thing.
Head past the break for our full E3 coverage summary, new videos, and lots more!
Windows Phone: small fish, big pond
Just like last year, Windows Phone didn't quite get its due either during the press conference or on the E3 show floor. Besides the aforementioned connectivity features, the sole mobile game mentioned (in passing) was Signal Studios' Ascend: New Gods, which we thankfully managed to investigate while playing the XBLA version.During the actual convention, Microsoft's Windows Phone display consisted of something like six phones stashed off to the side near the Forza Horizon display. Comparatively, Square Enix had more than 10 iOS and Android devices in their own area, each running a dedicated game. Could it be that Square Enix is more serious about their iOS games than Microsoft is about promoting Windows Phone to gamers?
Each Windows Phone device held the same seemingly random selection of 8 Xbox Live games: Civilization Revolution, geoDefense Swarm, iStunt 2, PES 2012, Wordament, Battleship, MUSH, and Shoot1Up. Let's think about these for a minute: Civilization Revolution takes anywhere from 1-4 hours to play, has a cliff-steep learning curve, and looks as pretty as the smear under a person's shoe. It is impossible that playing it on a show floor could give someone a positive impression of the platform. We were glad to see the three upcoming games in the mix (two if we count Battleship launching during day two of the show), but even that number is smaller than 2011's selection of new Live titles.
Why wasn't this week's release, Final Fantasy I on-hand? We've seen far more interest re: that game than any other title this year besides maybe Wordament. (Final Fantasy I should also have been at Square Enix's booth, but I digress.) Speaking of Wordament, the phones we saw weren't actually connected to the internet, so I doubt that title managed to win anyone over.
Room for improvement
From Microsoft's E3 Windows Phone area we can take away two things: one, the big MS should really give their mobile platform at least as much attention and room as other large software publishers. Yes, the Xbox 360 division brings home the bacon, but you can't grow your other platforms by neglecting them. Besides, phones don't exactly take up that much room to begin with. When plenty of other publishers who don't even have their own platform are showing off more mobile devices and games than Microsoft, things look a little off.
Two, the team responsible for advertising mobile Live games at trade shows and elsewhere could seriously benefit from the presence of a knowledgeable gamer. The games on the show floor should fall into one or more of these categories: upcoming (and thus exciting for both the press and readers at home), exclusive, graphically impressive, and/or easy to learn. Civilization Revolution (despite actually being quite a good game) doesn't meet any of those qualifications. Some existing games that would've been better choices include Chickens Can't Fly, Gerbil Physics, Pac-Man Championship Edition DX, Zombies on the Phone – heck, even BulletAsylum. And again, let's bring more new stuff to the table next time, please Microsoft?
Big publisher support
Sonic & All-Stars Racing Transformed was super fun. How about a mobile version, SEGA?
Sadly, big publishers like SEGA and Konami who have been producing Windows Phone games for quite a while now did not choose to voice their support at E3. In their defense, SEGA had no mobile section at all, and Konami's consisted of nothing but a couple of awesome Frogger Pinball displays. Rather than actual spurns, the absence here seems due to the general misconception that mobile games don't belong at E3. It's true that in years past, the presence of mobile games at the show has been negligible. But virtually no one in the gaming industry fails to see the growth and potential of the mobile market – some publishers are just slower to react than others. Let's hope Japanese publisher Gree hops on the Windows Phone bandwagon sooner rather than later; their booth actually dwarfed many console publishers'!
Windows Phone love
All this talk about what wasn't at E3 threatens to overshadow the cool stuff that actually was there! First and foremost, the indie team at 17-BIT wisely chose to promote Skulls of the Shogun, a beautiful strategy game that's coming to Windows Phone, Xbox 360, and Windows 8. We managed to sneak a peek at the mobile version as well as snagging a great interview.
Glu Mobile, one of the most successful publishers of freemium games, took the time to meet and speak with us about their plans for Windows Phone and Windows 8. Naturally we had to play Gun Bros and Contract Killer, two Xbox Live titles that should release this summer. Both games will be free with the option to purchase weapons and items as DLC. Since freemium games don't bring in any money unless players actually like the game, Glu has a lot of incentive to make sure their titles are actually fun. From our time with Gun Bros and Contract Killer, they look to have succeeded.
Fun with consoles
With so many Xbox 360, Playstation 3, and now Wii U titles on the show floor, a mobile-focused site like ours could never manage to play or cover them all. Still, we spent our extra time checking out a couple of categories that should appeal to many of our readers: Xbox Live Arcade games and Kinect titles. The XBLA platform has grown truly massive since the Xbox 360 launch, making for a huge variety of downloadable console games. Of the dozens present at E3, our top XBLA picks (that don't have mobile versions) are Double Dragon: Neon, Retro City Rampage, and Pid. We squeezed in a fantastic interview with Double Dragon's producer, so be sure to check it out.
As for Kinect, the library of motion-controlled Xbox 360 is truly taking off. Microsoft pushed Fable: The Journey, Avengers: Battle for Earth, and Wreckateer pretty hard. We were also taken by several third-party efforts. Majesco's NBA Baller Beats combines the sports and rhythm/music game genres for an amazing effect. The sight of someone dribbling an actual basketball (included with the game) while matching the beat of numerous catchy songs was mesmerizing. Our newest staff member Mateo Nunez and I also played a couple of fun licensed games at the Namco Bandai booth: Dragonball Z Kinect and Power Rangers Super Samurai. Both titles are sure to hit home with kids and the young at heart,
Without further ado, here's a full directory of Windows Phone Central's E3 coverage:
Pre-E3 coverage
Microsoft's E3 Press Conference
Zune and Xbox websites announce the arrival of Xbox Music
The dazzling cars of Forza Horizon
Windows Phone games and apps at E3
Hands-on with MUSH for Xbox Live on Windows Phone
Hands on with SmartGlass at E3 – Windows Phone, Windows 8, and Xbox 360
Early look at Shoot1Up for Xbox Live on Windows Phone
Hands-on with Skulls of the Shogun for Xbox Live on Windows Phone
Stepping into the shoes of the Gun Bros on Windows Phone
Skulls of the Shogun developer interview and multiplayer demonstration
Console games and more at E3
Photo gallery – the Microsoft Live booth at E3 2012
We look forward to bringing you even more Windows Phone stories from E3 next year!
Windows Central Newsletter
Get the best of Windows Central in your inbox, every day!
Paul Acevedo is the Games Editor at Windows Central. A lifelong gamer, he has written about videogames for over 15 years and reviewed over 350 games for our site. Follow him on Twitter @PaulRAcevedo. Don't hate. Appreciate!
20 stories from one event isn't bad. Microsoft announced more new games last year, but we gained much less information in total. Why don't you try leaving more constructive/detailed comments? ;)

My comment wasn't a poke at you guys at all Paul. I think that you guys are the best site when it comes to WP. I should have elaborated more on my point, which is the current console generation is winding down and most publishers are working on next generation projects. :)

Ah, well that's much less hurtful. Phew! Agreed that most of the big console game ideas are probably being kept secret until the next gen comes along - for that reason, it can't come soon enough.

Very disappointed with lack of support and respect. I wouldn't know about any new games if it wasn't for WP central. Thank you for that. MS step it up dammit!!

Arcade titles look nice and anything that allows me to use my phone w/ the Xbox is a win in my book! I am also interested in the titles MS did announce but I for one would love to see another IP added to the mix. Gears, Halo, Forza, and Fable being the heavy hitters it would be nice to see another added to mix. MS ended the Xbox programming to utilize the $'s elsewhere and I hope that is towards new game development. It is a shame that the shows ended, I enjoyed most of them. The only other thing I was hoping to hear about is the next iteration of 1 vs. 100. Maybe I am remembering wrong, but I thought that by pulling 1 vs. 100 MS was going to offer something similar?
I also love the smartglass concept, and that warthog is cool!
Edit: I forgot to mention that the lack of WP at E3 is just sad. What a perfect time to capitalize on the growth due to Nokia than to push it at E3! I would think 10 plus phones with new titles on each of them. Why did they blow such an opportunity? At least there are some great titles that Paul did find, shogun! I am curious what about ms/ splosionman for wp?


I was pretty disappointed with MS's showing all around. I'm not a shooter fan so Halo and Gears do nothing for me (I do like lots of 3PS, but not Gears). And I'm kind of just tired of the rehashes of the same old games (although I understand they sale and that's what's important). It's like the 6th Halo title, 4th Gears title, 5th Forza title, etc.

And I was also disappointed with the total support for WP7, I would have liked to see more games announced and previewed.

Thank you for at least voicing Windows Phone to publishers and developers. They'll only develop if they believe there's interest. By the way, did you stop at the Zen Pinball booth and ask what the holdup with Pinball FX2 is?

We tried hard to catch Zen during E3 but no luck. They have promised to come through with the Pinball FX 2 news we've been working on very soon though. Fingers crossed!

I think Microsoft doesn't know how to advertise good their OS and Games. However, Nokia is doing a great job.

I was and am excited/dissapointed about SmarGlass. It will be cool to have an app that works seamlessly across all my devices but the fact that it only works with Xbox content is sad. I am sure most would agree that having the ability to push our own videos, music and pictures across those devices would be nice, essentially SmartGlass is the companion app with game integration. Looking forward to the connectivity for games though as long as its subtle things and not a gimmic fest like Nintendos offerings. I see micro-transactions in the future of SmartGlass though for all those Devs out there that like to sqweak out a $6 app for added features and being forced to use SmartGlass instead.

Ok. Glad you guys attacked this subject because it's been something I've been annoyed by since the beginning. BUT ... if there ever was a year that I could excuse them it would be this one. Why?

Windows Phone 8

Until it is fully revealed, nothing else about can be discussed, even games. And if the games support is going to greatly improve due to things like native code and hopefully enough years since Microsoft Game Studios (now just Microsoft Studios) established a dedicated mobile division, then it'll be worth the wait of a later reveal (GamesCom again?).

Regardless, it's far past time for MS to fully embrace the unparalled position they are in to dominate mobile gaming. They are the only console manufacturer that also has a major smartphone OS platform. Apple, Google, Nintendo and Sony ALL fail miserably in that regard. But it's only an advantage if you leverage it and MS is doing little to NOTHING to do that. It's frustratingly aggravating to see such a grand opportunity fumbled away ...

Great comment, dude. They surely are holding off on some announcements and bigger games until WP8 comes along. That said, even the current game selection (and coming-soon stuff like FInal Fantasy) is worth promoting and pushing right now. Barring update incompatibility issues, WP7 customers today will be fueling WP8 software sales tomorrow. Plus everyone Microsoft catches now potentialy slows the gaining of mindshare by iOS and Android.