The Xbox Live Arcade games of Microsoft's E3 2012 Press Conference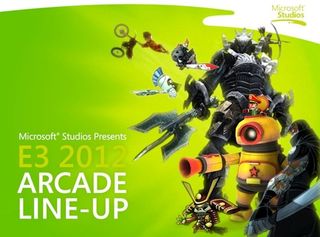 We've already touched on the retail Xbox 360 games announced during yesterday's E3 2012 press conference, but Microsoft also announced several exciting Xbox Live Arcade games. (XBLA refers specifically to downloadable Xbox 360 games, not Windows Phone titles.) Those games included Ascend, Lococycle, Matter, and Wreckateer.
Ascend: New Gods is undoubtedly the most promising XBLA title for Xbox 360 gamers who also happen to be Windows Phone fans. Why? It's coming to both XBLA and Windows Phone. Both versions feature not just asynchronous multiplayer but the ability to compete against players from either platform. Transferring progress from the Windows Phone game to the XBLA game will definitely be supported, but we don't know whether the reverse is true yet. The presence of cross-platform multiplayer would seem to indicate that mobile Ascend will be a direct adaptation rather than a companion game ala last year's disappointing Fusion: Sentient.
Ascend: New Gods is an action-RPG that pits players against gigantic Titans as well as each other. From what we've seen, it resembles the God of War series and (to a lesser extent) Bloodforge. We hope to speak with Signal Studios (who also made the beloved XBLA Toy Soldiers games) over the course of E3 and report back with further details.
Lococycle will be the first new game developed by Austin-based Twisted Pixel Studios since the developer was acquired by Microsoft late last year. Apparently too early in development to share gameplay details or screenshots, all we have to go by is this official description:
"Presenting I.R.I.S.: Two-time Valedictorian of the illustrious Big Arms Academy's School of Assassination. Proficient in over forty forms of unarmed combat, earning Sensei status in Jiu-jitsu, Aikido, Krav Maga, and Jeet Kune Do. Equally deadly with blades, handguns, and the latest in nuclear technology. Fluent in over fifty languages and virtually every local custom. Can blend in and disappear at a moment's notice in any country around the world. The first female cadet to break the four minute mile...by three minutes and forty seconds. All this, and it won't even run down her batteries. Twisted Pixel Games proudly presents "Lococycle." Today's criminal requires tomorrow's hero."
In addition to Lococycle, Twisted Pixel is hard at work on the upcoming Windows Phone port of Ms. Splosion Man, an XBLA game that Daniel Rubino and I both enjoy very much. No word on whether the mobile Xbox live version of Ms. Splosion Man will be on the show floor, but we'll definitely keep an eye out.
Details on Matter, the Microsoft Studios-published first game from movie director Gore Verbinsky, are also in short supply. We were treated to a video of a silver sphere floating around a futuristic setting, but no actual gameplay. Could that sphere be the player character? Only time will tell. Considering the title's origins, we can certainly expect a cinematic approach and a smattering of narrative to accompany the gameplay.
Wreckateer is thankfully much closer to release, as evidenced by an actual gameplay presentation on stage. Iron Galaxy's game could easily be described as a Kinect version of Angry Birds, as players use their bodies to aim and fire catapults at Goblin-infested castles. We saw a variety of interesting shot types, including one in which the cannonball split into four pieces and another that allowed players to steer the ball after launch for greater precision. Not only does Wreckateer's gameplay look fun and easy to learn, but the 3D graphics and fully-voiced characters are a cut above what we'd see in mobile games of this genre.
The Electronic Entertainment Expo officially opens in about an hour. Stay tuned for more E3 2012 coverage from Windows Phone Central!
Paul Acevedo is the Games Editor at Windows Central. A lifelong gamer, he has written about videogames for over 15 years and reviewed over 350 games for our site. Follow him on Twitter @PaulRAcevedo. Don't hate. Appreciate!
Will there be an announcement of Xbox Live games for WP7?

Sadly, we can't expect anything. At least we got mentioned in the SmartGlass keynote/unveiling. We'll have to wait until June 20th with Windows Phone Summit.

Technically Ascend was announced for it (or WP8). Microsoft isn't showing any unannounced WP7 games though, sadly.

Why was Wreckateer compared to mobile games? Just curious on the wording there...I could see a mobile adaptation of that game very easily (I too saw it as Angry Birds: Cannonball!!!) but do not think anything close to that was announced.

Just referring to things our audience will understand. No, a mobile version wasn't announced, but it would actually be a good fit.
Windows Central Newsletter
Thank you for signing up to Windows Central. You will receive a verification email shortly.
There was a problem. Please refresh the page and try again.