Countdown to 2013 with festive Xbox Windows Phone and Xbox 360 sales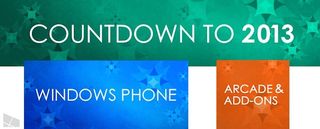 Microsoft may have shelved the Xbox Windows Phone Deal of the Week program for the remainder of the year, but that doesn't mean there won't be any more sales on Xbox games. Similar to the Black Friday week sales last month, the big MS has just kicked off a major sale on Xbox Live games for Windows Phone and Xbox 360. Yes, the Countdown to 2013 sale (sequel to last year's Countdown to 2012 sale) has already begun! As a special treat for console owners, you'll be able to get two free XBLA games during the countdown.
Xbox Windows Phone Sales
There are six Xbox Windows Phone games on sale this time, just like this year's Black Friday sale and double the selection of last year's sale. The sale prices are valid from now until December 31 – no daily sales for Windows Phone. That said, WP sale prices often take one or more days to show up for some users, so keep checking back until you see the sale price.
Contre Jour – $.99, down from $2.99 – Store Link
This marks the first time Chillingo's lovely physics puzzle game has gone on sale. The object is to direct the Tentacles-looking protagonist Petit to the safety of each level's exit. The catch is players don't control the creature directly. To help the little guy avoid a small death, you'll tap to drag and reshape the landscape, rolling him around. Use pulleys and other environmental gadgets (slingshots, tentacles, portals, blows, and more) to move Petit past a variety of environmental puzzles.
Doodle Jump – $.99, down from $2.99 – Review - Store Link
Game House's seminal endless jumping game has been on sale a few times before, but new Windows Phone users will certainly want to give it a look. Doodle Jump is the progenitor of the jumping game subgenre. Players control the Doodler by tilting the phone. He's always jumping, so you only need to worry about where you're going to land, collecting power-ups, and tapping enemies to kill them. Unfortunately, Game House never released a promised update with new themes (levels), so the Windows Phone version lags far, far behind the iOS and Android games.
geoDefense Swarm – $.99, down from $2.99 – Store Link
geoDefense Swarm has only gone on sale once before. Swarm is the semi-sequel/spin-off to geoDefense. The key difference here is that enemies no longer travel along straight lines towards the player's base. Instead, the entire playing field is made up of hexagons. Enemies can move anywhere along it, and players can put towers on most of those spaces.
However, it often happens that only one or two defenses will actually work, greatly reducing players' freedom. As a result, Swarm is more challenging than its predecessor, and the difficulty of levels is still all over the place. But if you don't mind the uneven difficulty, it's still an appealing tower defense game.
iStunt 2 – $.99, down from $2.99 –Store Link
Miniclip's snowboarding game has never gone on sale before. Its gameplay involves steeingr a snowboarder around 2D courses, collecting stars and trying to earn high scores. Your border will have to survive crazy loops, buzzsaws, gravity portals, and other hazards in order to reach the finish line. Steering is as simple as tilting the phone to adjust the board's position, while swiping down on the screen crouches and swiping up jumps. Later levels require copious memorization and retries in order to grab all the collectibles, making the game and its Achievements harder than I'd like. But it's lots of fun till the difficulty ratchets up.
Kinectimals – $.99, down from $2.99 – Review - Store Link
Kinectimals has only gone on sale once before. It's the portable version of Frontier Software and Microsoft's feline-themed Kinect game. Players can choose one of five kitties or import an existing cat from the 360 version using the phone's camera. Then it's time to teach your kitty tricks by performing swiping motions, play catch, complete challenges, and buy lots of accessories. There's not much depth here, but the kitties are cute and the Achievements are super easy.
Mush – $.99, down from $2.99 – Review - Store Link
Mush was just on sale during Black Friday week, but for $1.99 instead of 99 cents. Angry Mango's first WP title is a bright and original platformer that plays a bit differently from the norm. The main character gains unique abilities based on his emotions. Draw a smile and becomes so elated that he floats; make him frown and he sinks way down low. By switching emotions as necessary, you'll help Mush solve puzzles and win a game of hide-and-seek with his friends. Besides the creative emotion mechanic, Mush also boasts a beautiful and appealing art style. It's kind of short and easy, but so pretty you probably won't mind.
Xbox 360 Sales
Kinect Party is free until the end of the year and insanely fun.
Just like with Black Friday, the Xbox 360 sales (opens in new tab) on offer dwarf the Windows Phone offerings. To be fair, the 360 has been around far longer and has far more games and items to choose from. The following games and expansions are on sale for 25-75 percent off and will remain so until the end of the year.
Games on sale:
Daily Sale Schedule:
Tuesday, December 18th: Call of Duty: Modern Warfare 3 and DLC
Wednesday, December 19th: LEGO games (these are live right now!)
Thursday, December 20th: Platformer games. Includes Hell Yeah! and Sonic Adventure 2!
Friday, December 21st: Games from Rockstar, including Read Dead Redemption
Saturday, December 22nd: Tony Hawk's Pro Skater games (rumored)
Sunday, December 23rd: Summer of Arcade 2012 games. Make sure you buy Dust!
Monday, December 24th: Trials Evolution and Trials HD
Tuesday, Christmas: Kinect and Family games. Includes Fruit Ninja Kinect. Also, The Walking Dead: Episode 1 will be free from December 25-31!
Wednesday, December 26th: Counter-Strike: Global Offensive (rumored)
Thursday, December 27th: Borderlands games and DLC. I'm so hooked on Borderlands right now.
Friday, December 28th: The Walking Dead Episodes on sale
Saturday, December 29th: More Family games
Sunday, December 30th: Fighting games!
Monday, December 31st: Elder Scrolls games and DLC
…
Which Windows Phone and Xbox 360 games going on sale are you excited for, loyal readers?
Windows Central Newsletter
Get the best of Windows Central in your inbox, every day!
Paul Acevedo is the Games Editor at Windows Central. A lifelong gamer, he has written about videogames for over 15 years and reviewed over 350 games for our site. Follow him on Twitter @PaulRAcevedo. Don't hate. Appreciate!
Need more 99 cent sales. I'm cheap

I'm gonna grab istunt 2, mush and geo defense swarm :)

I hear you, same here lol..

Some in the list are now 99 cents. Probably till end of the year.

Yes, that is what the article says - the sale goes through December 31.

No Windows Xbox Live deals yet choked.

This is shocking. No sales in UK stores.

I'll wait till those drop to 99 cents.

The Xbox 360 dashboard lists these WP games as .99 cents. I am guessing tomorrow?

Geo Defence rocks !!!! I like games with such graph. - but where is "OMG", "Crim Dragon" and "Orbital" ??

I also loved both geoDefense games. Crimson Dragon is always .99 cents so no reason not to own that one, it's great!

crimson dragon may be .99 but it's still not in the WP8 store.

What games are free on console?

Kinect Party and the DLC and on Christmas - New Years Eve Walking Dead Episode 1 will be free.

Never played the Walking Dead games, heard a lot of good things about it tho. This will be great to get the first one to check it out to see if I like it or not without being limited on it being a demo.

All the Lego games on games on demand seem to reduced today if anyones interested

If you're smart... just save your money for the walking dead games.

At this point, yes. But I've been buying them since April when ever they came out and certainly do not regret not waiting. It's a wonderful game and anyone who's on the fence about it, I say take advantage of the sale and snag them all.
Also, not sure who does it, but Bing is your friend if you're a big Xbox person. Being able to earn free MS points for searching everyday is how I ended up buying most of the Walking Dead episodes.

The Bing! promotion is US only though.
I've had nearly 700 points back from Xbox Rewards though, so don't forget that too!

Nice DEALS on the Xbox360 marketplace!!
Hope to see even more generous deals from MS in the future!

This app is not available in your region...

Well, thanks I guess

my region is set to UK and I just purchased doodle jump at the reduced price. 0.79p

Kinnect animals still,2.99 for me.

Yes, I also see Kinectimals at full price. I wonder when it will drop... I'll look again tomorrow.

Yes.. same for me..
everything else has dropped in price.

They are all still full price in the Marketplace.

Sigh, can't seem to get these prices. Keeps taking me to 2.99 prices. Ah well.

These sales usually take about 48 hours to come live in my experience

Just 2000 msp left
Mark of the Ninja
Red Dead Redemption
Dust an Elysian Tail.... come to me

The website actually says 99¢

Jet Set Radio here I come!

Bought iStunt 2 and Contre Jour, the 2 I didn't already have. As for the XBLA sales, there will be a few games I'm interested in, but I have all the big hitters already.

urghghgh I hate when this happens!! I keep buying them at 2.29 only to have them drop down the week after!! :(


The Walking Dead on Friday December 28th* Not 29st?

Bully and Rock Band 3 are £8.99 / 1080msp in the UK . It's always great to know that M$ cares about us so much that they charge us nearly $5 extra..,.

Yeah, Games on Demand prices and sale prices always vary by region. They're cheapest in Hungary for some reason, so it's worthwhile to make a Hungarian Live account and buy from there if you want to save some money. Anyway, updated the list with the UK prices, so thanks. :)

Picked up geodefence for wp8 and kinect party + dlc as its free for x360

Why is Doodle Jump Delisted???