Galaxy Rebound for Windows Phone, testing your aim with shooting stars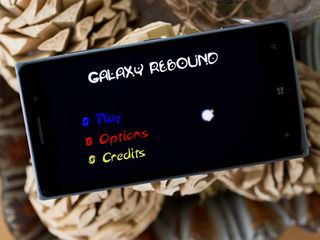 Described as having a Zen style of game play, Galaxy Rebound is a relatively new Windows Phone game that will test your accuracy, timing and to some degree your creativity. The goal is to shoot a star into a portal or galaxy that matches the star's color.
While the goal may sound like a simple task to accomplish, the color of the star can change as it bounces off the colored walls of the gaming screen. You'll need to calculate your ricochets just right, so the last color change matches that of the star's home galaxy. You also have barriers scattered about that can be used to bounce your star in the right direction.
Galaxy Rebound includes 45 puzzles to solve and is available for low-memory Windows Phones. After tackling about half the puzzles, we found the Windows Phone game to be a fun, laid back game that isn't too shabby of a way to pass the time.
The main menu for Galaxy Rebound isn't very complicated. You have options to jump into game play, access the game's settings and view the game's credits. Options include the customary sound/music controls and pop-up windows illustrating the game's controls.
The first half-dozen or so gaming levels are tutorial in nature and will walk you through the basics of game play. The gaming screen will have your star and its galaxy positioned on the playing field.
The mechanics for Galaxy Rebound are similar to other physics-based puzzle games. You can either tap on the star and drag your finger in the direction you want it to travel or tap on your aim point. Either method will pull up a psychedelic trajectory line to help fine-tune your shot. When you have your path set to your liking, release your touch on the screen and the star will begin its journey.
The walls of the gaming screen can be colored and when your star bounces off them, the star's color will change to that color. Most of the puzzle levels will also have barriers scattered about the screen that can be used to deflect or bounce your star into the right path to make it home. A white barrier or wall will not change the star's color.
The star must match the galaxy's color and it only needs to get close to allow the galaxy's gravitational pull to drag it home. If you miss, the star will bounce around for a brief period or you can double-tap the screen to reset the level quicker.
There is no game clock and no score to be kept. The pace of the game is casual, but the puzzles can be challenging. Each puzzle has multiple solutions and is re-playable.
Overall Impression
Galaxy Rebound is a laid back Windows Phone game that doesn't have a lot of bells and whistles. Graphics are minimal and game play simple to pick up. The goal of solving each puzzle isn't very complicated but challenging nonetheless. I could see Galaxy Rebound being a good gaming title to pick up when you need to slow things down a little.
I did not experience any glitches, bugs or other issues relating to the stability of the game. The aiming can be a little on the sensitive side but nothing mission critical. Overall, I found Galaxy Rebound to be an enjoyable Windows Phone game. I'm not sure if Galaxy Rebound is strong enough to be a "go to" game that you pick up every day. However, it is solid enough to have in your gaming library to pick up from time to time.
If you try Galaxy Rebound, let us know in the comments below what you think of the Windows Phone game. Plus, don't forget to rate the game in the Windows Phone Store. It is the easiest way to give the developer feedback on their work.
Download Galaxy Rebound for Windows Phone (Free)
George is the Reviews Editor at Windows Central, concentrating on Windows 10 PC and Mobile apps. He's been a supporter of the platform since the days of Windows CE and uses his current Windows 10 Mobile phone daily to keep up with life and enjoy a game during down time.
Galaxies not allowed.... Make it Ativ Rebound :P

i seriously thought for a second that galaxy rebound was a new WP handset from samsung.

Lol.. Samsung does that kind of naming for U.S carrier or Chinese phones

Same here, LMAO! I could of swore we were seeing the Galaxy S6 Variant for Windows Phone. Ah well.........

It will be named galaxy imposible instead.

The headline made me think this was the s6 with wp10... Nice name "rebound"

generally, game is nice but graphics could be better ;d
Windows Central Newsletter
Thank you for signing up to Windows Central. You will receive a verification email shortly.
There was a problem. Please refresh the page and try again.