Game of Thr33s for Windows Phone, a deceptively challenging puzzle game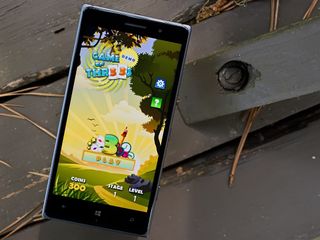 Game of Thr33s hit the Windows Phone Store earlier this month and is a deceptively difficult match-three puzzle game.
The Windows Phone game presents you with a series of shapes that you have to find matches of three. The twist comes into play in that the matches do not have to be exact. You can base the match on the shapes color, number, pattern or style. There does have to be some consistency in the matches, but you do have some latitude in creating the match threes.
Available for low-memory Windows Phones, the game has hundreds of puzzle levels to tackle and two gaming modes. Game of Thr33s makes a nice first impression and isn't too shabby of a Windows Phone game to pass the time with.
The main menu for Game of Thr33s presents you with the options to jump into game play, access the game's settings and view the developer's credits. At the bottom of the main menu, you will also find your coin count and stage/level progress. Settings for Game of Thr33s are minimal, covering sound and music levels.
Game play is divided across three stages with each stage having fifty or so gaming levels. You also have a tutorial that will offer how-to-play instructions. To advance through the gaming levels, you will need to earn a set number of stars (that are based on your score) and your progress will be displayed on the gaming level map.
Game of Thr33s presents you with a series of gaming cards that have a variety of symbols on them. The goal of the game is to create sets or matches of three of these cards based on one of the features of these symbols. You can base the matches on the filling (or pattern), amount, shape or color of these symbols. The twist in creating the matches is that all the features must be exactly the same or completely different.
For example, you can have three triangles with completely different patterns, three diamonds of the same color or three different shapes with different colors. It's not an overly complicated concept but will drive you nuts at times while trying to sort out all the match combinations available. The more you play though, the easier it becomes to pick matches out of the crowd.
As you collect sets of cards, the gaming screen is replenished with new cards.
There are also three types of power-ups available with Game of Thr33s that you can buy with the coins you earn during game play. These power-ups include:
Hint: This power-up will show you 2 out of 3 cards that will help you create the match more quickly.
Time: This power-up will refill your timer bar.
Joker: This power-up finds a match instantly.
The game does have two gaming modes, Arcade and Classic. The Arcade mode has your playing fields of cards scrolling down the screen and the Classic has a fixed number of cards (12) displayed. You can choose your gaming mode prior to the start of each gaming level and both game modes are timed (60 seconds). The Arcade mode is definitely the more challenging of the two gaming modes, but I would have liked to have seen a larger field of cards. The three rows scrolling down the screen is awfully narrow and expanding it to four rows would give you a fighting chance for success.
While the goal is to create as many sets or matches as possible, there is a minimum number of sets to win each level. The more sets you create beyond this minimum dictate how many stars you earn towards advancing to the next level. Just be aware that the number of stars needed to advance will likely require you to play both gaming modes to meet the star requirements.
Overall Impression
Game of Thr33s is a deceptively challenging Windows Phone game. The concept sounds easy but because you have so many variables to base your matches on, it is easy to be overwhelmed and overlook the obvious. You tap cards with three ovals, diamonds and squares only to see the match being rejected because the ovals and squares are the same color.
Once you get the swing of things and have a few games under your belt, finding matches does become easier. However, the game clock offers just enough pressure to keep the game from becoming too easy.
I did experience a little instability when loading the game on my Lumia 830. The game would begin to load and then crash before making it to the splash screen. The frequency of these crashes never rose to the level of irritation, but they were noticeable.
All in all, Game of Thr33s is a challenging addition to the match-three styled Windows Phone games. The game is listed as a demo, which gives you access to the first stage of fifty puzzle levels. At last check, Game of Thr33s is pulling down a 5 Star rating in the Windows Phone Store, but that is only with one review. We would score it in the neighborhood of 4 Stars, maybe 4.5 if the stability issues were addressed. If you give Game of Thr33s a try, let us know what you think of the game in the comments below.
Download Game of Thr33s for Windows Phone (Free)
George is the Reviews Editor at Windows Central, concentrating on Windows 10 PC and Mobile apps. He's been a supporter of the platform since the days of Windows CE and uses his current Windows 10 Mobile phone daily to keep up with life and enjoy a game during down time.
Wow! Game of Thrones for WP!
.
.
Oh! It's not...
Anyway, sounds like a fun game. Will give it a try!

I too though at first,but had pitfall.

Where's Mark? Haven't seen his videos for quite a while now!

Guys Ma Lumia730 proximity Sensor Not Blinking...!!

Rip mag esh's 730 :"""""""""""'( but seriously check the forums instead, article has nothing to do with your question.

Oh my heck with all these games. My L1520 is running out of space. Im not sure if it is better to install the apps in SD card. As it slows down the video writing :|

Use SD for Music, Vídeos and Images...
Apps and Games in Internal memory.
This is how I'm doing, and I have more than 200 apps+games installed. xD

I just read it as game of thrones

Showing download over Wi-Fi wtf is anyone having same problem

That's a feature, not a bug!

I hate things with numbers in the name just to look cool. Like when people called it Windows Se7en. Can't stand that.
Windows Central Newsletter
Thank you for signing up to Windows Central. You will receive a verification email shortly.
There was a problem. Please refresh the page and try again.