Game Troopers' Ludo Blitz brings the casual game to Windows 10 PC and Mobile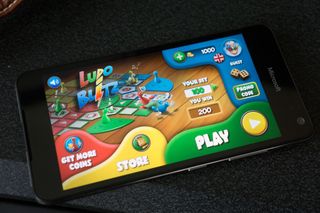 Game Troopers has released its latest Windows 10 PC and Mobile game. Ludo Blitz. It offers a new take on the popular Lodo casual game. It's also available for Windows Phone and Windows 8.1.
Here are the main features for Ludo Blitz:
Shorter and casual games – ideal for your coffee breaks, or subway travels
Get ready for a completely new and challenging game every time you start playing.
Watch your Pawns come to life – Enjoy the hi-res 3D movements and actions
6 boosters to take the fun in LUDO to a new level
2 special fields to enhance the wonderful chaos of LUDO
While the game is free to play, it does offer in-app purchases for extra packs.
Download Ludo Blitz from the Windows Store (opens in new tab)
Windows Central Newsletter
Get the best of Windows Central in your inbox, every day!
Yay! More Game Troopers love for a dead platform ;-) Just because it isn't CoC, doesn't mean it's dead!! Right, back to my casual game....

Would be nicer if it looked more squary than curvy like the real Ludo but something's better than nothing

Seems like they have abandoned Xbox on WP as well. I guess it isn't worth it for developers to integrate this feature.

There is no short term plans to support Xbox on Ludo Blitz. Even though, we hope you like the game. Reply from game troopers Posted via the Windows Central App for BlackBerry Passport

Game troopers , you beauty .... Thanks for all awesome games .... Downloading this one .

Does it support multiplayer online gaming

Hope they release for ios and becomes cross platform. Would love to play friends on there.

Cool I love ludo. Keep it up game troopers!

Slightly related. What the hell has happened to the Store? I know they revamped it, but descriptions of the apps have disappeared and the whole thing is sluggish and unresponsive these days.

GameTroopers has lost its major feature, xbox achievements, which means im VERY unlikely to download/purchase their content. Really sad, cause id pay as much as $15 USD for a game w/ achievements without a second thought.

No Xbox live again, big disappointment by GameTroopers.
I won't download it.

I MIGHT try a game, but I only spent money on a games with Xbox on them.

Yeah, Xbox on WP seems to be pretty much dead. I only play Xbox games on my phone and I always bought Xbox-enabled games on launch, as well as IAPs. I rarely download mobile games without Xbox.