GAME UK selling Halo 5 Guardians Limited Collector's Edition with life-size Needler Gun replica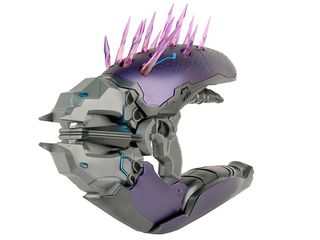 Microsoft is selling different versions of its upcoming Xbox One shooter Halo 5 Guardians, but GAME in the UK appears to be the only place to purchase the Halo 5 Guardians Limited Collector's Edition "Pink Mist Edition". It includes a life-size replica of the iconic Needler Gun from the first person shooter series.
This version of the game will set UK residents back £449.99. In addition to containing the content of the "regular" Halo 5 Guardians Limited Collector's Edition, it throws in the Needler Gun replica. While it won't shoot out glowing purple crystals that can detonate inside an enemy's body, here are the features of this detailed non-lethal version:
LED lights
In Game Sound
Over 14 different needlers mechanically pop up and down in sequence when trigger is pressed – just like in game.
Massive size – real life 1:1 model created from the original digital files used in game
Limited Edition
About 29" across and over 10" tall
There's no word yet if any US retailer will offer this version of Halo 5: Guardians.
Check out the Halo 5 Guardians Limited Collector's Edition "Pink Mist Edition" at GAME UK (opens in new tab) (£449.99)
Windows Central Newsletter
Get the best of Windows Central in in your inbox, every day!
Master chief helmet with 3, now this. They really go all out with these games.

But that wasn't full sized for anyone other than a small child. This is big..

I am most curious what materials it is made out for that price point to be justified.

Probably mostly made of cheap plastic

Exactly, this looks like a cheap toy. I doubt a collector get excited about it.

i heard it shoots out needles full of heroin. that could be the reason why its pricey.

Gimmicks a plenty with new Gen games..

I was waiting potentially for the prices to go down some more. Not up lol. Asking a premium for more hdd space ridiculous considering the price drops in hdd memory.

You get two brand new One consoles for the same price lol.

My wife would would love this. She's a crazy collector of anything Covenant related.

Looks cool. But I'm in Canada. I am getting the digital version

Do they explode on contact too?

If this was pip boy price, yes. 449, hell no.

The pip boy is literally a plastic phone case. This is a working replica that does everything but actually shoot the needles. Is it overpriced? A bit, but not that much when you look at quality replica prices.

So exactly not a working replica

Oh yes, with out current tech and knowledge we can totally release a working alien gun. Common sense man, jeez,

You can buy a carbine on ebay for like 100. The needles on this fold down...great, how long until that breaks. Four hundred and forty nine POUNDS, not cheapo dollars, expensive pounds. For a game and this replica. Not even the xbox included. Absolute rip. If I was rich I would buy this though lol

Think of the resale value a couple of years down the line, uncharted knife (pearba??) version for instance

That is f'ing awesome! I write love to have one of those.

Why pick the most eye-hazardous weapon for this pack? You can literally kill someone with this.

I guess we should ban pencils too?

Wish it'd ship with two so you could dual-wield lol Seriously, bring back dual-wieldingggg~

ive been away from halo for a long time (joined the PC master race). They removed dual wielding? I remember that being so awesome in Halo 2 when it first came out.

That's cool, price is redic though.

Taking CE's to a whole new level of stupid. Posted via the Windows Central App for Android

I want one made by that carboard kid from Youtube

Damn that is huge, that's approx 74 cm across x 28 cm tall. The price is ridiculous lol, never the less they will sell.
Windows Central Newsletter
Thank you for signing up to Windows Central. You will receive a verification email shortly.
There was a problem. Please refresh the page and try again.