Gamers might encounter some issues with the Windows 10 PC preview build 11102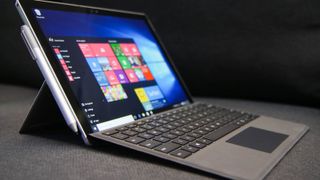 Microsoft has posted a list of the known issues that members of the Windows Insider program might encounter when they download and install the latest Windows 10 PC preview build 11102. One issue in particular might affect how PC games work on the build.
According to Windows Insider head Gabriel Aul:
Some PC games will crash switching from windowed mode to full screen, upon game resolution change, or upon launch due to a bug in Windows graphics stack. We have observed this with The Witcher 3, Fallout 4, Tomb Raider, Assassin's Creed, and Metal Gear Solid V but it may occur with other titles as well.
With this build (and with the last build), applications such as Narrator, Magnifier, and third-party assistive technologies may experience intermittent issues or crashes. If you rely on screen readers or other software, you should not use this build. This issue will be fixed with the next build.
You might see a WSClient.dll error dialog after logging in. We're working on a fix for this but as a workaround, you can run the following in Command Prompt with administrative rights: schtasks /delete /TN "\Microsoft\Windows\WS\WSRefreshBannedAppsListTask" /F
While attempting to update to this build, your PC may show a message that your wireless card is not compatible with Windows 10. The workaround is to visit the support page for your PC or wireless card and install the newest driver that is available.
The Connect button does not show up in Action Center.
Source: Microsoft
Gabe Aul sure plays a lot of games.

Lol, all the popular games!

Sounds like a build to skip. Many errors even for non-gamers

Fast ring is faster meaning more bugs. This will be fairly common I think...

Does it mention what bugs it fixed at all? On Windows Central it just shows that Edge got a new feature that's it.

When they haven't fix the bug most likely they will encounter another bug that even worst than previous one. It's not mean that the bug never get fixed but they have yet fund the best way

Every update they should reduce their error but it seems reverse

They are working on one core, the basics of the os. Making it lighter, faster, and easier to work on. This is to be expected.

Judging by the mention of an updated graphics stack, some of the crashes and bugs are likely caused by where they are testing new methods to potentially improve graphics performance slightly... Overtime it's likely that the updated graphics stack will be less buggy and possibly improved performance over the latest current stable (1511 November update)

Sure but there are quite a few games that you shouldn't alt + tab out anyway

They release a list of known bugs, what they don't release is a list of fixed bugs. So you don't know if your comment is correct. :)

That means they are working on stuff they haven't worked or haven't finished.

Think of it this way: Right now we are at the beginning phase of the Redstone 1 build of Win10, which means they are taking the whole OS and shaking it all up. Stuff breaks, features are added and removed, and everything becomes a mess. As we get further along stuff will regain structure, solidify, and find ways around all of the biggest bugs until we get a major public release that will be stable. Then we will hit Redstone 2 where everything is going to break again and we start the whole process all over. If you are on just the stable retail release cycle you will not have these issues, and every 6 months or so you should get a nice little update with lots of new stability, performance, and features. But if you are on beta builds, expect things to go bad shortly after a stable build is released. But hey, that is why we beta test this stuff, because we can deal with the issues better than the general public. If you run into major problems, jump back on the retail track. I had to do that to my laptop recently because I could no longer deal with getting 3-4 hours of battery life instead of my normal 8-12. But in 2-3 months I'll but it back on that too so that MS gets the data they need to run win10 on that kind of hardware.

Off topic :- How can we skip this build from downloading if we are using the insider build ? Defer upgrades ???

Switch to slow ring and then switch back to the fast ring if you want faster and buggier preview builds later on

Leave the programme and reenrol when you want the next build

If got errors with a stable W10 build!?
Gat a AMD gpu with crimson update.

Are you trying to tell people how to reduce graphics errors on the stable build or asking how? I'm not quite understanding... If you're asking how, try contacting AMD support for help with fully removing your current driver and then they will also help you with getting exactly the right driver for your machine (non-beta, right graphics card type I.e. Desktop not embedded) etc... I have an AMD graphics card with Crimson update on latest stable W10 build and never had any issues. I only had issues when I accidentally got the wrong driver or didn't replace the old one properly

I am using windows 10 11099 build and amd crimson graphics driver of 16.1 version...now i am updating it to 11102 build...shall i face any problem in games????

You're asking in the wrong place. Go to AMD.com support for help

I'm thinking I may skip this build.

This one's just for 'the fans'.

http://m.youtube.com/watch?v=Ja3_Nr24CII

Is there a work around for this one? - The Connect button does not show up in Action Center.

Depends on what you're trying to do. Miracast? Use Win+P then "Connect to Wireless Display". Bluetooth? Go to settings and then connect there. This also is not a new bug, as it was present in the last build as well.


For the Wireless Display Adapter so I think your suggestion will still work. I did notice it on the last build but haven't really need to use it on my Surface pro with the insider builds. Thanks for the tip!!

People were asking for more frequent build even if they were buggier but. A quick glance in the comments determined that was a lie

All these bugs makes you an insider on the fast ring. You want to test or you want to use new features first so bare it all. After all you guys will get to use Redstone first before even the insiders on the slow ring. How much more those non insiders. Before signing up for the insider program you accepted all these. People normally don't read all the License /agreement and later they start to complain. Why are some people saying they want to skip this build. After all Aul has stated all the known bugs. Please enjoy Fast ringers!!!

"The workaround is to visit the support page for your PC or wireless card and install the newest driver that is available" So what does this build actually accomplish since it sounds like it'll break my Cities:Skylines game. That is a non-starter. I can wait for the next build especially since it disables the very connection I need to VISIT MY PC SUPPORT PAGE to get new drivers.

If you can't use an other computer and a USB drive to update drivers, GTFO of the Insider Program. If you don't have access to another computer, don't use the insider program. if you cant handle bugs, don't use the Insider Program, If you think that new bugs apearing in a new build shouldn't be a thing, don't use the Insider Program. If you have issues and can provide valuable feedback, use the Insider Program. I am tired of all these complainers that just say "BUILD BROKE MS SUCKS" or "THEY ARE SO SLOW, MS IS STUPID!" or "THEY ARE GIVING UP ON MOBILEZ!" Please stop.

@mxzhonkey, chill! Some people have one machine they have access to and like living on the bleeding edge.

Well if they do, then they need to realize bugs will be present. Bugs that could render a system completely useless even..... Posted via the Windows Central App for Android

Same goes for you smart guy, I'm not new to the game.You must have forgot how GREAT Microsoft Vista, Microsoft ME was when they dropped huh? We all remember how bug free those OS's were and both were retail packages. I've had them both and worked with and survived them both. Moreover, what OS do you know that was bug free? So when I decide to sit out a build and will instead read about them as I said I would do, I have strong motive for doing so.

SO then download the drivers before the install! Also, I have no chill. LOL. Living on the edge with one machine is never a good idea. My day job is working on cars, and when they say they only have one car that they don't have the money to maintain it, I tell them to sell the car, as its a waste to own when they cannot afford what it needs to be safe. While computers are not a life or death thing (in most cases), I still suggest not using beta/iffy builds/programs when people cannot handle bugs or problems.

That's an idea downloading drivers ahead of time. I won't but its an idea. I work on servers all day everyday and we are in the process of rolling out Windows 10 so for me, I'm not really interested in doing that when I get home. Sometimes I just want to relax and surf. Question for you, what's good for removing oxidation? Meguiar's compound good?

Absolutely! Microsoft spells it out quite nicely when signing up for the Insider Preview program - even going so far as to suggest not running it on your primary PC! If people don't want to heed such advice, they shouldn't be running insider builds; plain and simple. Posted via the Windows Central App for Android

IOW, its our choice to do it or not. Even skip a build if we want to. And if it is OUR choice and not a demand of Microsoft to participate, why are you so transfixed on people doing what YOU want them to do in this program? Butt out man. You don't run this thing.

LOL. " An other?" You so stupid. lol. No honkey, I can handle bugs and why do you got so much beef about anyone deciding to sit out a build anyway? Is it not my dang choice being in this program to determine what and when i do with MY computer? I know what I need it for and its not for the pleasure of you, Microsoft or anyone, but me. Here is my feedback, NOT THIS BUILD! Get over yourself. Not your show. Its mine.

No steps forwar, 2 steps back...

That's why it's on the insider build...-_-

Microsoft is crazy now....

That's only because you're too clueless to use the Insider Program and yet not understand what it's all about.

Yikes. 3 of the best games of last year are mentioned. Sounds like this is one to pass on for now.

Screw your sh** Windows 10 Microsoft.

Bro! there are other OS's so please let Microsoft be

If you can't take the facts that there are bugs, can you explain to me why the hell you signed up for insider program?

Actually the build is fine on my HP8440p

Why would anyone try to play game on a Windows Insider PC?

Why not? We should test as many parts of the OS as possible.

Ugh this happens with the current build too

While attempting to update to this build, your PC may show a message that your wireless card is not compatible with Windows 10. The workaround is to visit the support page for your PC or wireless card and install the newest driver that is available.

... Which is of course super easy WHEN YOUR WIFI DOESN'T WORK ANYMORE... "You are out of fuel. Please drive to the nearest gas station.."

it is not recommanded to use insider build on your primary pc, also if your installing a fast ring insider build on your sole pc, you made a major mistake that microsoft told you not to do. Finally, if you don't know how to install a driver from USB, GTFO of insider program you should not be there

Use the power of the cloud. Posted via the Windows Central App for Android
Windows Central Newsletter
Get the best of Windows Central in in your inbox, every day!
Thank you for signing up to Windows Central. You will receive a verification email shortly.
There was a problem. Please refresh the page and try again.