Games development for Windows Phone 8 gets boost with confirmed Unity Engine Support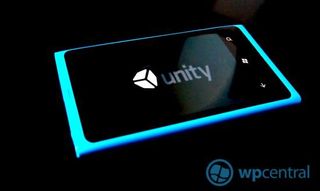 The keynote address for Unite 12 has seen the announcement that Windows Phone 8 will get full support for the Unity engine. Unity is a very popular engine and it was notably absent from the Windows Phone 8 announcement. The next version of the OS looks to be getting some excellent gaming support with native code and these powerful rendering engines.
The engine is used to power a host of games across and number of platforms and hopefully this means rapid porting of those games to WP8 devices. Unity is one of the top engines on the market so this support is pretty exciting for Windows Phone.
Here is what David Helgason, CEO of Unity Technologies, had to say on Windows Phone 8.
Unity Technologies and Microsoft are currently working hard to bring both deployment options to developers using Unity as soon as possible and will be discussing the process during a session at this Unite 2012, Unity's dedicated developer conference.
John Richards, Senior Director for Windows App Marketing at Microsoft, notes,
Windows Phone 7 was skipped by the company for various reasons so its good to see it finally arrive for WP8. The support is said to arrive after an update to version 4 of the tools.
As yet no dates have been given for the release. Unity is another great addition to the platform and should enable some very impressive looking games. Along with Havok and renewed support from EA, Windows Phone 8 could finally see the platform fully fulfill its promise of being the number one choice for gamers. The addition of native code and advanced 3d engines, combined with Xbox Live will make the next version of the OS a powerful gaming device.
As always we would like to know what you think about Windows Phone 8 and games. Are you a dev? If so let us know if this gets you going!
Source: Developer-Online
Windows Central Newsletter
Get the best of Windows Central in your inbox, every day!
This is great, but now I'm only going to be more addicted to my phone. -.-

Any news on this weeks xbl release or is nothing coming.

Shoot 1up is out. Search for it.

Not showing up for me. If you could go to the link and press share and copy it here that'd be awesome.

Looks like they pulled it, right after I downloaded it. Playing it now... :P

http://windowsphone.com/s?appid=1bfb4d76-185d-4bbc-82e7-ac4ff02ceca3

Sucks for WP7 gamers. Unity would have been wise to include WP7. It can be played by all.

There are reasons why WP7 isn't supported, a main reason being that it didn't support native code, forcing a developer to rebuild the game from scratch as well as not being able to take full advantage of the hardware.

This is great news. Wp8 and the tablets will have some great games. I am hoping it will hold a standard close to xbla and a healthy multiplayer aspect.

7.8 is part of 7. It's a small software update that doesn't add native code support.

Yep us poor 7.8 people aren't getting anything. Why look at the list of stuff that isn't coming to 7.8, oh wait we don't know the full list of stuff we are getting. Just be happy there is good news for 8 instead of complaining that you are getting left behind. That is the way of technology. Did you complain that you couldn't upgrade you old tv to HD? No you went out and bought one. Ok done ranting.

I really wish people would get over this

Seriously. I can't wait for my upgrade next year.

Yeah, I got really excited at first but then I realized this phone will see none of it; neither will a friend's 900 whom I recommended the device to. . . Remember when that dev company found some way to port Unity developed games? Max and the Magic Marker is one I think they made, weren't they going to show people how they did it? What ever happened to that?

There was a framework released that could aid in porting. Unity supports C#, so a lot of logic code is almost tye same. But certain engine code would still have to be rewritten.

Will Unreal be supported?

I was wondering that. Infinity blade 1 and 2 would be awesome to have on here.

There's a colon missing from the URL at the end.

http://www.develop-online.net/news/41774/Unity-to-support-Windows-8-and-...

Why do people keep acting surprised when 7.8 doesn't get something? The only thing 7.8 has in common with 8.0 is the home screen. Its not cut from the same cloth.

I've been looking forward to this. I knew it was just a matter of time.

come on john, senior director for windows app marketing, its "..windows store and the windows phone STORE." now..

Great. I've done unity dev but switched to xna for won phone. (then never released any of my 3 games). Maybe now I'll release one!

what other engines are expected to come to windows phone 8?

One more reason to sell my Lumia...