Metro Exodus dev offers update on the next game amid Ukraine war, releases modding SDK
4A Games shares its experiences, plans, and more in a major studio update.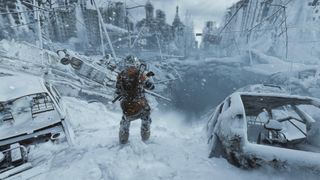 (Image credit: Deep Silver)
What you need to know
Metro Exodus developer 4A Games has shared a studio update with fans, discussing what it's like to develop games in the midst of Russia's war of aggression in Ukraine while also mentioning its plans for the next Metro game.
The Ukrainian studio is doing as much as it can to support its developers, many of which are doing volunteer work or serving in the Armed Forces of Ukraine.
4A says that the story of the next Metro game is changing as a result of the ongoing war and the daily lived experiences of the studio's staff, with the developers embracing themes of power, tyranny, and repression and "weaving them into the game with a renewed purpose."
The developer has also released Metro Exodus' software development kit (SDK), giving fans the ability to create mods and standalone content as long as they don't try to sell it or use it commercially.
---
Since Russia's war of aggression against Ukraine began last year, its citizens have been subject to the invader's frequent and devastating attacks on civilian infrastructure. Among those affected are the individuals working at Ukrainian game development studios like STALKER 2's GSC Game World and Metro Exodus' 4A Games. Since the start of the conflict, many of these developers and their families have evacuated the cities and towns they call home to escape the danger of Russian missiles, bombs, and artillery strikes. Others remain trapped, forced to take shelter as Russian air raids target residential areas and energy sites, leaving many Ukrainians without power amid the freezing temperatures of winter. Some have joined the Armed Forces of Ukraine, bravely defending their homeland from its occupiers.
In a new blog post, 4A Games has provided an extensive studio update, discussing both the impact of the war.
"Everyone has been affected. Some of us have lost homes to bombings. Some have joined the Armed Forces to defend Ukraine. Colleagues, friends, families have been injured. A number have lost their lives," wrote the developer. "Though, there is one thing Ukraine is not short of right now – it's our heroes: those who protect our country at the fronts, those who help them, and those who against all odds work with passion and fierce dedication to keep our projects going and support the country's economy."
Despite the volatility of the situation in Ukraine, 4A Games says that it's doing as much as it can to support the developers under its banner.
"As a company, we're doing everything we can. We provide financial and logistical assistance to the team scattered across Kyiv and beyond. We're also proud to support and amplify personal efforts of our staff who are volunteering, making donations, delivering medical supplies and food, and a lot more – most of all those who are fighting on the front lines," 4A wrote. "Life has got far more difficult lately – sometimes the office in Kyiv is unreachable, and power and water can be a luxury. But regardless of all these circumstances, we continue to work, and work hard. 4A Games was founded in hardship and adversity, and our culture has taught us the true value of dedication, perseverance, and hope."
4A also shared details about its current projects like the next Metro game, the story of which the studio says it's rethinking due to the ongoing conflict.
"We continue to work on them. They will be ready when they're ready as we continue to channel all our passion, best efforts, and craft into them. Just like you we're really looking forward to the day when we're able to share more info on them," the developer said. "The next Metro game is also changing for the better ... We've never hidden the fact that the Metro series has always carried a strong political and anti-war message. Yes, we've always wanted to entertain and immerse you in our post-apocalyptic world but there's also been a bigger story to tell. And the war in Ukraine has made us re-think what kind of story the next Metro should be about. All the themes of Metro – conflict, power, politics, tyranny, repression – are now part of our daily-life experiences. So, we're embracing them and weaving them into the game with a renewed purpose."
"We also need to manage our expectations – as for our Kyiv studio and Ukraine-based personnel, it's now being made under the most extraordinary and horrifying of circumstances," 4A continued. "Some days start with our morning stand-ups and a coffee. But some start with air-raid sirens and missile strikes. Some days we take the Metro to work but other days we're forced to shelter in it. Each day we try and live our lives with as much normality as we can muster, and yet we're dealing with power and water cuts, families who need re-locating, friends and colleagues volunteering or being called to the front ... It's life during wartime, and it inevitably shapes the games we make."
The studio closed out the blog post on a high note, announcing that the Metro Exodus software development kit (SDK) has been made available to the public. This is the same tool that 4A Games used to create the award-winning shooter, and while fans aren't allowed to sell any of their creations or lock them behind a paywall, the sky is the limit as far as modding possibilities go. The SDK comes with built-in Mod.io support, and can be used to create standalone projects as well as Metro Exodus mods.
To download the SDK, you'll need to own Metro Exodus or Metro Exodus: Enhanced Edition on PC, either on Steam, GOG, or the Epic Games Store. Once you do, you'll be able to download the Exodus SDK from the Tools (Steam) or Additional Content (GOG and Epic Games Store) section of your library. If you're planning on using it to create something, make sure you have a look through the SDK's EULA, as well as its official documentation for tips and tutorials.
Metro Exodus is available now on Xbox Series X|S, Xbox One consoles, Windows PCs, and PlayStation systems. It's undoubtedly one of the best PC games for fans of first-person shooters, and with the public release of its SDK, the community can now use it to create mods and other fan-made projects for PC players to enjoy. The Enhanced Edition comes free with every copy, delivering cutting edge graphics to owners of next-gen consoles and elite gaming PCs.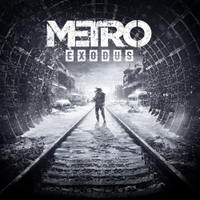 Metro Exodus
Featuring impeccable open world gameplay, a fantastic story with excellent characters, and industry-leading visuals and presentation, Metro Exodus is easily one of the best games released in recent years.
Buy from: Steam (GMG) | GOG | Epic Games
Get the Windows Central Newsletter
All the latest news, reviews, and guides for Windows and Xbox diehards.
Brendan Lowry is a Windows Central writer and Oakland University graduate with a burning passion for video games, of which he's been an avid fan since childhood. You'll find him doing reviews, editorials, and general coverage on everything Xbox and PC. Follow him on Twitter.