Metro Exodus PC Enhanced Edition is an incredible technical showcase
Take another tour through the Russian wastelands as Artyom in this very impressive update.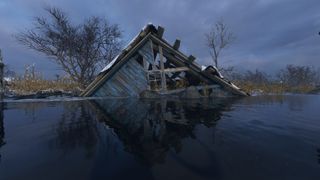 (Image credit: Windows Central / Jared Eden)
Metro Exodus isn't a new game, though it is one that continues to impress and flex its remarkable visuals. With the new PC Enhancment bringing a pile of technical improvements, it's now better than ever to revisit this instant classic. Searching through dilapidated post-apocalyptic ruins, boating through waters infested with dangerous creatures, and battling vicious human survivors has never been so visually impressive. This does come at a bit of a cost though, as these new improvements will push the boundaries of even the most powerful PC.
Whats new in the Metro Exodus PC enhancement?
The Metro Exodus PC Enhanced Edition is an update that is worth diving into but it will more than likely push your rig to the max. These technical improvements to Metro Exodus are a fantastic way to see how "next-gen" tech can be used in current games already in the market. All screenshots you see in this article were taken in 4K resolution, and all have DLSS 2.0 enabled during the taking of the photos. Here is a quick rundown of what is here with the enhancement:
DX12 Ultimate support including DXR 1.1 and variable rate shading
Support for DLSS 2.0
Field of View slider
4K textures
GPU FP16 support with thousands of optimized shaders
Ray-traced emissive surfaces with area shadows
Infinite number of Ray traced light bounces
Atmosphere and transparent surfaces receive Ray-traced bounced lighting
Full Ray-traced light model support with color bleeding and for every light source
Advanced Ray Raced Reflections
Further bug fixes and polish
The wastelands never looked so good
When Metro Exodus was first revealed at E3 2017, it captivated viewers with its gorgeous visuals and vibrant environments. The game already looked fantastic then, but now? Metro Exodus is easily one large step above where it was at launch, as one of the most impressive technical showcases you can play to date. Exodus already had ray tracing and a couple of other fancy features at launch, but not at today's level.
Source: Windows Central / Jared Eden
No matter where you go in the game, Metro Exodus maintains a near-perfect level of natural lighting that you won't see elsewhere. For example, what would have originally been a perfectly lit room at launch now almost seems "overlit." At least that's what your eyes tell you when starting to grasp these new visuals.
This is all helped with updated 4K textures packs in Metro Exodus, which helps every single little item and surface "pop." The sharper textures in combination with the impressive ray tracing make traveling around in the Russian wasteland seem like an immersive CGI movie. Using photo mode is a ton of fun, although you can easily turn off the crosshairs for your HUD and get a great result.
Source: Windows Central / Jared Eden
Metro Exodus has always been a beautiful-looking game, but this new PC enhancement really highlights the capabilities of what the developers at 4A Games can do, and how far they can push their games. Metro Exodus is a shining example of being a graphical showcase that pushes the boundaries of visual fidelity. What's most exciting about this update is knowing what it can mean for the future of this studio. 4A Games has rightfully earned a spot among some of the top developers in the industry, crafting immersive experiences that are visually unreal.
Source: Windows Central / Jared Eden
"But can it run Metro Exodus?"
Even though Metro Exodus is at its peak for visuals, that does come at a cost to performance in order to properly run those fancy new visuals. Metro Exodus was already fairly intensive on hardware, but now it can easily sit alongside Crysis 3 and Microsoft Flight Sim 2020 in the "Can it run..?" category. You will need quite the beast of a PC in order to run this new fancy enhancement, especially if you are playing on a 4K display and wanting a locked 60 frames-per-second (FPS) experience. These new features easily push an RTX 3080 to its limit, so if you want to have locked 60 FPS or higher on a 4K display, make sure you at least have an RTX 3090.
Source: Windows Central/Jared Eden and Windows Central / Jared Eden
Having said that, the Metro Exodus PC enhancement is absolutely worth checking out if you have a rig capable of seeing the visuals. The game still looks incredible at 1440p, but of course, shines its brightest at a 4K resolution with the new 4K textures in play. You can expect to be playing at 30 FPS or less on average with a 4K display. Sure, we know playing at 30 FPS or lower is a bummer, but to some, the visuals might be worth the framerate tradeoff. Thankfully, the use of DLSS 2.0 helps with any type of framerate issues while still keeping visual fidelity.
The game changer that is DLSS
With the implementation of DLSS 2.0, players who seek high framerates will more than likely get what they are looking for. Playing Metro Exodus at 4K resolution without DLSS on was almost unbearable. Over 90% of the time the framerate was averaging between 23-27fps, with settings on full. By simply turning on DLSS you can effectively double your framerates while keeping almost full visual fidelity. Quality mode turned out to be the most effective, allowing me to run the game between 55-58fps on average at 4K. This goes for any type of situation, from intensive firefights to simply roaming around in the wastes.
There will be the occasional time where an object with a long straight edge in the distance will fracture, breaking the "crispness" of the environment, though that's only if you're actively looking for it. It's also a sign that DLSS is working, and let us be honest, it's a fairly minor visual inconvenience that only the nit-picky will notice. Having DLSS in Metro Exodus with these new visual features is an absolute game-changer, and it is highly recommended to play the game with the feature always on.
If you are wanting to take full advantage of all the fancy technology in Metro Exodus, it is highly recommended to play with a 3D audio headset. Check out our list of best wireless headsets for home and office.
A gorgeous 4K apocalypse
A defining shooter

Metro Exodus is one of the most visually impressive shooters available, boasting incredible effects, vast detailed 4K environments, and tight survival shooter gameplay. Enjoy the free next-gen update that is out now on PC and on consoles in early June.
Xbox Series X/S
Main
What is the Xbox Series X release date?
How much does Xbox Series X cost?
Why you can't preorder Xbox Series X yet
Get the Windows Central Newsletter
All the latest news, reviews, and guides for Windows and Xbox diehards.