Baldur's Gate 3 devs promise Patch 2 will bring huge changes to the game
A beloved character is about to get a new ending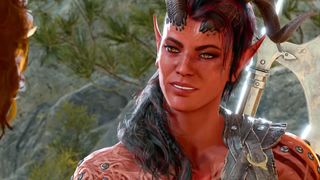 (Image credit: Larian Studios)
What you need to know
In the first community update following it's huge 1000 fix patch, Baldur's Gate creators have addressed their vision for the future of the game.
Included in the update is details on the second patch which will dramatically improve performance in Act 3 which has been a roadblock for many players.
In addition, some characters will be getting expanded epilogues, with Karlach getting a new optional ending.
---
More Baldur's Gate 3
- Baldur's Gate 3 class tier list
- Baldur's Gate 3 races
- Baldur's Gate 3 Guardian
- Baldur's Gate 3 system requirements
- How to play Baldur's Gate 3 multiplayer
Baldur's Gate 3 just received its first post-launch patch, mainly addressing thousands of bugs, but Larian are not done yet: Patch 2 is just on the horizon and in a recent community post, Larian have gone into more detail about what we can expect in the future of the fantasy game, and addressed issues players are experiencing with performance in Act 3. Not only can we expect fixes, but story content is going to be tweaked and expanded upon with new epilogues for some main characters', the first of which being Karlach our fiery companion with a heart of gold.
Substantial improvements to performance in Act 3
Whilst most players experience relatively smooth gameplay in the games' first and second acts, results have been wildly inconsistent for Act 3. Owing in no small part to the sheer volume of activity going on in this act as players reach the main city. We've seen people even claim the game is unplayable in this act on certain platforms. The Steam Deck in particular having issues. And needing a lot of tweaking with settings.
Larian haven't let the feedback go by unnoticed and address this in the community update: "We know that Act 3's performance isn't as good as the first two acts, but the good news is that Patch 2 is bringing major performance improvements to the entire game, but more specifically to Act 3 where you'll feel it the most." Larian go into more detail about how the city itself is technically and narratively ambitious and this has put more of a strain on the game-performance than intended, so Patch 2 will address this and they'll be working throughout September with new technology to improve the experience as a whole for players.
Cut content and it's impact on story
Many players of the game have noticed inconsistencies in story and dialogue, particularly in Act 3. Such as companion reactions and statements about events in the game that have not taken place. The inconsistencies are mainly caused due to content being cut from the game prior to release. Turns out our companions do not forget easily!
These loose ends will be fixed in Patch 2, and Larian have been keen to emphasize that content that has been cut from the game was not done so in efforts to speed up a release of the title (a theory being banded-about on Reddit) but tough decisions were made internally on what particular content to cut as it didn't work with their final vision for their story. Larian also have clear ideas on what is and isn't fun to play in Baldur's Gate 3 and if something isn't fun, it's cut from their final product. Despite this, they admit they may have been hasty to trim down companion epilogues in efforts to keep cinematics to a reasonable length. Many fans have complained that a certain character's in their game didn't get their ending they deserved.
Justice for Karlach
Having not reached the end of their game myself yet, I've no idea what their ending for Karlach is and neither do I wish to yet. However it hasn't escaped my notice that many fans have been complaining that they feel Karlach drew their short straw when it comes to character endings. As a beloved character, many want her to have a more fleshed out finale to her story arch, and again Larian will be addressing this in its next patch. "We've started expanding their epilogues and you'll see their first results of that in Patch 2 with their addition of a new optional ending with Karlach. It's fiery, poignant, and gives her their ending she deserves."
Other characters will be receiving extra story content for their endings in the months to come, but Karlach is being prioritised in Patch 2.
Withers' Wardrobe of Wayward Friends
If you didn't think Withers' could get any more creepy, you'd be wrong —because he's about to get a suspicious looking wardrobe to lock your companions in. No it's not quite as bad as it sounds. Withers' Wardrobe of Wayward Friends is being introduced to deal with an annoying bug that leaves co-op friends' characters in your party when continuing your game solo. Friends that have overstayed their welcome can now be banished to their wardrobe to be disposed of however Withers' sees fit.
In addition to all of the above changes, Larian will be adding ways for us to change our characters' appearance once we've started our game. So those who regret their choice of beard can breathe a sigh of relief. There's no date for this yet but it's great to know it's being worked on along with the upcoming modding support.
Over to you
This is all great news for both existing players and those waiting to get their hands on the game, in fact with the Xbox launch being initially delayed and now finally announced for later in 2023, Xbox players will be able to benefit from all of these fixes from their first playthrough of the title.

So how will the announcement affect your gameplay, did you already finish Act 3 with or without issue? Or will you hold off and wait for Patch 2 to land before continuing your adventure in the Forgotten Realms?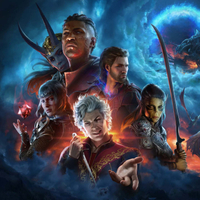 Baldur's Gate 3 | See at GOG
Enter the Forgotten Realms while playing as a customized character of your own choosing. The decisions you make determine what you encounter as you discover more and more about the stories and world around you.
Get the Windows Central Newsletter
All the latest news, reviews, and guides for Windows and Xbox diehards.
Jen is a News Writer for Windows Central, focused on all things gaming and Microsoft. Anything slaying monsters with magical weapons will get a thumbs up such as Dark Souls, Dragon Age, Diablo, and Monster Hunter. When not playing games, she'll be watching a horror or trash reality TV show, she hasn't decided which of those categories the Kardashians fit into. You can follow Jen on Twitter @Jenbox360 for more Diablo fangirling and general moaning about British weather.