GameSir launch a new controller and its giving serious retro vibes
The T4 Kaleid looks lit AF.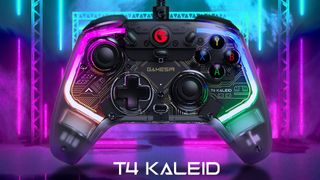 (Image credit: GameSir)
What you need to know
The GameSir-T4 Kaleid is a wired controller with pro features and is compatible with Windows PC, Android and Nintendo Switch.
The controller has similar tech to the GameSir G7, and is transparent with cool personalized audio reactive lighting effects.
It's available today directly from GameSir for $41.99 US / £41.99 UK / €57.99 EU and will come to Amazon May 15.
---
GameSir, a popular brand for innovative and budget-friendly gaming peripherals has today launched the T4 Kaleid RGB gaming controller, and we're getting serious retro vibes from these product images. The new controller from GameSir is available now direct for $41.99 US / £41.99 UK / €57.99 EU and will be available from May 15 on Amazon.

When we first laid eyes on the T4 Kaleid a colleague mentioned how similar it looked to the Mad Catz original transparent controller, though I likened it more to the Xbox 360 Afterglow, either way, this isn't just a trip down memory lane, this controller packs some pretty cool specs under its see-through surface.
The GameSir T4 Kaleid Wired RGB controller is equipped with special motion aim and steer technology, meaning you can use its gyro sensor to control your aim or steering in games by simply tilting or rotating the controller. Pretty nifty. If you want to use it as a standard analog controller though, its Hall-Effect magnetic sensing joysticks have been crafted with anti-drift technology with GameSir says will give the controller long-lasting durability.


What's really striking about this controller though, is the so-called kaleidoscopic effect of the lights. The 4 lights can be customized to your preference using the GameSir T4K app to change the colors, brightness and effects. I know for me, I'll be going full red demon glow when playing Diablo 4.

The software can also be used to fine-tune the controller past just the visuals, with an included M button to quickly access the settings.

This controller is compatible with Windows 10/11, Nintendo Switch and Android devices, and I can see the built-in 6-axis gyro being particularly useful with Switch games. There are also rumble motors equipped that respond to in-game action.

GameSir tends to rate pretty highly in our reviews, with an already pretty impressive roster of different gaming controllers that punch hard in the peripheral market at a low pricepoint for solid accessories. The GameSir X2 Pro is one of our top picks for Xbox Cloud Gaming, and the GameSir G7 Wired Controller is a fantastic quality wired option if you prefer the little to no latency that a wired pad provides.

We will have our hands on this new controller soon and be able to fully test it and compare it to both its competitors and our fond memories of retro accessories. Stay tuned!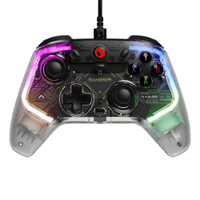 GameSir T4 Kaleid Wired Controller $41.99

A transparent wired RGB gaming controller that lets you customize your lighting effects with the GameSir T4k app software. The GameSir T4 Kaleid works with Windows 10/11, Switch and Android 8.0 or above devices.

Buy now at GameSir
Get the Windows Central Newsletter
All the latest news, reviews, and guides for Windows and Xbox diehards.
Jen is a News Writer for Windows Central, focused on all things gaming and Microsoft. Anything slaying monsters with magical weapons will get a thumbs up such as Dark Souls, Dragon Age, Diablo, and Monster Hunter. When not playing games, she'll be watching a horror or trash reality TV show, she hasn't decided which of those categories the Kardashians fit into. You can follow Jen on Twitter @Jenbox360 for more Diablo fangirling and general moaning about British weather.