'Dreadhunter' for PC looks like an unholy fusion between DOOM and Hades
Dreadhunter: Hack, shoot, and slash monsters across the universe in this upcoming twin-shoot shooter for PC.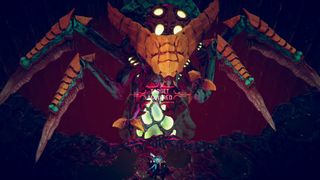 (Image credit: Trickster Arts)
What you need to know
Dreadhunter is an upcoming PC title being developed and published by Trickster Arts.
It is a twin-stick shooter with RPG elements where you hunt down an endless horde of giant monsters and upgrading your gear with legendary items so you can slay deadly bosses.
Dreadhunter is scheduled to be released in Q4 2023 and it will go into Early Access so players can experience it as the game is being developed.
---
On Oct 5, 2022, the indie studio Trickster Arts unveiled its latest project, Dreadhunter, a twin-stick shooter combining elements from Action-RPG where you hunt giant sci-fi themed monsters. Seven months later, Trickster Arts has announced on May 10, 2023, that Dreadhunter will be going to Early Access on Steam during development.
We've added Early Access details for Dreadhunter on #Steam. https://t.co/dJBSYNXhFiMay 10, 2023
For those unaware, Early Access is a feature on Steam that allows developers to grant players access to early versions of a game as it is being developed. The developers then use the player's feedback during their playtime in Early Access to help refine the game for its official final release.
In Dreadhunter's case, Trickster Arts has stated that it is going into Early Access because they want to work with the gaming community so it can polish Dreadhunter's gameplay to be the best it can be when it launches.
The content of the Early Access version of Dreadhunter will contain the first act of the campaign, the core gameplay, and approximately 40 items to customize your character with. Dreadhunter will remain in Early Access until it releases later this year during the fourth quarter of 2023. More details can be found on Trickstar Arts' official Discord channel: https://discord.gg/tricksterarts
Dreadhunter is a twin-stick shooter/action-RPG hybrid where you play as a space-faring monster hunter taking on bounties to kill monsters. Armed with a deadly and technologically mech-suit, you will be tasked to cut down waves of alien beasts and otherworldly terrors.
You will also explore the environment for loot that contains new weapons, abilities, and upgrades to help you take on gigantic bosses, each one more challenging than the last. In addition, the levels you explore will be procedurally-generated-meaning all loot and enemies you find will be different each time you enter a new floor or start a new playthrough.
Dreadhunter is scheduled to be released later this year for PC via Steam. There has been no confirmation as of yet if this upcoming PC title will be ported to home consoles like Xbox Series X|S or PlayStation. However, Dreadhunter will feature full controller support, so even if it doesn't make it onto the Xbox, you will still be able to use the Best Xbox controllers compatible with PC to experience Dreadhunter's fast-paced, twin-stick shooting gameplay at its best.

Dreadhunter | Wishlist on Steam
Don an almighty mech-suit and traverse the cosmos in search of deadly prey in Dreadhunter. Fight an endless wave of terrifying creatures, upgrade your suit with deadly weapons, and take on bounties to play towering alien bosses.
Get the Windows Central Newsletter
All the latest news, reviews, and guides for Windows and Xbox diehards.
Alexander Cope is a gaming veteran of 30-plus years, primarily covering PC and Xbox games here on Windows Central. Gaming since the 8-bit era, Alexander's expertise revolves around gaming guides and news, with a particular focus on Japanese titles from the likes of Elden Ring to Final Fantasy. Alexander is always on deck to help our readers conquer the industry's most difficult games — when he can pry himself away from Monster Hunter that is!