Is gaming on a Chromebook a genuine alternative to a Windows laptop?
Through the magic of Linux and the cloud, Google's laptops can play games now. They even have RGB!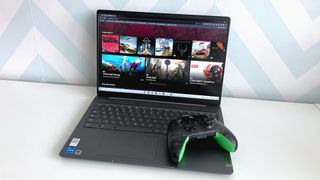 (Image credit: Windows Central)
PC gaming really is better than ever if you consider that it's now more accessible to more people than it has ever been. Part of that is thanks to handhelds like the Steam Deck. Part of it is down to the rise of cloud gaming. In both cases, anyone can buy an affordable piece of hardware and play AAA games. No need to rely on Apple putting Death Stranding on iOS.
You don't have to buy a Windows PC at all if you don't want to. Naturally, Windows is still the absolute juggernaut of PC gaming, but there are alternatives. One of which is Chrome OS found on Chromebooks.
There are now gaming Chromebooks. No lie. It would have been a much easier sell for Google if it hadn't pulled the plug on its own Stadia cloud gaming platform, but nevertheless, they exist. Even with RGB keyboards, so you know it's legit. I've used a lot of Chromebooks over the years but never thought of them as a gaming machine, primarily because I've struggled to pull myself away from playing games that don't rely on the cloud. Even with Stadia, I used to play on my living room TV.
But I've got such a gaming Chromebook in hand, and I've been playing around with it to see whether there's a future for this type of laptop. And perhaps more broadly, whether Microsoft has cause for concern. In the case of the latter, I see no immediate danger, serious gamers will still buy serious gaming laptops. But overall, it's not a bad experience, and further proof that you don't need to spend a fortune to enjoy PC gaming anymore.
The laptop used in this article was loaned to Windows Central by Lenovo, the company had no input in nor saw ahead of time the content written.
The gaming Chromebook
Before getting into it, it's important to take a look at the hardware that makes up this particular gaming Chromebook from Lenovo. It's the Lenovo IdeaPad Gaming Chromebook, and much of it will be similar to other such Chromebooks from the likes of Acer and ASUS.
To look at it, nothing really screams gaming. This one is a fairly average-looking mid-tier laptop from the outside. Not unattractive, but definitely not given the traditional gamer treatment with aggressive design choices. But it does have an RGB keyboard and Google has built some rudimentary controls for it into Chrome OS. Aside from this, the only other feature you'd normally expect to see on a gaming laptop is the high refresh rate display. It's 16 inches in size, 2560 x 1600 in resolution, and 120Hz in refresh rate. Not bad at all.
Here's a breakdown of the specs:
Swipe to scroll horizontally
| Specifications | Lenovo IdeaPad Gaming Chromebook (16-inch) |
| --- | --- |
| Processor | 12th Generation Intel® Core™ i5-1235U Processor |
| Row 1 - Cell 0 | 10-cores (2 P-cores and 8 E-cores) |
| Row 2 - Cell 0 | 12 threads |
| Graphics | Intel Iris Xe |
| Memory | 8 GB |
| Storage | 256 GB SSD |
| Display | 16" WXQGA (2560 x 1600) non-touch |
| Row 7 - Cell 0 | 120 Hz refresh rate |
| Camera | 1080p FHD with Privacy Shutter and Mic |
| Connectivity | Wi-Fi 6E, Bluetooth 5.0 |
| Ports | 2 x USB-C 3.2 Gen 2; 2 x USB-A 3.2 Gen 1; 3.5mm jack; microSD slot; Kensington Nano Security Slot |
| Audio | 2 x 2W stereo speakers Waves MaxxAudio |
| Dimensions | 19.95mm x 356.5mm x 253mm / 0.79″ x 14.03″ x 9.96″ |
| Weight | From 1.78 kg |
| Battery | 71 Wh |
For any laptop targeted at gaming the obvious omission is a dedicated GPU. To this point, there are no Chromebooks with dedicated AMD or NVIDIA graphics, and in this case, it's Intel Xe attached to the 12th Gen CPU. It isn't horrible, but it's hardly what you'd look for in a gaming laptop. Nevertheless, you can install Steam on this thing, easier now than ever before, and you can certainly get some mileage.
But the big play with these gaming Chromebooks is the cloud. They actually arrived at an awkward time for Google. The initial launch would have included Stadia as a key part of the marketing push. But a mysterious delay then saw Stadia canceled, and these laptops then refocused around NVIDIA GeForce Now and other services like Xbox Game Pass.
By Windows standards, this is very much a mid-range laptop, even with a display as nice as this one. In the world of Chromebooks, though, it certainly stands out a bit. The hardware is good, if unremarkable. Being a Lenovo laptop, the keyboard is great to type on, and the only real criticism is that the trackpad is too far to the left.
But what's it like to actually game on?
Steam gaming on a Chromebook sounds ridiculous, but actually isn't
There is, these days, an official Google project to put Steam on Chromebooks, codenamed Borealis. It's still in beta, but the ability to enable it has now trickled down to the stable channel of Chrome OS. Installing it is as simple as going into the chrome://flags menu and checking the necessary box. After that, you only have to open the installer and Google does the rest.
How does it work though? Obviously, it isn't using the Windows version of Steam, instead wrapping a lightweight container around the Linux version. This is a separate container from the regular Debian Linux that's deeply integrated into Chrome OS and its entire purpose is to run Steam. Our pals at Android Central have some more information on running Steam on Chromebooks if you're interested.
As it's Linux, there are limitations just as you would find on the Steam Deck. Well, actually, a few more, but the idea is just the same. This is designed to be a pick-up-and-play experience, and just as on the Deck, Steam on Chromebooks makes use of Valve's Proton to enable non-Linux games. But since it's Linux there are straight-up games you just cannot play. Looking at you Destiny 2. There seem to be more performance and compatibility issues on Chromebooks versus Linux on the Deck, too, but the general idea is very similar.
Once set up, there's absolutely no hint this is any form of container. Steam just works. I've had some issues with using a USB Xbox controller and it not being recognized, but that could just be a bug in the matrix with passing that through. Wireless controllers have been fine.
This particular Chromebook isn't too bad at actually playing some games, either. Obviously, lighter titles like Hollow Knight and Brotato have been fast and flawless. But some more intensive stuff is playable, too. The first in the rebooted Tomb Raider series plays fairly well, running above 30 FPS at resolutions between 720p and 1080p. It's probably less performant than a Windows laptop using this same hardware, but that's not too surprising. The point is it works, and it's still not a finished product.
But without dedicated graphics on Chromebooks, it'll still be limited. And if dedicated graphics do come, it's hard to see a world where a gaming Chromebook would be more attractive to serious gamers than a traditional Windows machine.
Maximizing cloud gaming potential
Even without Stadia (RIP), Chromebook buyers have plenty of cloud gaming to get into. Without a first-party product, obviously the focus shifted, and NVIDIA GeForce Now is the golden child. One of the perks available with this Lenovo Chromebook for buyers is three months of free access to the Ultimate tier.
GeForce Now Ultimate allows for streaming games at up to 120 FPS and 1440p and that's exactly where the gaming chops of this Chromebook come into view. The display and refresh rate are made for this, and with a decent enough Internet connection you'll be playing games powered by an NVIDIA RTX 4080 on a Chromebook at 120 FPS.
I'm lucky enough to have such an Internet connection and have been enjoying this type of gaming through GeForce Now for a while. And it works beautifully on Lenovo's gaming Chromebook. 1440p at 120 FPS is otherwise unachievable on this type of laptop, but with the cloud, it works just fine. With the added benefit that it doesn't drain the battery in an hour.
Chrome OS supports a range of wireless controllers, so using an Xbox pad with GeForce Now is as easy as making a Bluetooth connection. It also supports mouse and keyboard, an added bonus over the likes of Xbox Game Pass, so for games like Fortnite, you get to pair this with the high frame rate and be as accurate as your talent allows (which in my case, isn't very).
Chrome OS does have Android app support, but using the web clients for GeForce Now and Xbox Game Pass is still the best way to go. Using Android adds additional resource use into the system that you just don't need to worry about with cloud gaming. Install the web apps, and they're just as good as native ones.
For all intents and purposes, as your RGB keyboard glows, this is just like any other gaming laptop. Except it isn't. And it costs a lot less.
A decent experience, if you were already buying a Chromebook
The idea of a gaming Chromebook takes a little getting your head around. Indeed, many may consider it just a cheap marketing gimmick. Serious gamers still need to buy a Windows laptop, that much is certain. Without the power provided by dedicated laptop GPUs from NVIDIA or AMD, gaming through Steam will forever be limited.
Cloud gaming is the savior, but you don't need a gaming Chromebook for that. 120 Hz displays aren't exclusive to gaming laptops in the wider market, and right now only one tier of one cloud gaming service will even make use of that. As much as we joke about it, you don't need RGB to be a gamer, either.
The experience is good, though, if you're in the market to buy a Chromebook anyway. I'd always recommend a high-resolution, high refresh rate display if your budget allows because it just makes everything better. Text is sharper, animations smoother, and yes, gaming is better. The advantage this laptop has is price, at least, if recent discounts are anything to go by. It came out in 2022 at $699, but can be had at least a couple of hundred dollars less in recent times. And for that money, it's a nice laptop, with a great display, subtle styling, and a 10-core CPU.
The time is definitely not here yet, though, where keen gamers would opt for a Chromebook over a Windows laptop. Budget gamers, assuming they're OK relying mostly on the cloud, well that's a different story. If you can get a laptop like this for around $400, the conversation changes a little. This one even came with a free copy of the Android version of Minecraft to play on it, a game Microsoft has optimized for Chromebooks.
If Google gets serious and starts to pump out laptops of this quality and manages to keep one of the most attractive features of Chromebooks intact, affordability, then in the years to come the landscape could start looking a little different. Chrome OS has plenty to appeal to markets such as education already, and for more casual computer users, the same. As cloud gaming grows, a lighter experience without sacrificing having a nice laptop with great hardware and design could catch a few eyes. Maybe Microsoft should take note.
Get the Windows Central Newsletter
All the latest news, reviews, and guides for Windows and Xbox diehards.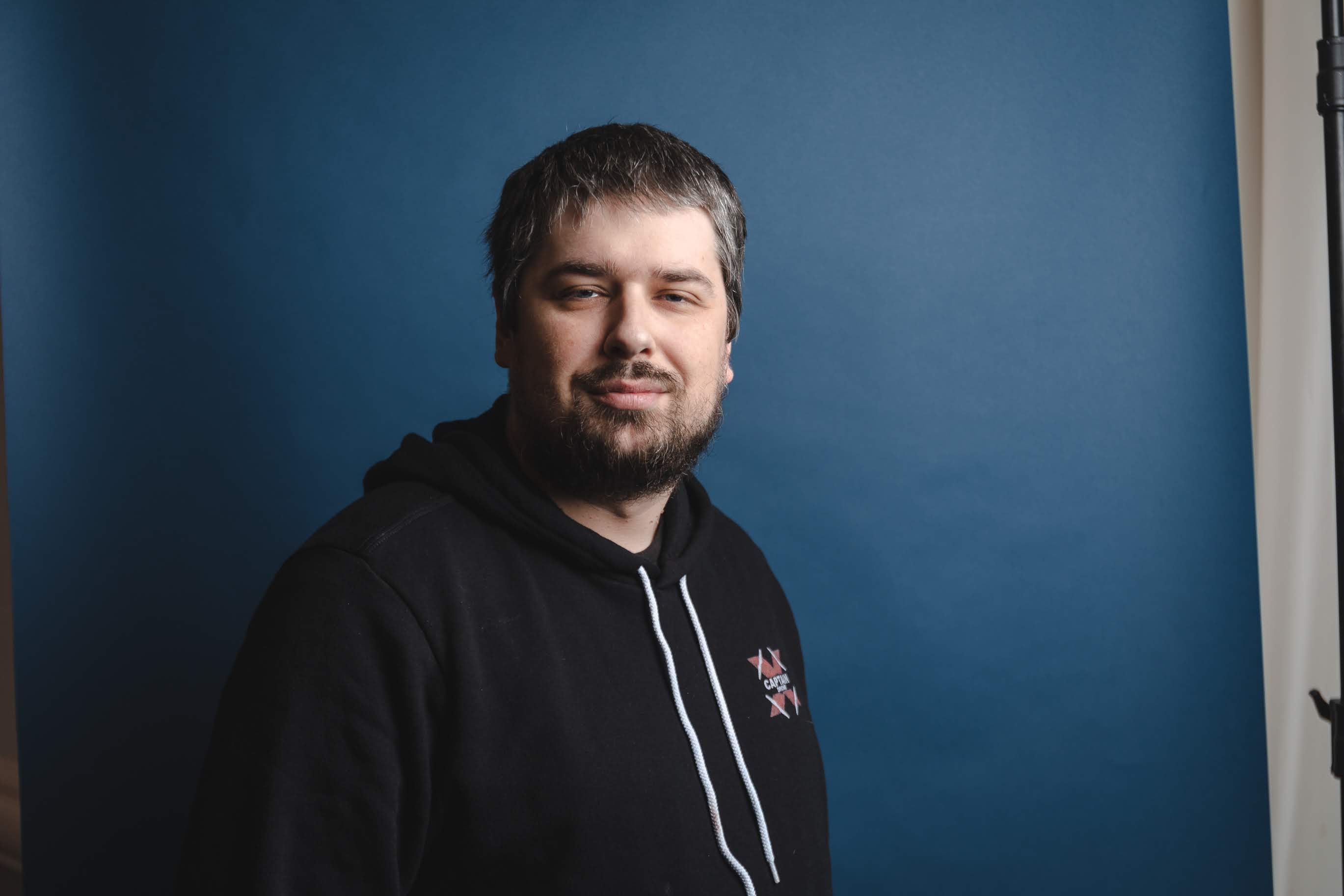 Managing Editor - Tech, Reviews
Richard Devine is a Managing Editor at Windows Central with over a decade of experience. A former Project Manager and long-term tech addict, he joined Mobile Nations in 2011 and has been found on Android Central and iMore as well as Windows Central. Currently, you'll find him steering the site's coverage of all manner of PC hardware and reviews. Find him on Mastodon at mstdn.social/@richdevine