When will Diablo 3 Season 28 start?
The season of ultimate power and teeny tiny dragons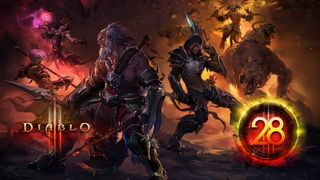 (Image credit: Blizzard Entertainment)
What you need to know
Blizzard has announced Season 28 of Diablo 3 will start on February 24 at 5 p.m. PST/CET/KST.
The new season theme 'Rites of Sanctuary' features an Altar of Rites to unlock increasingly impressive powers for your character that will be available for the entire season across all characters.
The season rewards include the Wings of Terror, stripped from the back of Diablo himself.
---
Diablo 3 is going no-holds-barred for its final season before the release of Diablo 4 in June. After reporting on the extremely short testing stage with PTR 2.7.5 earlier this month, we now have an official start date for the new season.

Season 28 the Rites of Sanctuary will officially commence on February 24 at 5 p.m PST/CET/KST on PC, and Xbox and Playstation console players will go live at the equivalent of 5 p.m PST, no matter what region they are playing in.
Where is the Altar of Rites?
Season 28 is titled The Rites of Sanctuary, and The Altar of Rites is a never before seen addition to Diablo 3 for Season 28. It provides various interesting powers and abilities that can be unlocked by making sacrifices during Season 28. The Altar itself can be found in Act 1 town, by walking to the north past the merchants. Our image below shows the exact mini-map location.
In Diablo lore, the Altar of Rites is said to have been discovered by miners in ruins housed in the Festering Woods. This cryptically marked Altar emits ominous and sinister power, for which you the Nephalem are tasked to investigate. The Altar shows 26 seals that can be unlocked with increasingly expensive 'sacrifices' and ultimately three incredibly powerful potion powers. The sacrifices you will need to make start with an easily obtainable crafting material, and escalate up 1600 bloodshards, for which you will need to complete a bunch of Greater Rifts.
The path you choose to take on the Altar of Rites during your Season 28 journey is ultimately up to you, however, it is possible to unlock each seal eventually and earn the ultimate prize. The Wings of Terror. Strike fear into your foes worthy of Diablo himself with the Lord of Terror's wings.
The available powers and potions are listed below, with some minor changes made from the testing phase. The powers you unlock will be available for the entire season and across all characters, so have fun and make lots of alts!
Swipe to scroll horizontally
| Seal | Power |
| --- | --- |
| A | Kill streak timer durations and reward bonuses are doubled |
| B | Pools of Reflection last the entire Season and are not removed |
| C | Items have no level requirement |
| D | +200 Damage |
| E | +25% Missile Damage Reduction |
| F | +25% Movement Speed (Uncapped) |
| G | Increase damage against elites by 15%. |
| H | Picking up Health Globes grants a shield for 5% of your maximum health for 7 seconds. Max stacks 5. |
| I | +25% Melee Damage Reduction. |
| J | Increases your highest elemental skill damage bonus by 10%. |
| K | Increase damage against elites by 20%. |
| L | +20% Damage |
| M | Double the amount of Death's Breaths that drop. |
| N | Critical hits grant resource: Mana: 15, Hatred: 5, Wrath: 5, Arcane Power: 3, Fury: 3, Spirit: 5, Essence: 5. |
| O | Double the amount of Bounty Caches that drop from completing bounties. |
| P | Progress orbs from Nephalem and Greater Rifts are picked up automatically within a 60 yard radius. |
| Q | Reduces the damage taken from elites by 25%. |
| R | +30% Damage |
| S | Gain immunity to crowd-controlling effects. |
| T | Gain passability. |
| U | Pets pick up Death's Breath. |
| V | Elite packs drop one additional progress orb. |
| W | Increase damage done to Bosses by 25%. |
| X | Pets pick up and salvage common, magic, and rare items. |
| Y | ncrease your chance to Dodge by 15%. |
| Z | Double the chance to find a legendary item purchased from Kadala. |
| Potion AA | When you drink your health potion, you manifest one of three runic circles on the ground that grant increased damage, increased cooldown reduction, or increased resource cost reduction. |
| Potion AB | When you drink your health potion, all enemies within 25 yards deal 25% less damage. |
| Potion AC | When you drink your health potion, gain a random shrine or Dimensional Power pyloneffect. |
| AD | When a primal item drops, a second random primal item drops as well. |
Primordial Ashes
Primordial Ashes are also a new feature for Season 28, and will be required to ultimately unlock the 3 legendary potions. You will acquire Primordial Ashes by salvaging precious Primal Ancient gear at the Blacksmith.

For the first time ever, we can now craft guaranteed Primal gear using the Kanai Cube, though this will also come at a great cost to your Nephalem. 100 Primordial Ashes will be required for this privilege, but the opportunity to craft a Primal is an exciting shake-up to the meta. Sacrificing a Primal Ancient piece of gear will net you 55 Primordial Ashes. Do note you may only equip one crafted Primal at a time.
What are the Season 28 Rewards?
In addition to the Wings of Terror for unlocking all the Altar seals, completion of the Season 28 Chapters will net you a new tiny dragon pet, Taennin. At the end of all the required challenges, you will also receive the Primal Hunter portrait frame. Other rewards available are returning from Season 16 with the Conquerer armor Helm and Shoulders, and the Wings of Lempo.

As in previous seasons, on PC season completion will gift you a new stash tab for finishing the Conquerer tier. Up to a maximum of five stash tabs.
What are the Haedrig's Gifts for Season 28?
Completing 2nd, 3rd and the 4th chapter in the Season 28 journey will gift you two pieces of a set for your character, culminating in a full six-piece set to help you slay your foes across Sanctuary. The Haedrig's Gift is only available on one character so open your gifts wisely!
Barbarian - Horde of the Ninety Savages
Crusader - Aegis of Valor
Necromancer - Masquerade of the Burning Carnival
Demon Hunter - Gears of Dreadlands
Monk - Patterns of Justice
Wizard - Typhon's Veil
Witch Doctor - Mundunugu's Regailia
Windows Central's Take
Having tested out the patch for this season myself on PC, I can't wait for the entire Diablo 3 community to experience what's going to be an incredibly exciting and fun season. There are some different mechanics between the PC and Xbox versions, so I am anticipating a different playstyle when I start the season on Xbox. From being able to wear Level 70 gear on a Level 18 character, to zooming around Greater Rift levels I've never before been able to achieve with the ridiculous potion powers, the PTR was an absolute blast and I think this season will be a fitting way to say goodbye to Diablo 3. While I don't know what the future of the game will be when Diablo 4 comes out, I'm praying the new release will be so good I won't feel the need to come back to this old and faithful title.

Season 28 will be a bittersweet farewell but Blizzard has done a fine job of making it as ridiculous and fun as possible for its community and for that, I am immensely grateful. If you've never experienced the Diablo games before and want to see what all the fuss is about prior to June, this would be a great season to experiment.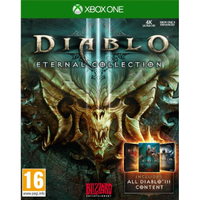 (opens in new tab)
Diablo 3: Eternal Collection
It's not too late to familiarize yourself with Blizzard's flagship ARPG ahead of the next big launch. Fight in the Eternal Conflict with the Eternal Collection which includes the base Diablo 3 game, Reaper of Souls expansion and the Necromancer DLC.
Buy on: Xbox (opens in new tab)|PC(Battle.net) (opens in new tab)
Windows Central Newsletter
Get the best of Windows Central in your inbox, every day!
Jen is a News Writer for Windows Central, focused on all things gaming and Microsoft. Anything slaying monsters with magical weapons will get a thumbs up such as Dark Souls, Dragon Age, Diablo, and Monster Hunter. When not playing games, she'll be watching a horror or trash reality TV show, she hasn't decided which of those categories the Kardashians fit into. You can follow Jen on Twitter @Jenbox360 for more Diablo fangirling and general moaning about British weather.