The internet reacts to the Red Dead Redemption 'remaster,' and Take Two's history of broken promises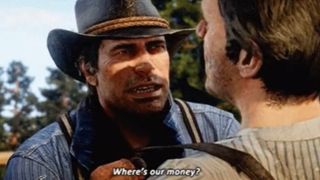 (Image credit: RockStar Games)
What you need to know
Rockstar announced Red Dead Redemption wil arrive on Nintendo Switch and Playstation 4 on August 17.
The game is simply a port of the original, and not what fans were expecting. In fact, it's already available via backwards compatibility on Xbox.
People have been expressing outrage over the $50 price tag for a 13-year-old port that's not even coming to PC, and one person on Reddit even shows it's cheaper to buy the game and an Xbox console than pay for the re-release.
---
Rumors of a Red Dead Redemption remake or remaster have been circulating in the gaming sphere for quite some time, and this week we actually got news that something new was coming, but not what fans expected. On August 17, Red Dead Redemption will be ported to the Nintendo Switch and the PlayStation 4, but it will not be a remake or a remaster. It will be the same 13-year-old game from the Xbox 360, with no improvements in graphics, performance and no multiplayer. And it will cost you a whopping $50. But hey, at least you get the Undead Nightmare DLC for free, right?
Do not buy Red Dead Redemption from r/reddeadredemption
Well not according to fans of the game. People are furious about this port and they are not afraid to show it. The current top post of the week on the Red Dead Redemption subreddit is titled "Do not buy Red Dead Redemption" and it has over 15k upvotes and 2k comments. One fan even calculated that it would be cheaper to buy a used Xbox 360 and the original game than to buy this port. But why are fans so mad in the first place?
Broken promises?
Parent company for Rockstar's games, Take Two was famously quoted in 2021 with its stance on re-releasing games. Drawing its line firmly in the sand was this tidbit from an interview with CEO Strauss Zelnick "Remastering has always been a part of the strategy. We've done differently from the competition — we don't just port titles over, we actually take time to do the very best job we can making the title different for the new release, for the new technology that we're launching it on."

A strong statement for a company that has just done exactly that, port an old Xbox 360 and PS3 game over to different consoles with no significant changes or enhancements. Many feel that the announcement represents a broken promise to consumers, and Rockstar and Take Two are simply porting the game as a cash grab with no effort into improving it for both new and existing audiences.
The price of nostalgia
Adding further to the disappointment of no remaster, Rockstar announced that the port will cost $50. Zelnick has responded to the outrage by doubling down on the price point, insisting that $50 for both Red Dead Redemption and Undead Nightmare is "commercially accurate" and "certainly a great value for consumers."
Many would disagree, however, given that the port isn't offering anything substantially new for players. In fact, there is no multiplayer and no physical release. In addition, the long-awaited announcement left PC players out in the cold as there is still no news on Red Dead Redemption coming to PC.
In fact, it didn't take redditors long to work out that it's actually cheaper to buy a second-hand Xbox 360 console and Red Dead Redemption on disc than it will be for the port. On Ebay, you can currently purchase both for around $48, and you'd be getting the same experience as someone playing on Nintendo Switch on August 17.
Xbox Backwards Compatibility for the win
I've always said that Xbox is the platform of choice when it comes to value for money. Without even digging into the benefits of a Game Pass subscription, the backwards compatibility feature has long meant that we haven't had to repurchase our games when we upgrade our hardware, and this is a prime example of how that system benefits consumers in a tangible way. The digital version of Red Dead Redemption on Xbox, which is currently only $30, and is playable on Xbox One, Xbox Series S and X. Not only that but it runs in 4K on Xbox Series S and 1440P on Xbox Series S. Nintendo Switch and Playstation 4 players (and PS5 who will receive via backwards compatibility) are essentially being asked to fork out $50 for a lower grade experience.
A beloved and acclaimed game
If there's anything positive to take from this discourse, it's that Red Dead Redemption is still an incredible game that players feel is worth releasing again in 2023, even amongst what's been a jampacked year so far for successful new titles like Baldur's Gate 3 and Diablo 4, with Starfield just on the horizon, a 13-year old game re-launch is still a hot topic of discussion and that's only because expectations were high for a quality remaster of a great game. Studios like Capcom are leading the charge with remasters like Resident Evil 4, and there will always be a hungry audience with deep pockets waiting to throw money at beloved games of years gone by, it's just a shame Rockstar hasn't honored the requests of its fanbase in this instance. For now, we'll have to settle for the best version of the game available, which is on Xbox.
Get the Windows Central Newsletter
All the latest news, reviews, and guides for Windows and Xbox diehards.
Jen is a News Writer for Windows Central, focused on all things gaming and Microsoft. Anything slaying monsters with magical weapons will get a thumbs up such as Dark Souls, Dragon Age, Diablo, and Monster Hunter. When not playing games, she'll be watching a horror or trash reality TV show, she hasn't decided which of those categories the Kardashians fit into. You can follow Jen on Twitter @Jenbox360 for more Diablo fangirling and general moaning about British weather.