Activision takes a stand against XIM cheating in Call of Duty with new Ricochet countermeasures
Ricochet, Call of Duty's anti-cheat software team has rolled out new systems to crack down on cheaters.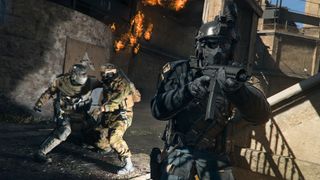 (Image credit: Activision)
What you need to know
Ricochet, an anti-cheat team working for Activision's Call of the Duty franchise, has created new countermeasures to detect and ban players using XIM-Style hardware.
XIM is a product that lets the user plug in a keyboard and mouse into a console and tricks it into thinking it's a controller — giving the user a number of unfair advantages against players using a controller during online matches.
This XIM-detector along with other anti-cheat systems has been implemented into Call of Duty: Modern Warfare II and Call of Duty: Warzone 2.0.
---
Activision's anti-cheat software team for the Call of Duty franchise, Ricochet, announced that they will be implementing new anti-cheat systems to catch players cheating using XIM-style hardware during online matches.
XIM devices are third-party products that allow the user to insert a mouse and keyboard into an Xbox or PlayStation console and trick them into thinking a controller was plugged in instead. This will give the cheater several unfair advantages against players using a controller such as faster turning, more accurate aiming, or even the ability to reduce recoil when firing a gun.
To counter this, Ricochet will be implementing an anti-cheat replay investigation tool that will be able to detect and ban players using XIM hardware, and other similar devices like Cronus Zen and ReaSnow S1. At first, the system will give the cheater an "Unsupported Device Warning", and should the culprit choose to ignore it, they will receive mitigations or be permanently banned from playing all Call of Duty titles.
In addition, Ricochet has inserted a separate replay system designed to monitor and report suspicious activity by capturing data during gameplay. Both of these systems have been launched for the Call of Duty: Modern Warfare II and Call of Duty: Warzone 2.0 and have already seen results by assisting in investigations that have caught permanently banned cheating players.
On top of that, Activision has stated that there will be new mitigations to protect innocent players from cheaters. These measures include the Damage Shield, which will prevent innocent players from being injured by guns wielded by cheaters, and the Disarm and Cloak measures. Disarm causes the cheating player to fight without a weapon after switching them, and Cloak causes all enemies to be invisible from the cheater's point of view.
Other video game publishers have been introducing their own anti-cheat methods in their games as of late. Ubisoft has launched a system called "Mousetrap" which increases online lag for cheating players until they unplug their third-party tools and Epic Games has inserted a monitoring system into Fortnite to help them root out and permanently ban cheaters.
Activision has stated that Ricochet's anti-cheat measures inserted into Call of Duty games during 2021 had caused a significant drop in cheating players. Although, Ricochet says that they expect that players will continue to find new ways to work around their systems.
Windows Central's take
It is a shame to see people try to ruin everyone's fun for their own amusement in some of the best Xbox games out there. Especially since players using some of the best Xbox controllers, with enough time and practice, can be just as proficient in competitive multiplayer shooters as those using a mouse and keyboard. Even in the official Call of Duty League, players are on a controller, and they're the absolute elite.
However, with hard-working folks at Ricochet working around the clock to keep these cheaters in check, you can rest assured that your online experiences will not be tarnished.
Get the Windows Central Newsletter
All the latest news, reviews, and guides for Windows and Xbox diehards.
Alexander Cope is a gaming veteran of 30-plus years, primarily covering PC and Xbox games here on Windows Central. Gaming since the 8-bit era, Alexander's expertise revolves around gaming guides and news, with a particular focus on Japanese titles from the likes of Elden Ring to Final Fantasy. Alexander is always on deck to help our readers conquer the industry's most difficult games — when he can pry himself away from Monster Hunter that is!