Hasbro wants Microsoft and Xbox to bring back Activision's Transformers games (Update)
Classic Transformers games War for Cybertron, Fall of Cybertron, and Transformers: Devastation may soon come to Xbox Game Pass.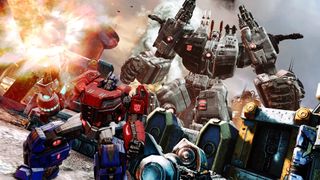 (Image credit: Activision)
What you need to know
During an interview with Transformers fan website, Transformers World 2005 (TFW2005), Hasbro stated a desire to re-release a collection of Transformers games published by Activision onto Xbox consoles and Xbox Game Pass.
These games include the movie-tie games to the live-action Transformers movies, High Moon Studio's War for Cybertron & Fall of Cybertron, and Platinum Games' Transformers Devastation.
Transformers is a long-running multi-media franchise that chronicles the ongoing war of the heroic Autobots fighting to save the universe from the evil Decepticons.
UPDATE: Activision's comms lead Lulu Cheng-Meservey recently tweeted a denial that Activision "lost" the source code for their Transformers games.
---
Update (August 1, 2023): Since publishing this article, Lulu Cheng Meservey who leads comms for Activision tweeted that Hasbro's claims are in fact, incorrect. Activision still has the source code for its Transformers games of ages past, potentially raising the possibility of a re-release? Time will tell.
Original article: On July 28, 2023 at San Diego Comic Con, the Transformer fan website, Transformers World 2005 (a.k.a. TFW2005) conducted an interview (via HazzadorGamin) with Hasbro, the company that created the Transformers franchise. Amongst the various topics discussed like the live-action movies and new upcoming Transformers toys, a major highlight was that Hasbro wishes to re-release several Transformers video games published by Activision to modern Xbox consoles via Xbox backward compatibility on the Xbox Series X and Xbox Series S.
However, Hasbro mentioned that the prospect of that realistically happening would be difficult due to the games themselves being misplaced amongst Activision's archives. Here is the full quote of what Hasbro had to say about re-releasing Transformers games on Xbox.
The list of Transformers published by Activision includes Transformers: War for Cybertron, Transformers: Fall of Cybertron, Transformers: Devastation, Transformers: The Game, Transformers: Revenge of the Fallen, Transformers: Dark of the Moon, and Transformers: Rise of the Dark Spark.
Now that Microsoft has won its court battle against the FTC to buy Activision Blizzard, it is very likely that Activision will go back and comb through its archives to recover these Transformers games and re-release them onto Xbox Series X, Xbox Series S, and Xbox Game Pass if it manages to find them.
Analysis: A Transformers game revival?
While most of these games were standard movie tie-ins, a few of these games surprisingly stood out amongst the crowd. War of Cybertron and Fall of Cybertron (developed by High Moon Studios) received critical and fan acclaim for their deep third-person shooter gameplay, gritty, yet faithful interpretations of the Transformers origin story, and even featured functioning multiplayer systems.
Transformers: Devastation (developed by Platinum Games) also had a highly positive reception. It was a bombastic brawler that let players control the classic "G1" versions of iconic Transformer characters like Optimus Prime, Bumblebee, and Grimlock and beat up Deceptions by using an in-depth combat system reminiscent of Platinum Games' other works like Bayonetta and Metal Gear Rising.
If these Transformers games manage to re-release on modern Xbox consoles and join the huge library of Xbox Game Pass titles, it would be a joyous day for Transformers fans and Xbox fans alike.
Get the Windows Central Newsletter
All the latest news, reviews, and guides for Windows and Xbox diehards.
Alexander Cope is a gaming veteran of 30-plus years, primarily covering PC and Xbox games here on Windows Central. Gaming since the 8-bit era, Alexander's expertise revolves around gaming guides and news, with a particular focus on Japanese titles from the likes of Elden Ring to Final Fantasy. Alexander is always on deck to help our readers conquer the industry's most difficult games — when he can pry himself away from Monster Hunter that is!