There really isn't another controller out there like this one, and while it won't appeal too much beyond racing fans, that's perfectly OK. It has its target and it executes phenomenally well.
Pros
+

Unique racing wheel module

+

Customizable layout

+

Quality feel

+

Trigger stops and remappable buttons

+

Wheel module available separately
Cons
-

Still using micro USB

-

Carry bag is a little small

-

Quite pricey
Why you can trust Windows Central Our expert reviewers spend hours testing and comparing products and services so you can choose the best for you. Find out more about how we test.
There are plenty of awesome Xbox and PC controllers out there, but in most cases, they're all a variation of each other. Whether that's in design or features. Some have trigger stops, replaceable sticks, remappable buttons, and RGB, but essentially, it's been some time since anything truly unique came along.
Thrustmaster, better known for its racing and flight sim hardware, has done just that, though. This licensed Forza Horizon 5 version of its eSwap Pro X controller has a module that's designed entirely for racing games.
On the face of it, you could think it's a gimmick, something tossed in to fit better with the Forza Horizon 5 branding. But I'm here to tell you it's anything but. After a small learning curve, it's easily the best experience I've ever had playing a racing game with a controller.
Disclaimer: This review was made possible by a review unit provided by Thrustmaster. The company did not see the contents of the review before publishing.
Pricing and availability
The Thrustmaster eSwap XR Pro Forza Horizon 5 controller is available to buy now with a recommended price tag of $180. For that you get the controller, the wheel module, a tool to remove the D-Pad easily, a braided cable and a little carry bag.
Alternatively, if you already have a compatible eSwap controller, the wheel module can be purchased on its own for just $30. In both cases, you can hit up your local Amazon store to buy.
A great design with pro features
The design of the controller is comparable to the regular eSwap save for a striking new paint job inspired by our favorite open-world racer. But while the paint job certainly catches the eye, it's definitely not all this controller has to offer.
For those looking for a pro-grade controller, it ticks all the boxes. You get built-in trigger stops, replaceable grips, software control over remapping buttons and sensitivity, and, like the regular eSwap, a customizable layout.
Aside from the ABXY buttons, the rest of the layout can be changed to suit your own personal tastes. If you want to have the analog sticks in the PlayStation (otherwise known as wrong) layout, you can. The modules just pop out and pop back in where you want them.
It feels high-quality and comfortable to hold. The overall shape is reminiscent of the Xbox controller, and that's good. The rear buttons are located perfectly, too, so that even smaller hands like mine can hit them without issue.
This is particularly important when using the wheel module, as the rear buttons can be used in place of the D-Pad which you've most likely replaced it with.
A couple of minor flaws
Before getting into what this controller is really all about, I do want to address a couple of small things I'm less happy with. The first is that it still uses a micro USB cable and not USB-C.
The cable that comes with the controller is high-quality and braided, so it'll stand up to some use. But it's still micro USB. And that standard should have died out by now. The eSwap has been available for some time, but I would still have hoped for a 2023 version to have been updated
Not just this, though, but it's also a cable you have to look after. It uses a first-party design to lock the cable into the controller, so if you lose it or it breaks, there's no guarantee that you can just use any old cable you may still have lying around.
There's also the carry bag that comes with it. On one hand, I love to see this. But on the other, it isn't very big. It's just big enough to hold the controller, and you can squeeze your spare module inside. But it's not big enough to also hold onto that cable or the tool you need to extract the D-Pad module. So it seems a little poorly thought out.
A wheel on a controller is a game changer
The real meat of this controller comes in the wheel module, though. Truthfully, you won't be looking at buying one of these if you don't play a lot of racing games, no matter how much you like the paint job. It's unashamedly targeted at digital racing, and that's OK.
The decision to build a small wheel that fits into the modular design of the eSwap is something truly great. You can use it in any of the slots on the controller and the great part is that it just works.
Here's how I had it set up. I kept the two analog sticks in the preferred offset configuration that we Xbox gamers love. Then I just replaced the D-Pad with the wheel. For me, that felt the most comfortable, as the wheel module only requires minimal rotation of the thumb, so I can just rest on it and rotate it as needed.
Just working is a key part of this, too. You do have control over the controller settings in the ThrustmapperX application on Windows, but you can just slap it in and get going right away. Racing games will recognize it, and you simply use it in place of a stick.
There is a learning curve, just as there is when you first try using a full racing wheel, having stepped up from a controller. Movements need to be more precise, but the level of control you have feels so much more natural than using an analog stick. And specific to Forza Horizon 5, drifting is so much better using this than just a regular analog stick. Not only does it feel more natural, but it's also more responsive to fine movements to keep those streaks going.
The best part is that if you already have a compatible Thrustmaster eSwap controller, you don't need to part with a ton of cash to get in on this. The dedicated controller is awesome, as seen here, but the wheel module is available separately. too. So for a $30 outlay, you can upgrade your existing controller.
Ultimately, it's a small, but incredibly worthwhile upgrade over the regular eSwap controllers unashamedly targeted at racing fans. There's nothing else like it right now. It is unique and brilliant.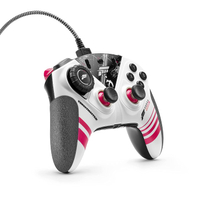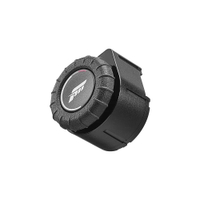 THRUSTMASTER Eswap X Racing Module | $29.99

If you already have a Thrustmaster E-Swap controller you don't need to buy a whole new one just to get the wheel module. It's available separately to buy to add into your existing setup.
Managing Editor - Tech, Reviews
Richard Devine is a Managing Editor at Windows Central with over a decade of experience. A former Project Manager and long-term tech addict, he joined Mobile Nations in 2011 and has been found on Android Central and iMore as well as Windows Central. Currently, you'll find him steering the site's coverage of all manner of PC hardware and reviews. Find him on Mastodon at mstdn.social/@richdevine