Gears 5 features the 'best HDR implementation yet' says Digital Foundry
Gears 5 is a showcase for Unreal Engine 4 and arguably the best use of HDR ever in a game.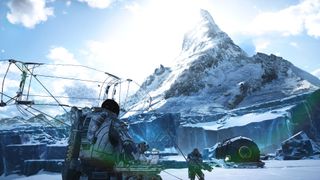 What you need to know
Gears 5: Ultimate Edition is currently available, with the standard edition set to release on September 10.
Digital Foundry is a team of specialists who take a look at the graphics and frame rate in video games.
According to a technical breakdown, Gears 5 is a graphics showcase and features the best HDR implementation ever seen in a game.
Gears 5 is available for $50 on Amazon

(opens in new tab)

.
When video games release, the team at Digital Foundry often does an analysis of the game's technology: the graphics, the frame rate, and more are thoroughly examined. John Linneman, a Staff Writer at Digital Foundry, gave an impressive breakdown of Gears 5, talking about what The Coalition has accomplished with pushing Unreal Engine 4 across multiple modes in Gears 5. You can check out Digital Foundry's full breakdown in the video below, though, do note that they show off all of the environments in the game, so you might want to wait if you're extremely wary of spoilers.
One particularly noteworthy highlight is the usage of high dynamic range lighting (HDR). In his article, John states that "Gears 5 takes the crown as perhaps the best implementation of high dynamic range rendering I've experienced to date — to my eyes, it's easily in the same class as the phenomenal Gran Turismo Sport."
Related: Gears 5 review — An evolved formula brings home a big win for Xbox
Gears 5: Ultimate Edition is currently available on Xbox One and PC, while the Standard Edition is set to release on September 10. As with all Xbox Game Studios titles, Gears 5 is included in Xbox Game Pass.
Kait's journey
(opens in new tab)
Bound by blood

Gears 5 promises to be the biggest Gears game yet, with five different modes and the most massive campaign of the entire series. With Campaign, Horde, Versus, Escape, and Builder all ready for players to dive in on at launch, there's never been a better time to be a Gears fan.
Covered in ice
(opens in new tab)
Gears 5 Limited Edition Xbox One X Bundle
The best experience

Featuring the Omen submerged in ice and snow, the Gears 5 Limited Edition Xbox One X Bundle is available for preorder today. This bundle features the limited edition console, the Kait Diaz Limited Edition controller, and past games.
Excellent and affordable Xbox accessories
Up your Xbox experience with one (or all) of these budget accessories, all of which are approved by the gamers of Windows Central.
PowerA Play & Charge Kit for Xbox One (opens in new tab) ($15 at Amazon)
This charging kit keeps your Xbox One wireless controllers juiced up, and it offers batteries for two controllers. At just $15, this is hands-down our favorite budget charging companion.
ElecGear 4 Port USB Xbox One S Hub (opens in new tab) ($19 at Amazon)
This brilliant little USB splitter hub attaches perfectly to the side of your Xbox One S console. It's ideal for use with chargers, controllers, headsets, and more.
Controller Gear stand (opens in new tab) ($13 at Amazon)
Proudly display your Xbox gamepads with this stylish and functional stand. The licensed design is minimalist and black, and it has a hidden storage compartment, making the price of $13 a real steal.
Samuel Tolbert is a freelance writer covering gaming news, previews, reviews, interviews and different aspects of the gaming industry, specifically focusing on Xbox and PC gaming on Windows Central. You can find him on Twitter @SamuelTolbert.
I believe the HDR implementation in GT Sport looks a bit better.

It's subjective. While it is possible it looks better, Gears 5s implementation of HDR is better on a technical level. Its the small details where it really shines, like the appearance of difference materials. the scuff marks and chips in the metal.

What do you mean the implementation is better on a technical level?
What defines better implementation? Are there a well defined sets of rules?
For me, it all looks more or less subjective.

Well yeah, there are. Just like Control currently offers the best example of Ray Tracing in any game. That being said Digital Foundry also didn't say Gears 5 was the best, they said it was one of the best.

I cannot, for the life of me, get a good look from HDR, I'm guessing it's my TV, problem is I can't even seen to turn it off either which is even more infuriating.

Are you sure that's even on? Every set has different settings so it might be possible that it just isn't even displaying in HDR. On my Samsung, turning on Game Mode automatically turns it on (I believe this is what does it, though it may do it in any setting) . It also only displays it when the game is using it. I can see the HDR flag in the input's information that pops on the screen when changing inputs. It also depends on the game how it looks. For instance, Metro Exodus has no HDR spicific setting, so it looks like crap sometimes and looks great others.

Well adjusting the HDR brightness in game doesn't actually affect Gears 5, but when I adjust HDR brightness in Sea of Thieves it does, but either way the colours don't seem right.

Also sin. As far as I'm aware, you always get a HDR symbol pop up in the top right or left of the screen when your HDR TV receives a HDR signal and goes into HDR mode. If it's not doing this it's definately not on.

Ah yeah, that does come up. It's just really weird that the slider doesn't seem to do anything in Gears 5. I might try turning it off in the dashboard as per your recommendation below. I have a pretty cheap 4K TV so I'd say that's definitely the issue.

You can turn it off on your Xbox one. In settings. So your TV won't receive a HDR signal from your Xbox.
Windows Central Newsletter
Thank you for signing up to Windows Central. You will receive a verification email shortly.
There was a problem. Please refresh the page and try again.