Gears 5: Ultimate Edition dethrones Fortnite as most-played Xbox One game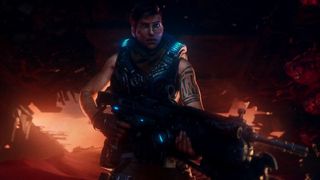 What you need to know
Gears 5 is a third-person shooter from The Coalition.
The game features a lot of new additions to its campaign and multiplayer.
Its Ultimate Edition beat Fortnite to become the most-played game on Xbox One.
You can purchase Xbox Game Pass through Amazon

(opens in new tab)

.
Gears 5 is a third-person shooter from The Coalition, the Xbox Game Studios team responsible for the acclaimed Gears of War franchise. It launched in early access last week as an Ultimate Edition, and this week, the Standard Edition became available to everyone else.
For many months, Fortnite has been the most-played game on Xbox One by miles. Titles like NBA 2K20 have come close, but none have been able to surpass the free-to-play juggernaut. However, that changed a few days ago. If you go to the "Most played games (opens in new tab)" section of the Microsoft Store, you'll see that Gears 5: Ultimate Edition is at the top. This is quite a feat and is thanks to Xbox Game Pass Ultimate which gives players access to the Ultimate Edition if they subscribe to the $15-a-month service.
Given the fact that Fortnite is the most popular game in the world, and a free-to-play title, the sheer number of players needed to dethrone it are probably astronomical. Luckily, Gears 5 was the hit Xbox Game Pass needed to gain more subscribers. Hopefully, they'll continue to remain subscribers. It'll be interesting to see how many players have experienced the game when Microsoft reveals launch figures on Friday or next week.
Related: Gears 5 known bugs and launch issues
In Windows Central's review, Jez Corden wrote, "as a benchmark for visual excellence balanced against stellar performance, Gears 5 is technical wizardry. It also bridges platforms and storefronts... complete with... cross-play. The fact that Gears 5 manages to jam a... 12 to 18-hour campaign, several multiplayer modes, a map editor, and the promise of post-launch support represents one of the best deals in gaming right now. It's an even better value when you factor in Xbox Game Pass."
Best of the best
(opens in new tab)
Three-month subscription

Xbox Game Pass gives you access to over 200 games for one monthly fee. Xbox Game Pass Ultimate also adds Xbox Live Gold to the package so you can play online with your friends.
Jump into digital
(opens in new tab)
Xbox One S: All-Digital Edition
Ditch the discs

Secure your Xbox One S All-Digital Edition, Microsoft's new and ambitious disc-less console. It's the cheapest Xbox One ever made, bundled with a trio of downloadable games.
Excellent and affordable Xbox accessories
Up your Xbox experience with one (or all) of these budget accessories, all of which are approved by the gamers of Windows Central.
PowerA Play & Charge Kit for Xbox One (opens in new tab) ($15 at Amazon)
This charging kit keeps your Xbox One wireless controllers juiced up, and it offers batteries for two controllers. At just $15, this is hands-down our favorite budget charging companion.
ElecGear 4 Port USB Xbox One S Hub (opens in new tab) ($19 at Amazon)
This brilliant little USB splitter hub attaches perfectly to the side of your Xbox One S console. It's ideal for use with chargers, controllers, headsets, and more.
Controller Gear stand (opens in new tab) ($13 at Amazon)
Proudly display your Xbox gamepads with this stylish and functional stand. The licensed design is minimalist and black, and it has a hidden storage compartment, making the price of $13 a real steal.
Asher Madan handles gaming news for Windows Central. Before joining Windows Central in 2017, Asher worked for a number of different gaming outlets. He has a background in medical science and is passionate about all forms of entertainment, cooking, and antiquing.
Love these type of topics that gives no actual numbers. I would think one of MS's major exclusive would top this at launch. It would be crazy to think otherwise.
As for actual numbers Gears 5 isn't too hot on Steam. According to Steam 5K people are currently playing it worldwide and it's peak was less than 10K.

Why would anyone buy it on Steam when you can get it through Xbox Game Pass on PC? That costs $5 a month right now instead of $60 to $100.

That's the basic math for sure. Microsoft want everyone to think like you. I agree FYI

Maybe those who don't want to rent the game?
Those who aren't on Win10 or don't want to use UWP?
It's funny how you made a topic about how this topped the sales charts on steam just few hours after it launched, but now you want to downplay steam...

We wrote about it because it was surprising. Didn't think anyone would actually buy it on Steam.

You seriously thought that ANY other game would sell better than Gears 5 the moment it was launching? LOL
I guess you are also surprised that one of the most important MS game is played the most just after it launched. lol
Anyway you'll be also surprised to know that it's no longer at the top.
https://i.ibb.co/kMnw4Mq/xbox.png

You strike me as a person that has been sitting in front of your computer screen for the last three days, constantly hitting the refresh button waiting for gears 5 not to be number one, just so that you can post it. Sad. Dude, get a life, get a woman/man , get laid or something. 🙄

Ah the company fanboy who will personally attack the guy who only talk gaming.
Are you personally hurt when I talk facts or give my opinions on gaming? LOL
That's what I call sad. Why don't you argue with GAMING argument instead of acting all upset as if I personally attacked you? lol

What's your point? Fortnite isn't even available on steam. Gears 5 is also essentially available for $5 on Xbox or pc. You and your numbers. Get a grip kid.

Agreed, though if it was possible it would be nice to see more concrete data.

Gears 5 being the most played Xbox game looks pretty concrete to me.

What data do you need, and what would you gain from it?

It's about being transparent with gamers about how popular a game really is.
What would you gain from it?
Knowledge. Only company fans wants to hide facts and figures.

No one's hiding anything. MS will announce the numbers. They announced Forza Horizon 4 numbers were announced regularly. Recently hitting overr 12 million. Gamepass now matters so much Sony are scrambling to do something simar and even put Sony games on PC. Less and less people care about buying a game. As is evident by the Gamepass data over the last 12 months. You can still buy if you want. But the metric of success is changing. And Sony knows this as well.

Look at what steam is doing. We can see how many players are playing right now and the peak.
MS will probably make a PR statement about how popular the game is.
NOTHING beats numbers. Neither Sony or MS communicates those like Steam.
MS almost only communicates when with positive numbers or milestones. I would rather see actual numbers than PR statements...

They always release a player count. I'm sure that'll happen today or next week.

What would you do with this knowledge? Seriously, you have literally nothing to gain out of it other than you know a number. You can't even do anything with that number, except determine gears 5 has more players than fortnite (though not really because you also can't get exact numbers about fortnite because Epic doesn't release that to the public either)

What do I do with this knowledge?
Well, for one I would understand more the market and gaming.
If you don't care or don't know what to do with the numbers, fine. I mean why are you even on this topic?
I'm interested. I know how to analyse numbers to understand the market and how it could evolve. That's the difference here...

Considering you aren't getting exact numbers on pretty much any game, your statement is failed from the start.

Check out the steam numbers.

Wait, you seriously think you can analyze a market by using steam numbers? Now I know you're full of ****. You either know nothing about marketing, or analytics (or both). All you can tell there is what is popular on steam, nothing else.

Maybe you can't, but I can. Like I said that's the difference between the two of us.
You initially asked why do I need the numbers for, I replied you. It's not because you can't understand why people wants actual numbers that you should criticise people for asking for them. It looks like you don't care about the numbers. Why do you care that WE care?
I think being transparent to gamers is good. Hiding numbers isn't.

No, you literally can't. You can pretend that you're able to, and I'm sure you do, but it's not a real market analysis.

lol what do you know what can and can't do?
Like I said if you're not interested why are you even here?
I mean besides the damage control...

@Axmantim
Oh another guy who claims that you can get Gears 5 for $5. The funny numbers of company fanboys.
On the official MS page it cost $60.
If you want to rent its at least $10 per month + $5 per month to play online (for XB1 users). And what's the point about Fortnite not being on steam?

Actually it's 2 dollars for two months to rent, but let's not let the truth get in the way of a good lie.

It only costs $5 to get game pass and play gears. No need to buy gold if you wanna play the game. Regardless of rental or purchase, a player is a player so that's irrelevant. As far as steam, you're the one who mentioned steam so there's no direct comparison between the two games.

I mentioned steam because this same writer wrote a similar topic about steam on this same site.
https://www.windowscentral.com/gears-5-tops-steam-sales-chart Like I said earlier, it's obviously going to be the most played game the moment it launches. Considering this is a major XB game, it would be stupid to think it would not.

"it would be stupid to think it would not." Except many other big games have released and didn't become more played than fortnite.

Big MS games? I'm talking of big MS releasing on the XB console.
It should be the same with the next Halo. It should be the most played game when it launches even if it's just few hours like how it was for gears now.

Forza didn't. State of decay didn't. Sea of thieves didn't. None of Microsofts first party studios have done it.

We are talking about major release by MS.
See even Borderlands 3 top the chart now.
https://i.ibb.co/WkxtwWD/xbox2.png

You should check again. Fortnite is already back on top of the Most Played list

That's beside the point. It doesn't matter if they flip flopped all year. The point was no game including all the big big games haven't in a year toppled it. Red Dead 2 online, Apex Legends (free), COD Black ops 4, fifa, Forza Horizon 4 among others. None of them, even for 1 second took top spot. So it is a huge huge deal. And considering Forza Horizon 4 was every month since launch averaging 4 million + players online up to last month shows just the sort of numbers Gears 5 had to post to take top spot.

Do you have proof that Red Dead 2 online, Apex Legends (free), COD Black ops 4, fifa, Forza Horizon 4 was played more for even one second?
Sorry but that sounds ridiculous. Right now it's Boderlands 3 that tops the chart and Gears 5 is 8th.
You seriously think Gears 5 flip flop with Fortnite whole year? This is absolutely nothing. Look at how Borderlands 3 which is hardly as big on XB as Gears is now at the top. You guys are hyping this WAY too much.

Yes. It's reported by many sites. Just googling it and clicking the first link shows this. No other title like I said including free gamesije Apex Legends or huge releases like Red Dead 2 ever once took the crown. Gears 5 has. Don't be surprised if Gears 5 has the sort of numbers over its lifetime of 20 million plus players. Forza Horizon 4 surpassed 13 million a couple months ago. You'll get you numbers shortly. MS has released numbers for Gamepass games since Forza Horizon 3. https://www.ladbible.com/technology/gaming-gears-5-topples-fortnite-afte...

lol there is no actual proof of that. All I saw is a guy on a forum saying it. I mean Borderlands 3 just did it.
There are two things that cannot be ignored. Fortnite is less than what it was last year. I'm yet to see hourly charts of most played games on XB for the lst 2 years so until something like that is shown it cannot be real proof. The very fact that Borderlands 3 is on top right now and Gears dropped to 6th-7th AND that Borderlands 3 is NOT even on game pass just discredits this entire topic... And you guys claiming how HUGE this is. MS fanboys wants to make a big deal out of it looking at these real time charts and trying to make it sound like it's a HUGE deal. We've seen multiple topics by Asher Madan One one Steam and one here on the MS store.
The fact that despite other games also topped the SAME charts just hours after the topic shows how "huge" this actually was. The reality is that despite Asher Madan's topic on Steam sales only 6,247 are playing it on Steam right now and a peak today of 8,773.

No. Your the one who needs to provide proof. There is over 25 news outlets reporting the same thing. You are the person who needs to refute it with evidence. It's been a talking point in gaming media for the last 12 months. Who will knock it off. This isn't some new thing. If your calling everyone else a liar. You provide evidence of where your tin hat is??? You'll get your numbers soon enough. As I said every single first party title that's released has had figures on Gamepass. Don't be surprised as I said across PC and Xbox this passes 20 million. And going forward with MS games releasing more frequently and at this high high quality. I fear we are going to have you trying even harder on these pages to downplay this 'rent' service your oh so afraid of. We live in an age where less and less give 2 craps about owning a film, game or music. That is shown by Gamepass receiving so much press. Like I said before. Sony is even screaming to do the same.

You are the one saying that. Now prove it. Get charts, links of whatever. The source of the article you posted was a guy posting it in a forum. LOOL Do you know what burden of proof is? You are making statements. You need to prove it not me. Having a random guy post a sentence in a random forum isn't proof.
For all we know that must be a lying MS fanboy like you posting it. All I say is provide proof. It's not that simple. I mean you guys make the statement. Surely you make that statement based on some facts. Now provide the facts. If you can't it's just a random statement which may or may not be true. "Don't be surprised as I said across PC and Xbox this passes 20 million."
I've already told you about your wild guesses and predictions. We'll actually wait and see. Again yes it's renting service. I want to know if devs will make as much money on sales. or if because of getting less revenue from renting for $2, they'll be forced to have microtransactions in their games like how Gears 5 and SoT. Sony have had their renting service way before MS. But we'll see if they'll add their latest games in that service. They know it would be foolish to do that. That's why they aren't doing it. ofc So far we have no idea how game pass is doing. Why are MS hiding the concurrent number of members? Are they making money from it or are they losing money? And ofc how much? It's very difficult for the XB/Game pass lovers to say it's a success because MS never communicates these numbers.

No sir. Your 100% wrong. I am reporting what news are reporting. I'm not the one claiming all the sites as wrong. You are. Your not claiming I'm wrong. Your claiming they are wrong. For me and others here to trust what your saying over the news sites. It's firmly 100% up to you to provide evidence as to why we listen to you and not them. I haven't made any claims. Your making an opposing claim to others. It's not me against you. It's you against them. So if you want people to listen to you and not them. You need to show us why you are correct. See how this works? Your so fixated on fighting people in a comments section, that you think it's us commenters who need to provide evidence. When it's you who are calling the news sites out. That's fine you can do that. But show me proof if you want us to believe the opposite of what everyone else is saying. So unless you do that, you appear as just another keyboard warrior with an agenda. Considering Forza Horizon 4 passed 12 million players. And that was when Ultimate Gamepass didn't exist. It's easily plausible Gears 5 can do 20 million with Ultimate Gamepass in full flow. As I said MS have religiously told us player numbers for Gamepass Games. And even told us How many play online average each month. Horizon 4 for example has had over 4 million average every month online since launch.

The source of the "news article" was a comment of a forum FFS.
I'm not making ANY claims here. YOU are. All I'l doing is asking for proof or evidence. It's not that complicated.
And yes you have made a comment when you said:
"The point was no game including all the big big games haven't in a year toppled it."
Now prove it with actual facts. Not a random article on some random site written by some random kid who gets is information from a random poster on a random forum.
This is just like if you write a "news article" based on some of the random lies you post here. "How many play online average each month."
Do you have a link of how many game pass played online last month?
Please post evidence. You know I'm going to ask them. You know me. I'm not some random poster who accepts everything you say and believes whatever you post.

You still don't get it. Want me to listen your counter argument provide proof that everyone else is wrong. I have made 0 claims. What I have said is what is on the news. It's not my own comment. I have chosen to listen to the reports. I don't know how much I can slow this down for you. You disagree with what's reported. You provide the evidence. Very simple. Clever twist, but I never said all 4+million were Ganepass ayers only. Never said that. But good try. https://www.gamepressure.com/newsroom/forza-horizon-4-with-12-million-pl...

And your lies continue...
"Want me to listen your counter argument provide proof that everyone else is wrong."
Can you show me where I said you and everyone else were wrong?? My initial comment was asking for proof. Here is my question:
"Do you have proof that Red Dead 2 online, Apex Legends (free), COD Black ops 4, fifa, Forza Horizon 4 was played more for even one second?" "I have made 0 claims."
This is what YOU said: "The point was no game including all the big big games haven't in a year toppled it."
You made a statement based on something that can't be proven. Next time do your research. Or at least admit that you don't have any real evidence and move on. "You disagree with what's reported."
I don't agree or disagree. I'm asking for evidence. A claim (without proof) from a random guy in a random forum isn't proof. You said this:
"As I said MS have religiously told us player numbers for Gamepass Games."
I'm trying to understand what that means. Are you saying that they regularly tell the how many players played all or most game pass games?
Or are they just using the "how many players are playing" instead of other metric because they know they can boost numbers thanks to the renting service? PS: Can you please reply me in that Minecraft topic.

Ok, with all your comments. I found this which I thought was quite interesting.
https://www.trueachievements.com/n36503/xbox-gameplay-chart-week-ending-... Any comment?

This is actually massive. Forza Horizon 4 couldn't topple it and it was played by more than 12 million people. And has 4 million a month still playing that online. So the fact that Gears 5 achieved this in just 5 days is absolutely phenomenal. Would not surprise me if Gears 5 is by far the most played exclusive this Gen. Getting iver 20 million lifetime easy.

Massive?
One of MS's top games is the most played on XB during it's launch period? LOL
You guys are hilarious.

And the next day fell to 7th on the list. 🤔

So where is the topic for Borderlands 3?
https://i.ibb.co/WkxtwWD/xbox2.png

Well it's no longer news is it. The point was Gears 5 did it where other games for the last 12 months couldn't. The news was a game finally did it. That was the point. The point your trying to downplay. You are showing incredible bias here. Hugely. And alot of people on this site can see it and are calling you out.

Yes I'm downplaying this because Borderlands 3 which is not on Game pass is doing the very same thing few days later.
You guys are bias towards MS so you make a big deal about a MS doing it but TOTALLY ignore it when Borderlands 3 without game pass is doing it. And you dare call others bias??? Ridiculous. LOL

But Borderlands 3 wasn't the game to knock off Fortnite after all this time. You honestly think an article is worthy for that reads borderlands 3 finally knocks of Gears 5 after 2 days. Not the same as Gears 5 knocks off Fortnite after 12 months is it.

1) That needs to be proven.
2) I mean if some of us didn't post that Borderlands 3 did the same even though it's not on game pass you would probably keep going as to how massive this is. Or how Gears and Fortnite will flip flop throughout the year. lol

As I pointed out below, we are using data here from a game on two systems as compared to a game on one, borderlands did it on one system (although one could also argue that a lot of Fortnite players were probably also still playing Gears 5 which would have also impacted on the numbers needed to beat it by Borderlands 3). Also, I said also way too many times in that previous paragraph.

Can I just point out that this will include players playing on PC through the Xbox Beta as well.

Yes this is correct. It's Xbox and PC. Together. Any game in the list available through Gamepass or the store on PC and Xbox is included in Most played.

So that means Boderlands 3 is not included. That just show how much of an non-event this is.

Which severely diminishes the achievement. It's still a good effort, but when you are comparing players across two systems to players on one, it's hardly a fair comparison.
Windows Central Newsletter
Get the best of Windows Central in in your inbox, every day!
Thank you for signing up to Windows Central. You will receive a verification email shortly.
There was a problem. Please refresh the page and try again.