List of Gears 5 known bugs and launch issues
Watch out for these problems.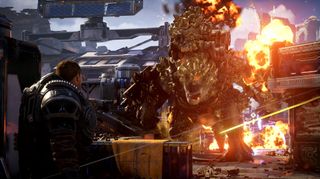 Gears 5 is a third-person shooter from The Coalition. Not only does the game feature a larger campaign, but it also provides plenty of multiplayer modes. Some of the more underrated features of the game have to be its accessibility support and 60 Hz servers for smooth competitive matches.
However, as if the case with almost every game, there are still a number of bugs to be aware of. While an official list hasn't been shared as of yet, we did come across some interesting ones that are giving players a hard time. You can read about them below.
Saving
It seems like if you're using a slow external hard drive (HDD), not a solid-state drive (SSD), saving the game can be a hassle. The checkpoint logo keeps on spinning but nothing happens. Some reports indicate that if you're using an external HDD, you'll likely have this issue. Others say that it's related to server problems. Either way, it's an ongoing concern with no clear solution as of now. Try installing the game on an external SSD if you have one.
Stuck animations
It seems like some characters are stuck in rage animations even after a match is over. While this bug is hilarious, it can be disconcerting because they're very loud.
Performance
Certain areas of the game exhibit noticeable performance dips. This happens usually when there's a lot of action in the campaign.
Stuck progress
According to reports on Twitter, there are some missing prompts in the campaign and certain computer-controlled characters don't do what they're supposed to. For example, Jack gets stuck behind a box and you can't move to the next area.
Language support
According to another report on Twitter, the Brazilian and Portuguese voices and subtitles are broken.
Progression
Some users are reporting that they are missing collectibles and campaign progression.
We'll keep adding to this list as we encounter more problems. Hopefully, The Coalition is aware of these problems and is actively working on solutions.
In Windows Central's review, Jez Corden wrote, "as a benchmark for visual excellence balanced against stellar performance, Gears 5 is technical wizardry. It also bridges platforms and storefronts... complete with... cross-play. The fact that Gears 5 manages to jam a... 12 to 18-hour campaign, several multiplayer modes, a map editor, and the promise of post-launch support represents one of the best deals in gaming right now. It's an even better value when you factor in Xbox Game Pass."
Best of the best
(opens in new tab)
Three-month subscription

Xbox Game Pass gives you access to over 200 games for one monthly fee. Xbox Game Pass Ultimate also adds Xbox Live Gold to the package so you can play online with your friends.
Jump into digital
(opens in new tab)
Xbox One S: All-Digital Edition
Ditch the discs

Secure your Xbox One S All-Digital Edition, Microsoft's new and ambitious disc-less console. It's the cheapest Xbox One ever made, bundled with a trio of downloadable games.
Excellent and affordable Xbox accessories
Up your Xbox experience with one (or all) of these budget accessories, all of which are approved by the gamers of Windows Central.
PowerA Play & Charge Kit for Xbox One (opens in new tab) ($15 at Amazon)
This charging kit keeps your Xbox One wireless controllers juiced up, and it offers batteries for two controllers. At just $15, this is hands-down our favorite budget charging companion.
ElecGear 4 Port USB Xbox One S Hub (opens in new tab) ($19 at Amazon)
This brilliant little USB splitter hub attaches perfectly to the side of your Xbox One S console. It's ideal for use with chargers, controllers, headsets, and more.
Controller Gear stand (opens in new tab) ($13 at Amazon)
Proudly display your Xbox gamepads with this stylish and functional stand. The licensed design is minimalist and black, and it has a hidden storage compartment, making the price of $13 a real steal.
Asher Madan handles gaming news for Windows Central. Before joining Windows Central in 2017, Asher worked for a number of different gaming outlets. He has a background in medical science and is passionate about all forms of entertainment, cooking, and antiquing.
They'll sort them, I'm more than happy with the game. Only.played campaign sonfar though

I am very happy with the game I've had none of these issues so far oh, I do have the game installed on my external hard drive know my external hard drive is a faster 5400 RPM hard drive. I am waiting to get those new Western digital black hard drives are coming out for the Xbox.

Loving the game, but each new area seems to have the saving bug. It gets stuck saying it's saving and then eventually can't move. Also had issues transitioning back to playing after some cutscenes. This game needed way more beta testing basically.

If you are in a group and get the saving bug have everyone close the game and reload it. It runs much better after that. Has anyone been able to watch The State of the Universe video? I've tried several times and just get a black screen.

I was able to watch the State Of The Universe yesterday and right now. The game is installed on an external 2TB Seagate Xbox HDD. About to play the Campaign for the first time. Haven't played multiplayer yet.

Luckily I haven't come across any of these yet.

I'm on external SSD, no issue so far.