Gears of War: Ultimate Edition appears on the Windows 10 Store
Gears of War: Ultimate Edition has appeared on the Windows 10 Store, continuing Microsoft's Xbox push onto PC.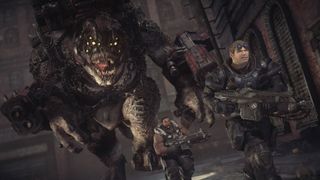 Gears of War: Ultimate Edition remasters the smash hit Xbox 360 third person shooter, which initially launched back in 2006. Microsoft released the Ultimate Edition on Xbox One last summer, after confirming at last year's PC Gaming Show that it would eventually arrive on Windows too. The game is currently unavailable for purchase, but the listing likely indicates that it'll go live very soon.
The Windows 10 version boasts "all-new ultra-high definition graphics up to 4K", showcasing the "latest in PC gaming performance." Those who pick up the Windows 10 version will also gain access to a Deluxe Weapon Skin Pack and 11 bonus multiplayer characters.
The full details and recommended specs are as follows:
CAMPAIGN FEATURES:
Every aspect of the original Gears of War has been beautifully remastered and modernized, including lighting, environments, characters, and cinematic scenes. This is the first at its best!
Play in stunning 4K with an unlocked refresh rate.
Includes five additional, exhilarating campaign missions that follow Delta Squad as they battle their way to Timgad Station not included in the Xbox 360 original.
Go deeper into Gears fiction with five Gears of War comic books, which can be unlocked and read within the game.
Remastered for Dolby 7.1 Surround Sound.
MULTIPLAYER FEATURES:
The most visceral online shooter returns with multiplayer matches running on fast and fair dedicated servers with unlocked refresh rates.
Includes all original Xbox 360 DLC multiplayer maps and three multiplayer maps from the original Gears of War PC version for an incredible 19 total multiplayer maps.
Newly added multiplayer modes include Team Death Match, King of the Hill, Blitz and a special 2v2 mode designed by the Gears of War community.
Returning multiplayer modes include Warzone, Assassination, Execution and Annex.
AND MORE:
All new Xbox Live Achievements and 1,250 new Gamerscore.
Handpicked gameplay improvements, alternate controls and a new difficulty level for players new to the franchise.
Support for keyboard or gamepad controls.
The Windows 10 version includes the Deluxe Weapon Skin Pack and 11 bonus multiplayer characters.
This game requires a DirectX 12 capable graphics card. Please refer to your graphics card vendors' website for more information.
RECOMMENDED SYSTEM REQUIREMENTS FOR 1920X1080P
OS: 64 bit Windows 10 - version 1511
Processor: Intel Core i5 @3.5GHz+ or AMD FX 8-core
Memory: 16 GB RAM (4 GB VRAM)
Graphics: GeForce GTX 970 or Radeon R9 290X
Hard Drive: 60 GB available space
DirectX 12
RECOMMENDED SYSTEM REQUIREMENTS FOR 4K
OS: 64 bit Windows 10 - version 1511
Processor: Intel Core i7 @ 4Ghz or AMD FX 8-core
Memory: 16 GB RAM (6+ GB VRAM)
Graphics: Geforce GTX 980 Ti or Radeon R9 390X
Hard Drive: SSD + 60 GB available space
DirectX 12
MINIMUM SYSTEM REQUIREMENTS
OS: 64 bit Windows 10 – version 1511
Processor: Intel Core i5 @ 2.7Ghz or AMD FX 6-core
Memory: 8 GB RAM (2 GB VRAM)
Graphics: Geforce GTX 650 Ti or Radeon R7 260x
Hard Drive: 60 GB available space
DirectX 12
Gears of War: Ultimate Edition can be found on the Windows 10 Store over here (opens in new tab), listed as unavailable for £774.99 in the UK (which clearly isn't the final price). Stay tuned to WindowsCentral.com for the official launch, which could be any moment now.
Thanks to @M578Fury for the tip!
Windows Central Newsletter
Get the best of Windows Central in in your inbox, every day!
Jez Corden a Managing Editor at Windows Central, focusing primarily on all things Xbox and gaming. Jez is known for breaking exclusive news and analysis as relates to the Microsoft ecosystem while being powered by caffeine. Follow on Twitter @JezCorden and listen to his Xbox Two podcast, all about, you guessed it, Xbox!
How about Price?? Any guess ??

Oh God, now I desperately need a gaming laptop/PC.

If you go desktop you can get in for cheap. $500 will build you a decent system. $1000 and youll be rocking. It's tax time, put your refund into it lol.

Look at the requirements. The $980TI goes for around $650, the R9 390X is around $350...So no, $500 will not get you a PC to play this game. $1K does seem like it, but not rocking it. Have you priced the Titan X? I got excited when I saw this, but my laptop doesn't meet recommended settings, I only got 12GB of RAM and a nVidia 940M with 2GB of RAM. I do got a SSD.... but still not quite there.

You won't even need a 390x to play this. Stop taking System Requirements at face value. Also those GPUs are recommended for 4K

RTFA RECOMMENDED SYSTEM REQUIREMENTS FOR 1920X1080P OS: 64 bit Windows 10 - version 1511 Processor: Intel Core i5 @3.5GHz+ or AMD FX 8-core Memory: 16 GB RAM (4 GB VRAM) Graphics: GeForce GTX 970 or Radeon R9 290X Hard Drive: 60 GB available space DirectX 12

Look up definition of the words recommended and minimum. Maybe then you'll understand how you're wrong.

I agree. 980Ti for 4K I can understand, but a 970 for 1080p? Certainly they must be talking about running it 1080p at max settings, but still 960 should be the target for that, and not a pseudo 4K card. Minimum requirements make since, but still system requirements should never be taken as fact because most of the time you can get away with a bit less.

Now you look at the requirements and learn how to build PC's. You don't need a 390x. A 290x is recommended for 1080, which means it won't be minimum specs. So yeah, you will likely be able to run this on a $500 PC.

It was $39.99 on Xbox One.

So do pc users have to pay to play multiplayer?

This is the one issue i have with the push to sell Xbox games on both Xbox and Windows 10. PC players get multiplayer for free, whereas Xbox users have to pay for it. I'd like to see them change Xbo Live to be a "premium" membership, providing free games, discounts, maybe some bonus perks, etc., but not being a requirement for multiplayer/online gaming.

Agreed. They pretty much have to make online gaming free for Xbox One console gaming now, but I don't see that happening as it's too big of a money-maker for them. I'd drop Xbox Live Gold in a second if they did, as Games with Gold offers zero benefit to me, and I know I'm not alone there.

This gave me a thought; what if they dropped Xbox Live, and instead offered Microsoft Live, providing game, music, and video streaming to all Windows devices? That's a subscription I'd gladly use!

PC gamers make up for it in the hardware/OS

Not really. Microsoft, as far as I'm aware, makes nothing off of hardware sales (with the exception of their own hardware, like the Surface, and whole-PC sales). I think Microsoft probably makes more off of selling an Xbox, than it does from a regular hardware sale. They do, however, make a profit off of OS licenses. But, even if we assumed they make $100 per computer sold, that is less than 2 tears of Xbox Live ($60 per year, unless you catch a sale). If the cost of the Xbox doesn't offset the cost of multiplayer, than I would expect that purchasing a computer wouldn't either. Not to mention that the profit from OS licenses probably goes directly to the OS group, to cover their expenditures. Don't get me wrong, I understand that they want the users to cover (at least some of) the cost of running the multiplayer servers. It just feels like a disconnect when Xbox users are required to pay-to-play online, while PC users do not. That's why I would at least like to see better benefits for Xbox Live subscribers to offset that.

I agree with the multi player part, but Gold gives plenty of free games and discounts to make up for the 60 a year..

QB outrage misplaced, should be directed at this fact.

I wonder if any of those new store games work with the xbox controller's impulse triggers, I've yet to find a game that does

I tried to look around the web for it, and some say that they can feel something in the triggers, but maybe they just feel the main vibration unit in the controller and not in the triggers themselves. Even Project CARS do aparrently not support impulse triggers so that is indeed an alarming thing. I do think it is not the hardest thing to implement for the developers so it is probably something that will come if there is a big enough audience for it. I've just ordered a Lunar White with an wireless adapter for it. Hoping I can at least find one game that support impulse triggers.

Tomb Raider for Windows 10 supports the impulse triggers and the Steam version doesn't. They'll definitely support impulse triggers in Gears of War since it's on Windows Store.

A review for Tomb Raider in the store claims it supports impulse triggers (the reviewer says that is exclusive to the Windows Store version - I don't own the game to confirm)

If 4K recommends the 390X, then 1080p shouldn't need a 290X. They're not massively different cards, if I remember correctly, so I would expect the resolution difference to me a bigger hardware gap.

Any word on whether this would support cross-buy? If you buy this, do you get access to the Xbox One version as well?

Cross buy is the ultimate goal, but likely still further out. Merging Stores across all devices is the point (Xbox One is a Win 10 machine now).

If that's the ultimate goal (and it should be), along with cross-save, they need to start doing it now. They should've started it with Rise of the Tomb Raider (big dropped ball there), and then they erred with Quantum Break too (making it cross-buy only for pre-orders). They failed to convince other recent developers to do it too (see Oxenfree). If Gears of War Ultimate is also not cross-buy, then they're really digging themselves into a hole. They need to be leaders.

They are being leaders here. Going forward, 1st party games that release simultaneously on pc and Xbox are treated that way. QB is the only one they have tied to a preorder to get it free on pc so far. The next release, KI has not been tied to that. I think Gears and TR just didn't make the cut since Gears came out earlier for Xbox and MS couldn't convince SE to allow crossbuy on PC.

KI is F2P. Same goes with other similarly announced cross-buy games like Project Spark, Fable Legends, etc. They have yet to do true cross-buy on a paid title, and they've missed a few chances already. Seeing as how Microsoft was able to make SE cool with delaying RotR on PC and PS4, I'm pretty sure they could've coaxed them into making it cross-buy on Windows 10, had they wanted to.

I had an email reply from the Oxenfree developers earlier and they said they'd have liked to have offered cross buy but don't think MS allow it at the moment (They didn't go into detail)

When they say MS don't allow it I think they mean there isn't something in place to easily allow it (yet) since the stores are separate for the time being

For cross-buy it is a studio decision and yes, all MS studios should include cross-buy in every game with syncing. That is a must for Xbox on PC to move forward.

A 290x for 1080P!? They must be overshooting it if the 390x is capable of 4k.

Good! Just cant agree with PC only ppl doesn't have to pay for mp gaming on Xbox live. This needs to be balanced by MS.

A gaming pc costs £1500 an Xbone costs £275, no need for a silly £40 a year subscription

A few things will change in 2 days at the Xbox and Windows 10 event.

If they charge for multiplayer on PC I'd never use their store. Even if they brought halo to PC Posted via the Windows Central App for Android only because the screen on my 1520 broke.

What the heck !!!!! Just look at the game sizes these days. How much size do I need if I install GTA V, TOMB RIDER, Assassins Creed (latest series), QUANTUM...or something, and this game on one PC . I must better get Xbox or PS4

Ha! They need about as much space as they need on PC. However you only have a 500 laughable GB on either consoles. Luckily they introduced external storage to the Xbox at some point, otherwise you could only have about 3 games installed (exaggerating a bit here, but you get the point)

I bought a 3TB external hdd for my Xbox one and storage is now 44% full.

This is how you gain with Steam. don't give them these exclusives.

You can do it, Forza! We're counting on you!

Hello Ukranian Windows 10 store!

Curerntly it's 21270 hryvnas (Ukrainian currency) which is roughly $800 :).

Unless you have a credit card from that area, that little loophole has been closed. They learnt their lesson very quickly with RotTR and had it shut down within hours.

Requirements are insane. Even if it has full retexture to 4K with improved models and geometry (not likely), it is still asking way too much for 2006. game.

It's not a 2006 Game. This was released last year.

It's a done up 2006 game Posted via the Windows Central App for Android only because the screen on my 1520 broke.

Irrelevant. The original statement was incorrect. It's a 2015 game.

Hope it is cross-buy since I didn't pick it up on my One yet

To have crossbuy work, MS will need to have it ONLY work one-way. Buy on PC and thats it, buy on Xbox and you also get PC.

Why? Why would this make any sense?

If they require an i7 for 4K how is an AMD processor going to get the job done??!

nice article. find windows 10 iso on pcriver.com

The entire windows store Posted via the Windows Central App for Android only because the screen on my 1520 broke.

The Windows Store cant be pirated, there is no exe to crack, SLI profiles cant be used as Nvidia cant find the store games & there is no FPS counter. Totally unhackable, i love it.

The no sli or fps counter is a problem Posted via the Windows Central App for Android only because the screen on my 1520 broke.

Where can I buy a 4Ghz i7?

Gears of War is already available on PC. Why don't they release the second and third games of this rehashed stuff?
Windows Central Newsletter
Thank you for signing up to Windows Central. You will receive a verification email shortly.
There was a problem. Please refresh the page and try again.