Gears of War: Ultimate Edition for Windows 10 is here
The legend is back, again, this time looking better than ever.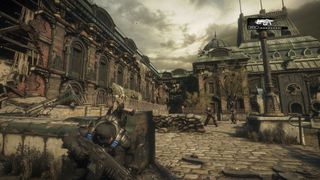 We knew it was coming, we even recently saw it appear in the Store for the first time. But today, Gears of War: Ultimate Edition finally becomes available for Windows 10.
The remastered classic became available for Xbox One in 2015, and a PC version was announced alongside it. The whole game has been given a present day makeover, while preserving what made it such an epic to begin with.
For Windows 10, there are some exclusive features:
Inclusion of the Deluxe Weapon skin pack and 11 bonus multiplayer character skins, delivering $10 of bonus content to Windows 10 players for free o
Mouse and keyboard key bindings, as well as controller support and customization
Unlocked campaign and multiplayer framerates and up to 4K resolution using 20GB of simultaneously-streamed textures o Improved lighting, high-detail textures and VFX
Graphical setting customization: text chat, motion blur toggle and more
It'll cost $29.99 or £22.99 depending where you are, and the Store link below is where you need to be. Before purchasing though, do be sure to check out the recommended system hardware requirements.
More: Gears of War: Ultimate Edition review
Buy Gears of War: Ultimate Edition for Windows 10 (opens in new tab)
Richard Devine is an Editor at Windows Central. A former Project Manager and long-term tech addict, he joined Mobile Nations in 2011 and has been found on Android Central and iMore as well as Windows Central. Currently you'll find him covering all manner of PC hardware and gaming, and you can follow him on Twitter and Instagram.
Nice addition to the market place! The Xbox one version was really good, hope this brings in more players to the universe

Quite cheap in INDIA. Only Rs.729 (aprx. 11$)...But 52GB would take me 2 months to download. Sorry MS.

my country after direct conversion is round $13..

Wow..!! 52gb in 2 months.. That's a fast internet connection dude.. !! I can only manage to download 2gb per month. For downloading 52gb in india we need to spend 5 times more money for internet connection alone.

52gb download in what now? 10mbps..unlimited..for 2100bucks..(INR)..Download of the game almost complete..

€11.72 on ukrainian store ?

what matters is cross-buy, so that Microsoft supporters can play it on Windows 10 OR XB1. If this doesn't have cross-buy, I guess I'll pass.

You're passing then. And no, cross-buy isn't the only thing that matters right now. This is a huge project from Microsoft and getting games playing properly and ironing out store issues are way more important.

I agree with QuietNine: cross-buy is Microsoft's trump card and so far they're completely dropping the ball on it. Quantum Break should have cross-buy without restrictions (not just as a one-way pre-order bonuns), Gears of War Ultimate absolutely should be cross-buy too, as well as every other Microsoft Studios' published game that comes to Xbox One and Xbox for Windows 10. They are really missing the chance to make a splash and shake up the industry by unifying gaming. Intead, they are promoting segregation, which is a backwards notion for the industry. It's disappointing.

Trump card, sure. But there are fundamental issues that need fixing first. Complaining about cross-buy when you're therefore not paying for a game that may present issues to people who do stump up the cash? Microsoft could, nay probably should have done a lot better. But where we're at is where we're at. Quantum Break will put that to the test, let's see what happens before everyone declares they're not interested without it.

Quantum Break has already set up a grim future for gaming: cross-buy with caveats--you only get it by shelling out $60 on a preorder of a game you havne't played and hasn't been reviewed yet. That's not the direction we gamers should want Microsoft going. We should want them to offer unconditional cross-buy. I'm not sure why you insist that things aren't in place to do cross-buy now. Microsoft has the capabilities to offer their 25-character codes for cross-buy now until they get their real system programmed. There is no reason to wait. It's just a missed opportunity for them.

Does it support saves across platforms like Quantum Break will? I may be imagining it, but I also thought I read that Rise of the Tomb Raider syncs saves between XB1 and PC (Windows Store) versions. I'll be getting that game at some point but still playing through Tomb Raider

I'm with you 100%.. Once cross-buy/cross-save becomes a standard platform feature, I'm sold.. I'm holding off on building a new gaming PC in anticipation of that eventuality.. It's gonna be great

Is there cross-platform multiplayer?

Unfortunately I don't believe there is. Would've been a major hit if that was the case

Yes I'm pretty sure there is.

Wonder how bad this will run on a SP2?

Extremely so. Probably unplayable

Can't wait for Polaris to finally buy me a DX12 GPU.

And I promptly just read an article saying the game is virtually unplayable on even high end AMD Radeon cards. Not a good look for MS.

See post under yours by Joachim T.

No word about the big problems with AMD cards? Or with NVidia Monitor Sync? http://www.forbes.com/sites/jasonevangelho/2016/03/01/gears-of-war-ultim...

Awesome. Downloading now ☺. Great time to be a pc gamer. Soooooooooooooo many games coming. May need a bigger hard drive soon.

SO, what country has it the cheapest, so far around $11 in INDIA, is there any where that comes out cheaper ? After getting Rise of the Tomb raider for like $7 change, I would grab this in a heart beat if I could get it for like $7-8 US...

Hmm http://wccftech.com/amd-nvidia-gears-of-war-ultimate-broken/

Anyone from the US try the trick as used on Rise of the Tomb raider to get it from INDIA ? I changed my region, Added billing with a CC/Visa, My address, my city, random state and a zip of 000000, It keeps on failing. Any idea ? $11 is better than $30...

no :/ tried it several times from EU to buy in the ukraine. payment keeps failing. they learned from the tomb raider "bug". So ... i never buy in the windows store again ;) Steam sales ftw! :P its ok for me, that i can never play gears then ... i HATE the store app - games. if they gonna never release this games as "desktop" applications, they NEVER get money from me, unless i can buy it in the ukraine for 90% less money ;)

Yea, deal killer for sure. @ $30, it's a good deal for the games if you never played it but, I owned them all on release so it was an extra play through. $11 ok, $30, no way. Oh, well, if you find a trick please post or PM me...thanks !

They need to bring Halo to the PC as well. Mouse and Keyboard all day.

That will be the day..windows store breaks down..if they bring Halo MCC to pc..though they wont..Msft after all

Halo 2 is available for Windows....Made for Vista but, should run in 10...(ran in 7 x64)...came with a xbox app for achivements..I have a copy of it

Not such a bad price, shame they couldn't round it out to £20!!!! I have it on Xbox one, but may get it for PC and play it again in 4K!!!! :P
Windows Central Newsletter
Get the best of Windows Central in in your inbox, every day!
Thank you for signing up to Windows Central. You will receive a verification email shortly.
There was a problem. Please refresh the page and try again.