Gems of War celebrates the holidays with a major update on Xbox One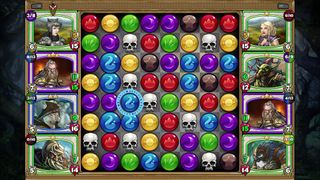 Christmas has come and passed, bringing a fair number of new Xbox One owners along with it. Many of those owners will be looking for new games to play, including those of the free to play variety. And one of the very best free games for Xbox One is Gems of War from 505 Games.
Gems of War is a puzzle-RPG in which players collect cards, form a team with those cards, and head to battle against other players. This week, Gems of War for Xbox One received a major patch that significantly improves card sorting, inventory management, and much more. Read on for our detailed impressions and screenshots of the new changes!
Gems of War Christmas week update at a glance
The latest Gems of War update clocks in at a download of nearly two gigabytes. It hasn't received official patch notes just yet, so we've compiled all known changes in this handy list. Be sure to leave a comment if you find anything I missed!
Main menu: News icon added, Defend and Invade consolidated into new PvP icon, armor bonuses now displayed beneath hero level
Cards: Troop rarity represented by stars and card color, creature type and Kingdom symbol displayed on card. These changes apply to battles as well.
News: Message of the Day (generally related to current timed event) is displayed. Patch notes are not displayed, unfortunately.
Hero: Mana masteries displayed on main Hero screen. Masteries alternate between Hero's innate stats and Guild bonuses. All Hero submenus have been given new looks. New Difficulty and Collection options added to the Hero menu, but can't be selected yet.
Troops menu: Players can now properly assign a team for every Kingdom. Number of troops displayed on-screen boosted from four to ten, although some text on cards is nearly unreadable. New tabs at top: Hero displays hero weapons; Bonuses does nothing yet. Filters option allow greatly expanded card sorting and filtering.
PvP: The new PvP screen displays the player's Invasion and Revenge stats. Invade, Revenge (formerly Defend), and Defenders options relocated to PvP screen. Players can now select teams and pay 50 gold to Scout enemy teams before battle.
Arena: Players can now purchase Arena troops with gems.
Bug fixes: At least one bugged Task has been fixed ('Have mastery level 10 in three mana types'). We'll have to wait for an official list to learn the rest of them.
Update highs and lows
Out of all the changes in this update, the new Troops menu is by far the most welcome. Before, troop/card management was a total chore because we had so few sorting options. Now you can alphabetize cards or sort them by rarity or level, all of which provide incredibly useful when building teams.
Console Gems of War players who were hoping for new Kingdoms to conquer will be disappointed that no new Kingdoms were added in this patch. I believe the Steam version has two more Kingdoms than Xbox One and PlayStation 4. Hopefully those Kingdoms will come sooner rather than later.
Also, the changes I'd most like to see – PvP opponents' levels being more clearly displayed, and Guild members' Gamertags being displayed – are nowhere to be found. We'll keep pestering the developers on those points.
Plays Gems of War and join the Windows Central Guild!
Gems of War is a deep and addictive puzzle game featuring endless hours of single-player content as well as online guilds and asynchronous player-versus-player battles. Along with Warframe, it's one of the very best free to play games on Xbox One and PlayStation 4. Fans of puzzle games definitely won't want to miss it.
Joining a guild filled with active members and then actively donating Gold yourself is a huge part of long-term success in Gems. If you'd like to join the Windows Central Guild (Xbox One only) and you're willing to donate daily , send a message with your character name and level to EastX on Xbox Live. We'll get you in!
To find out more about Gems of War, read our full review and Achievement Guide. We'll see you on the battlefield!
Paul Acevedo is the Games Editor at Windows Central. A lifelong gamer, he has written about videogames for over 15 years and reviewed over 350 games for our site. Follow him on Twitter @PaulRAcevedo. Don't hate. Appreciate!
I would like to see the ability to sell earned weapons.

Good game, and very welcome update. Still more they could do. I do need to curb my addiction, Gems is stopping me playing anything else! I need to finish some others.

Fallout 4 is doing this to me, I currently have 175 hours logged.

I don't like the system now for having to pick your team before every battle, but otherwise the changes have been welcomed with open arms.

Wish this came to Windows 10 Mobile... Seems suited for it

When this game first dropped I became super addicted, but haven't played in a few days cause of how hectic the holidays have been. Paul, what do we need to do donate daily for the Guild? Next time I throw it on I will shoot you a message with my details.

You have forgot about PC version which also was upgraded.

Good to see 505 keeping this up to date.

if you could automaticly donate i would be in. im sorry but i cant gureentee daily.

Really like the update except for the fact that you can no longer reorder your fighters before a match. Posted via.........deez nutz!!!!!!

I could reorder mine, just press x button when team is displayed, before the battle.

Thanks Peachy! Posted via.........deez nutz!!!!!!

Thnx for the update. I like the new layout. The thing that I miss is when opening chests it doesn't show how many of that troop you have in that window any longer. I use that to tell/remember which ones to look at after opening the chests.

Yeah, bummer that they removed that. Maybe it'll come back in another update.

I know this reply is late, but just wanted to say I hope that they bring a future update for this game that brings more Kingdoms. I love this game and have played it since release. I have gotten all the achievements and completed all Kingdom's challenges and quests. I am running out of stuff to do. Now I just play the Arena, Defend when it comes up, invade (although losing interest in that), and contribute gold. I miss doing the Kingdom quests and challenges.

Good job finishing off those Kingdoms! I agree, they are taking way too long to add the new Kingdoms to the Xbox One version.
Windows Central Newsletter
Thank you for signing up to Windows Central. You will receive a verification email shortly.
There was a problem. Please refresh the page and try again.