'Get Windows 10' app will stop asking you to upgrade on July 29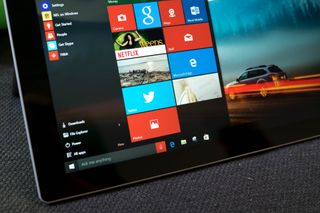 As Microsoft gears up to end free upgrades to Windows 10 this summer, the company has also confirmed it will scale back its reminders to upgrade as well. Specifically, the "Get Windows 10" app that periodically prompts Windows 7 and Windows 8.1 users to upgrade to Microsoft's latest will be disabled on July 29 and eventually removed.
Microsoft confirmed the news in a statement to WinBeta:
For those who have no immediate plans to upgrade and find the prompts to be annoying, this should come as good news. If, however, you'd like to secure your upgrade of Windows 10 for free, you still have through July 29 to do so.
Dan Thorp-Lancaster is the Editor in Chief for Windows Central. He began working with Windows Central as a news writer in 2014 and is obsessed with tech of all sorts. You can follow Dan on Twitter @DthorpL and Instagram @heyitsdtl. Got a hot tip? Send it to daniel.thorp-lancaster@futurenet.com.
Haven't upgraded yet. My PC has Wifi issues!! It's so slow that it doesn't even wanna download. Gives an error Posted from my pretty NOKIA Lumia 630 Windows 10 Mobile App

Did you try using Ethernet? Or a USB-Ethernet adapter if your PC doesn't have an Ethernet port?

Yeah I did at work and it was also slow AF while it's super fast on other computers. What's really annoying is that I just received this laptop as a gift.

Try using a wifi stick to see if it helps

I once used one it was working ok. I'll try one. Thanks☺

If you're near a Microsoft store, schedule a free Answer Desk appointment and let them take care of it.

Or just download Windows 10 ISO in another PC and then upgrade your PC using the image

Well yeah, isn't this obvious? I got Windows 10 once when it got out, made a bootable USB drive and used it to update 4 PCs. I don't think there are many excuses.

So does this also affect devices running Windows 8 bought after 29th? Cuz I'm trying order one now but will arrive after July, what happens?

No Windows 10 for you dude

You could buy windows 10 off you want it...

You'll have to pay after the given date better update now Posted from Windows Central for Windows 10 with a Nokia Lumia 730

U wont get it. But I think by the time u order it it the piece will be with windows 10 out of the box.

Ask the vendor to upgrade it for you? (If it's second hand, I'm sure the seller would have no problem doing so).
OR, cancel the order and buy something that'll arrive quicker.

On the page it says Windows10 but on the cover it's a Windows 8 tablet Here have a look: Confused with what OS it'll be coming with. http://www.amazon.com/Dragon-Touch-Windows-Tablet-Camera/dp/B01CS3PHDG/r... Check the images, it's a windows 8 tab but page says windows 10...how accurate is that? Just want a cheap one coming with Windows 10, if it does not...any recommedations? One I know for sure it's coming Windows 10.

All the specs say it's got windows 10. If it doesn't come that way, open a case with Amazon, their return policy is great.

Or ask a question to other buyers or the seller, rather than have issues later.

"on the cover it's a Windows 8 tablet" What cover?

The only "cover" I see is one of the reviewers had pictures of the box that show a Windows 8 Start screen. Maybe that threw off the original poster.

Don't look at the cover. Covers are made when the product launches and usually aren't updated when a company slightly changes a product. You just look at the specs. Posted from Windows Central for Windows 10 Mobile

Where the hell do you live? No way in hell it should take more than a few weeks to order a computer.

The link is to the US Amazon website. They sell several products..or technically, some sellers do...that ship from mainland China.

Thank goodness they're getting rid of GWX! I'm tired of hiding KB3035583 in Windows Update.

Lol didn't even have to do that cause I was using wsus(till they started offering it there)

GWX can be disabled using a simple registry key.

I could do that, but I have Windows Update set to tell me when updates are ready to download, so it doesn't download anyway.

"GWX has stopped working and needs to close" story of my life... I wonder if this pesky error will finally go away

It won't... Because Windows

Right step from Microsoft.....now Stop worrying about Haters and Move on. when they Realize they will automatically come to Windows 10.

With pirated discs right? Lol

I think windows10 not come with pirated discs because all is feature connected to service like cortana , one dirve , windows store etc and all this run on legal copy only..

I'm Not talking about Pirates... I'm Taking about user who are Bought Original Copy of windows 7/8/8.1 and just Afraid to Upgrade their Windows PC/Laptop to Windows 10. Majority of Windows 8/8.1 users Already Moved to Windows 10. all that Left is Windows 7 Users...when they Realize that Window 10 better for Every thing...they will Move too.
...Weather it's a Pirated or Genuine copy of OS.....User gonna use Store and Other Service Provide by Microsoft or if User creates local User Account....in the End Microsoft Windows OS Continue gain a User.

Some W7 users will not switch to 10. I went back to 7 because my pc is older and not even a dual core or dedicated graphics(that one broke a year or two ago). But I might try it again before that date to keep it free and see if it works better on my pc

Yes I agree right steps. People who are willing to keep their pc and still not upgrading then they probably don't have an idea what they are gonna miss after july

That's funny because there's really nothing to miss. I have tablet with 10 and laptop with 7 and I'm totally fine with 7 because 10 still has so many bugs. The context menu on desktop alone is always visually different, sometimes it doesn't even fit on the screen (it has little arrow at the bottom)

There will always be bugs. In the first 6 months or so, yes, that was definitely a valid reason to not upgrade. But now, not so much. And if something as insignificant as the look of contexts menus is What's keeping you from updating, that's a silly reason. The anniversary update could fix all of your concerns, but you won't know until it's released, and by then you'll have to pay to upgrade. Not to mention the W7 is quickly becoming an obsolete and unsupported OS. From my standpoint, the only valid reason to not take a free upgrade is if there are drivers or other necessary components that are not compatible with W10. Posted via the Windows Central App for Android

It's been quite a long time since I updated my tablet, and this problem along with many others have been there since day one. Even after 2-3 updates nothing was fixed. Anyway, i'll just stick to W7, I dont care if MS discontinues supporting it all. Forget W7, even our desktop with XP is working perfectly fine :)

I have a windows 8.1 PC that I upgraded to windows 10 but I like windows 8.1 better so I double dipped and put windows 8.1 and 10. Funny thing is that Office recognizes both systems as just one PC so I still have 4 PCs left on my subscription I approve this message.

I upgraded, and I miss Windows 7. I'll be reinstalling it as soon as I buy a new SSD. Of course there will always be bugs, noone disputes that, but there are way too many disign inconsistencies, not to mention two control panels. Why FFS?! Microsoft has had long enough to fix these 'quirks' but they haven't, and there's no excuse.

Stupid move on Microsoft's part. They should just keep this as a free upgrade in perpetuity. Otherwise, years from now, there will still be 40% of the market running Windows 7 (as was the case with XP).
MS needs to get people on to W10 by whatever means necessary. Free upgrades are the best way.

I don't think so..... I think MS will hype about the end of offer so much that people who are still not upgrading will think twice and there are chances that they WILL upgrade . Actually if MS waits for everyone to upgrade then it'll be too late. And they'll probably stop support for windows 7 in year or two, and I believe that there will again be a bump on the upgrades in comming weeks. I think they would reach over 500million devices running windows 10 by the end of july.

The best IMO would be for them to after some time of closing the free upgrade, start doing short promotions (giving it out free).

Mainstream support for Windows 7 has already ended. Only security support till 2020.

I always feel like the security support is far too long... I feel like 5-6 years security support is plenty like Ubuntu and most Linux distros. Around a decade is a very long time for me

I don't agree. I think such arrangement is right. I have friends and colleagues around me who consider upgrade but haven't done so due to many reasons, e.g. concern of hardware comptability, or simply they are too busy to do the upgrade. (In fact the whole upgrade process, though taking up to several hours, is not complicated at all) Note that $119 is the price of a fresh new Win10 license. Microsoft have not mentioned the cost of "upgrade" after July 29 - it may be at a price much cheaper than $119. They will decide the next move after July 29, depending on how many people have upgraded from now till 29 July.

They actually do mention it's 119 I approve this message.

what I think is every User connected to internet is once clicked that "Reserve Button" when that Upgrade to Windows 10 Message Pops up. after windows 10 update because of some Hiccups, Driver Download or Mind Washed by some Internet People User thinks that windows 10 is bad so User Get back to Windows 7. what I think is majority of user already owns a Machine which Reserved Digital Licence for windows 10. now they only need to Install Appropriate Version of Windows 10 and Connect to Internet to Activate their Genuine Copy. it's a Cleaver Move by Microsoft.

Right now, they have every incentive to shout "Get it while you still can." Let's see what things look like in September/October. I'm sure they won't charge you the shirt off your back on something that was free for a year. Wouldn't be surprised if they just found another way to make it free then.

I think quite a few will take the offer until then. After that it should cost money, developing an OS takes money

They cannot do that as Windows still not a free OS, at least not this time. The free upgrade offer is just for a limited time and didn't meant to be free, that's why when you get a copy, you still have to pay for it. Though I wished that they extend the free offer for another 6 months as the Anniversary Update will deliver things that the first batch of Windows 10 release lacks, especially some features returning and polish that makes Windows 10 don't look and feel beta. Sent from Turing Machine

Spoken like the true troll you are.

He is a self confessed Android fanboy that celebrates anything that can be looked at as negative towards Microsoft. He is happy that people will no longer be able to upgrade to Win10, which he thinks will be some sort of way for the competition to finally beat Microsoft. Because, you know, year of Linux/Chromebook/Mac.

Correct. It will you nag you to buy Windows 10 instead.

My questions is, this will affect the Media Creation Tool app too?

Shouldnt be any different from 8.0/8.1

For a short while MS should allow those with pirated versions of windows 7, 8 and 8.1 to upgrade legitimately to Windows 10 and see exponential growth. Of course you can do so even now with the media creation tool but MS will not support it with updates later and might even brick your system in future.

You can do that now. I know Windows 7 Loader gets a licensed Windows 10 upgrade. Posted via the Windows Central App for Android

I'm pretty sure large amount of pirate users did upgrade if they know its possible or find a way. Sent from Turing Machine

People with pirated versions should go out and BUY Windows. We all had to BUY it or buy a PC with it. You should too.

I don't have a pirated version. I'm just talking about those who do.

One thing not many notice/mention is the speed of Windows 10 - booting and launching programs is MUCH faster than Windows 7. Plus, Windows 10 does not have the problem of slowing down as you install more and more programs. Windows 7 still has this slowing down problem. Many Windows 7 users should have experience that after logging in to desktop, the OS hangs for several minutes before the first program can be launched, especially for low-end machines. But for Windows 10, even a 2GB RAM tablet powered by Atom does not have this problem - it typically takes <30 sec from power-on to desktop. This is a great improvement many existing Win7 users are not aware of. This is very sad. Some even think Win10 is slower than Win7. (this is only true before Win7 - every major upgrade of Windows makes your PC run slower)

Plus Windows 10 doesn't have as much Aero Glass as Windows 7 does.

And... is it a bad thing? Posted with the Windows Central app for Windows 10 on HP 250 G1 notebook. It is a scary old monster, I think :D

My point is that computers don't have to process as much on the GPU side just to run Windows.

That was my other guess :D And it's right. But you know, some people are complaining about it, and think that Win 10 looks ugly.

Still technically there and other apps will still consume more GPU than what Aero does. Also during those times, PCs that have very weak GPU or not optimized for Aero, they're disabled by default and only run the Aero Basic theme. Sent from Turing Machine

Though there is no need for Aero to come back since the design is considered outdated and not align to new design language (which is still incomplete and unpolished btw). Aero is technically still in Windows 10 when you talk about the gaussian blurring effect on transparency. It still exist and virtually use same thing as the old Aero does. Heck Edge tends to use GPU more as in my case when my laptop use Edge for a long time, it tend to kick the fans at times. Sometimes even causing it to crash, which this GPU-related issue comes back fundamentally from when first version of Edge became public on Technical Preview, which AMD GPU having an issue at the start. Sent from Turing Machine

It's amazing, with an SSD still more so.

All depends on what your doing on it

Of course it is faster.. So was your previous OS when it was freshly installed. It will not last.. Trust me. Posted via the Windows Central App for Android

I still have an ASUS G73Jh laptop that is running Windows 7. I haven't used it in ages though and I'm not sure if it's even compatible with Windows 10.

The Get Windows 10 app will be able to tell you that. You may want to upgrade if possible especially if you are planning to sell it in the future. In the future, I'm sure an old laptop with a supported OS is more attractive to buy than an old laptop with a non-supported OS.

Some people will be relieved and keep living in the past. Now, my thoughts are whether Microsoft will keep the free offer for some time. I'm unsure whether they prefer to have a larger install base or get money from Windows 10 copies. Clearly selling OS licenses is still good business, but I wonder how much, for their strategy in the long run. In any case, after a whole year of nagware and advertisement, there's no excuse for not having upgraded, for those elegible.

I think Windows 10 having continuous upgrades is intentionally to stop this crap of people living in the past who slow down the industry and complain that their PC isn't running well because they install loads of bundleware by clicking ads on google search results along with their apps and preferring to use dated software despite it being visibly slower and less compatible overtime. This is one of the main reasons I love Windows 10. Everyone gets the latest overnight even if they don't know about it, removing the issues of slow down and compatibility issues overtime, as well as letting new innovations hit mass audiences without forcing people to adapt and relearn how to use what they have as it's small gradual improvements. :)

Think of Windows 10 like your web browser. It's always up to date, it doesn't suddenly change drastically and you have to relearn how to use it, it's always secure, supports the latest technologies, gets a better UI and UX overtime, gradually gets small performance improvements overtime, etc...

Imagine if they released a new browser with key features missing and countless bugs, this is what pisses people off and no amount of "emperors new clothes" delusions are going to change that for the majority of people.

Even if it was like you say, it would still be beneficial that everyone was on the same page, using the same "browser" that will get fixed with time.

Sorry, but how is your Web browser always up to date? I have to periodically install a later version. Posted via the Windows Central App for Android

An issue I've seen is that some people think that it after July 29th you have to pay to keep using windows 10 so a lot of people don't upgrade I approve this message.

Really? Wow, there's clearly a lot of people who don't understand anything.

Of course you will have to pay! With every click and every piece of data on your device.. You will pay and pay and pay.. Do not kid yourselves that this OS is free! There is no such thing as a free lunch. Posted via the Windows Central App for Android

I upgraded a laptop to W10 from it's factory install of W8.1. What happens if I find the need to rebuild the whole thing later this year? Will it "remember" that I had W10 on there already? Or will I have to buy it if I every have to rebuild?

Well if you're not replacing the Motherboard you can rebuild all you like. The product key is stored in the mobo's BIOS.

Seriously? I've never heard of that before.

Look up SLIC tables... It's what it's called, Microsoft and OEMs have been doing this from the XP days on SOME machines, I saw it a lot more in the Vista days...

I'm pretty sure the licence key is saved on MS servers rather than BIOS.

Thank god, Some machines I DONT want on 10, they are on 7 or 8.1, going to 10 will break the apps that they run on it (tested and confirmed). Never mind dedicated Windows Media Center machines...No 10 for them (yea, I know there is a hacked version, I was part of the start up of it) It's good that I dont have to battle with running scripts to remove all the Windows 10 SPYWARE and block the updates. Never mind the registry settings just to disable the really annoying pop up...

I like how you made spyware all caps.

Nope, not gonna do it until the Nvidia and Broadcom driver support is worked out. I had to roll back to 8.1 from 10, when I started getting error messages and bluescreens about bluetooth, wifi and display driver errors. Sure, it's likely an Nvidia and Broadcom issue, but in the end it's irrelevant. If the OS keeps blue screening and I can't use it, I don't care *whose* fault it is.

Make an image backup of Windows 7/8/8.1. Do the free upgrade to Win 10 before July 29th. If you're not happy with Win 10, restore the image backup. Then if you decide you want 10, you will have a fully licenced copy to use at any time in the future

It is bound to your motherboard. Actually you can see this if you look at your devices on your Microsoft account.

Really! Do they promise to stop naging us to upgrade? I upgraded two of my machines and have regretted it every time I use them. I will NOT upgrade any of our remaining 7 computers in the office untill I absolutely HAVE TO, if ever. This is the worst Microsoft experience sine the Ribbon Bar or Windows Phone. There are no compeling features in Windows 10 other than the ability for Microsoft to use and share all my data. It is not even particularily secure. The built in security software does not get very high marks in the security world. Please be aware that Windows 10 is only about Microsoft getting at your data. There are better solutions to Cortana, Security Applications, Browsers etc etc available that will run in windows 7 far more stably. Do NOT get confused about what is actually going on here... This is a marketing excercise to get at your data and has nothing to do with you, the user. The so called "features" are least effort attemps to provide a feature list to get you to switch. We are all idiots to fall for this.

The OS is, by design, far more secure than Windows 7. As more w32 apps are moved to the Windows Store via Centennial, that'll greatly improve security even further (apps will install in a sandbox - with no need for registry changes etc). As for Windows Defender - it works as well/badly as it ever did in Windows 7...so you really can't use that as any kind of justification for anything!
W10 is faster to boot, maintains itself better over time, faster to open programs/apps, has an ever growing store, and is more secure. If you feel the need to wear a tinfoil hat when using it, then there are various fully automated tools on the net that allow you to completely disable all W10 tracking features.

Who uses Windows Defender? Posted via the Windows Central App for Android

I love my windows 8.1 on my main pc. Stop asking me to upgrade. I have it and love it on my mini tower pc and plan on getting a new high end win 10 pc. But I also love 8.1 and plan on keeping it on one of my pcs. Just wish I would stop being spammed.

Ha :) I just uninstalled the gwx update

I have had nothing but issues with Win 10. It is very poorly designed and buggy as hell. I really want to go back to windows 7 - it just worked! Posted via the Windows Central App for Android
Windows Central Newsletter
Get the best of Windows Central in in your inbox, every day!
Thank you for signing up to Windows Central. You will receive a verification email shortly.
There was a problem. Please refresh the page and try again.