GetOutCast updated for Windows Phone, elevate your outdoor photography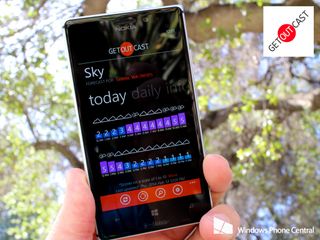 A month ago we showed you guys and gals a new app called GetOutCast. It's another forecast app, but not the way you think. GetOutCast isn't competing against Bing Weather, AccuWeather, or any other "traditional" weather apps. It isn't even for most users. Instead, GetOutCast focuses and excels at providing forecasts for photographers. GetOutCast is a good way to see if you should grab your gear and head out to shoot if you're crunched for time. It has picked up a few updates since its launch and just had one yesterday. Let's check out what's happened to GetOutCast.
Since we last covered GetOutCast it's had a few updates. Those updates were mostly bug fixes. Head to the Windows Phone Store today and you'll see the app sitting at version 1.1. Here's what's new in the latest version of GetOutCast:
All forecasts included with detailed views
GetOutCast (getoutcast.com) has a website component where you can plug in your zip code and get various forecasts for your outdoor photography. Forecasts on the site are broken up into different categories: sunrise & sunset, sky, astrophotography, lunar, fog, landscape and waterfalls. The initial release of the Windows Phone app only had forecasts for sunrises and sunsets. This latest update brings in all the other categories and offers them each a detailed view.
Tap the little search icon in the app bar to bring up the other forecast options and switch between them. Just tap on any one of them to go into their detailed view to get more info on the predicted conditions.
GetOutCast is a killer app for any amateur, hobbyist or professional photographers who like to get outside and shoot. There's also some room for smartphone photographers to use this app since a lot of us are rocking Windows Phone devices with kickass cameras. Planning to shoot the moon at night? Load up GetOutCast and check out the lunar forecast. When you plan on shooting the moon you're going to want to know the current size of the moon, conditions for cloud cover and other info. GetOutCast rates the scores the predicted forecast on a scale of 1 to 10. The closer to 10, the more likely you'll get a killer lunar photograph.
GetOutCast is free in the Windows Phone Store. As of right now, this application works in the United States since you'll need to put in a zip code to pull up locations.
Windows Central Newsletter
Get the best of Windows Central in in your inbox, every day!
Awesome, glad to hear you're finding the app as useful as I. Please let me know if there is anything you'd like added or could be made better.

This one is awesome. An app with a specific purpose and very useful.

It's great to hear you're enjoying it. Please let me know if there is anything we can do to make it better.

not available in europe... why?

Luis, expanding beyond the US borders is definitely on our roadmap. We started with the US because we live there (which makes it easier to determine when a change in the algorithm needs to be made) and the data is accurate enough for reasonably reliable forecasts. For now, please register and we'll let you know when we've made the jump to Europe.

yeah I have mentioned before that this app needs international support. This would be great here in Australia; our Bureau of Metrology has good APIs for devs to tap into

Thanks for the tip ZipZapRap, their APIs look great and appear to have sufficient detail to make forecasts from. I am adding it to my list for when we expand beyond our borders.

Damn not featured in India yet.. bleh..
Windows Central Newsletter
Thank you for signing up to Windows Central. You will receive a verification email shortly.
There was a problem. Please refresh the page and try again.