'Gigantic' developer Motiga shut down
Motiga, the development studio behind hero shooter MOBA Gigantic, has shut down.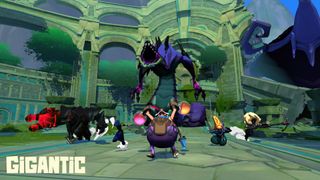 Motiga employees have confirmed the shutdown, indicating that all employees are impacted by the shutdown. In a statement to Destructoid, Motiga founder and CEO Chris Chung confirmed that the shutdown was a monetary decision by Gigantic publisher and studio owner Perfect World. From Chung:
As for what the studio's shutdown means for Gigantic, Chung says that the game will "be left at the hands of a maintenance team composed of a few dedicated folks at Motiga." So, at least in the near term, the game will remain available to play, but it likely won't see any new content. Chung says that the maintenance team will continue to work on the game until "it doesn't make sense anymore."
The shutdown follows a rough course of development for Gigantic as Motiga dealt with publishing and funding issues. The game was originally due to be published by Microsoft, but that deal seemingly fell through after a spate of layoffs at Motiga in the preceding months. That's when Perfect World assumed publishing duties of the game, acquiring Motiga in the process. Gigantic finally released in July, 2017, on PC, Xbox One and Windows 10.
Gigantic remains available to play, but its future is very much uncertain.
Windows Central Newsletter
Get the best of Windows Central in in your inbox, every day!
Dan Thorp-Lancaster is the former Editor-in-Chief of Windows Central. He began working with Windows Central, Android Central, and iMore as a news writer in 2014 and is obsessed with tech of all sorts. You can follow Dan on Twitter @DthorpL and Instagram @heyitsdtl.
Damn, that sucks for the employees... Microsoft should have kept this on float for awhile. It's not like they are struggling for money... with all those billions off shore.

It isn't Microsoft's responsibility to keep struggling developers alive with welfare payments.

Seriously, is that what you took from that?
Microsoft needs pro-active developers, life is give and take, it goes both ways. By helping the studio, they enable developers to continue what they love doing and in the process get more developers on board. I guess most people can't see beyond their bubble.

First of all Perfect World has tons of money and can keep a company like this afloat if they wanted to. They don't need Microsoft for any reason. Second, the game was nothing special. I played the beta just before launch and it was just boring and derivative. I'm not surprised it didn't capture enough people to stay afloat.

Are you kidding me, boring derivative? Oh come on. There are only a few games like this, with that 3rd person MOBA style. Way better than Smite. Very cute art style. I loved it. It was a very difficult game to "get into" as the mechanics were pretty complicated. The code quality, polish, UI were all very high. I really feel bad for this team/company. They clearly put a lot of emotion and energy into this game. This reminds me a lot of Sunset Overdrive - where they will never really get the credit it deserves. An excellent game, misunderstood. Real shame. I agree actually with the post above. MS should have paid small beer to keep some of the higher quality titles alive, and putting marketing effort in. But we all know how good MS are, or how committed they are to marketing (not).

I'm glad you like it but it's how I felt. The art style isn't my taste and I also grew bored of MOBAs including Smite. But I agree that there probably haven't been enough marketing to communicate what is great about it to push it ahead in a heavily saturated market (of games in general).

This is the kind of amazing game that's not for everybody, and it's really healthy that things like this exist. Otherwise it's Overwatch, or PUBG or whatever passes for what the kids are supposed to like, and you have to play that or don't play.
Same happened with Evolve, another game that was killed for being different. And Fable Legends had a similar fate, although before even it was released. It was wonderful.
But that's the way it goes.

@FooseTV. That's your opinion and other's have different opinions.

And others have the same opinion. I know quite a few that deleted the game after trying it for a bit. Obviously enough people didn't have the same opinion as you in order to keep it profitable.

Except that would have meant an also-ran (at best) game in a sea of mediocre, class-based shooters. This game wasn't exciting or unique, it was just another in a mess of options, and it failed to stand out. They would have been blowing money to keep an online multipalyer game running with barely any player base.

Another game i got to test since alpha pitty this happened right behind fable legends what a shame.

Wood, didn't see this one coming. It saddens me, because I play the game and knowing their history, it was a small miracle that it was released at all. First Fable Legends and Lionhead, now Gigantic. It seems to be increasingly hard to keep a game afloat these days. Maybe there's too much competition, maybe the costs of developing and maintaining a game are too high (whether they should be or not). I relate this to other things happening in the industry, like the whole crate/microtransaction/paid DLC controversies. This leaves me wondering if there's any hope at all to survive outside the indie circuit (or including it), against the established giants like ubisoft, blizzard and the big names. In any casa, this is bad because it means that it will be hard to find games which deviate from what's proven to work, and there's going to be less alternatives to "what sells". Gigantic was a good game, a project you could tell real people poured their heart into. Their struggle, their story, it was inspiring, but ultimately didn't end well. They deserved better. As always, the market and the almighty dollar will crush any dream in the end.

@ Fruid. Agreed. In fact I just posted above saying something similar to you : " a project you could tell real people poured their heart into". Company/game deserved to succeed. Feel so very bad for them. Really liked this game.

It was great, the style and gameplay caught my interest, and I almost never play mmos or online games.

These guys set out to battle Dota and lol with nothing new but a third person view. I played it and I didn't really care for it much. no one will move over from Dota/LOL which they invested tonnes of time into This is nothing new. I think it would have turned out better to make a single player adventure that allows the use of different characters and even co-op.

This isn't surprising. Everyone's jumping on the class-based bandwagon, and there are only so many riders for all these rides. Who needs this with Team Fortress 2, OVerwatch, Quake Champion, Lawbreakers, Battlefront 2, Battlefield 1, Call of Duty World War II, and others I'm surely forgetting? There's just no chance for this game when it's trailing industry leaders into a saturated genre without anything exciting to offer over the alternatives.
Windows Central Newsletter
Thank you for signing up to Windows Central. You will receive a verification email shortly.
There was a problem. Please refresh the page and try again.