Glance at your remaining charge with myBattery Lockscreen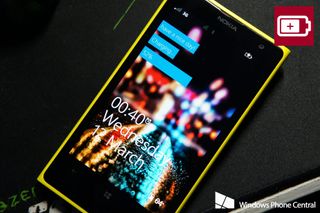 From the developer of myBattery, a popular Windows Phone app to monitor your internal charge, comes myBattery Lockscreen. This app, as the name suggests, enables users to glance at the status of their battery on the lockscreen with detailed information on percentage, status and a custom message. It's a super handy little app, which is completely free to use.
Those of you who haven't yet checked out myBattery, we recommend you do so as it's a superb app (there's a free lite version too). But should you not have it installed, fear not as myBattery Lockscreen is a standalone app, which saves on resources and avoids issues with the Windows Phone operating system.
The app can be configured to display custom text on the lockscreen, alongside the percentage of charge left, as well as the status of the battery (whether it's charging or not). A custom background can be displayed or a solid color, it's entirely down to personal preference. While functionality is simple, it's a breeze to use and quick to set up. There's little in the way of clutter here, folks.
The app won't suck juice from your Windows Phone either. The background agent will run every 30 minutes, but if you'd rather check through more detailed reports, we urge you to check out myBattery for the full experience. There are – of course – limitations with myBattery Lockscreen, thanks to the OS. These include:
The lockscreen can only be updated approximately every 30 minutes
Battery saver mode disables the background agent
The background agent will cease to function in flight mode or without an Internet connection
​You can download myBattery Lockscreen from the Windows Phone Store for free. Again, you don't require myBattery to run this app, which is an added bonus. We've also been informed that more features are planned, including the ability to configure Bing backgrounds for the lockscreen.
Windows Central Newsletter
Get the best of Windows Central in in your inbox, every day!
Rich Edmonds was formerly a Senior Editor of PC hardware at Windows Central, covering everything related to PC components and NAS. He's been involved in technology for more than a decade and knows a thing or two about the magic inside a PC chassis. You can follow him on Twitter at @RichEdmonds.
The article says the background agent runs every 30 seconds...i think you mean minutes lol.

Updates aren't even "every" 30 min on ANY battery meter app, its the little lie they all claim....

Why do background task not work when there is no Internet?

Windows Phone OS bug. Have the same problem with my app Cal..

I don't have that problem, does it happen a lot?

Yeah I have it with cal too, in fact I have with every single live tile on my start screen!!

Same here with Lockscreen Manager Pro!

I guess 99% of the time the background tasks are pulling external data as that's their primary purpose.

I suspect anybody with even the smallest amount of common sense starts questioning why this stupid mobile OS needs live internet access to display that damn battery charge or any other non-internet-dependent information or statistics on a "dead" tile or on the lockscreen. Actually ALL live tile becomes dead as soon as the wp8 phone stops connecting to the internet. This frozen state is happening until the phone connects back to the internet. If that happens inly 1 week later, guess what, your battery charge data from last week is displayed fir 7 days on the "live" tile. Do you see now, what that live tile means now? if you dont believe me go and check it, eople start be schocked when they see it with their own eyee..

Awesome lock works for battery etc when there is no internet

Good question. I'd also like to know why an app that only monitors the battery needs access to all this as well. owner identity music library photos library media playback data services phone dialer movement and directional sensor web browser component

That capabilities are used to display advertisements. Sensor by default

It would be neato if it could go over your current picture. I use Lockstream, so the picture changes every 30 minutes. Probably isn't possible with OS limitations.

Looks cool n sorry to nit pick but in the image the lock screen text says the battery is at 52% while the bottom right icon says 64%...

Just about to comment on the same thing! Attention to detail a bit lacking. Guess two different apps both checking for battery but out of sync. Looks crap though.

Thanks! Downloaded and using on my Lumia 1520

Only slightly off topic... But am I the only one who suffers from the "30 minute" background updates not always working... This has been since WP7... What is MS doing now a days... Lol. L925. Referring to live tiles specifically... Like, all of them.

I should add that WPC app seems to be the most responsive.

What a nice wallpaper lockscreen on the device... Anybody got that image file?

Where can I get that wallpaper?
Windows Central Newsletter
Thank you for signing up to Windows Central. You will receive a verification email shortly.
There was a problem. Please refresh the page and try again.