Creator of glƏƏk! Twitter app releases Cowlick! for those with lighter tastes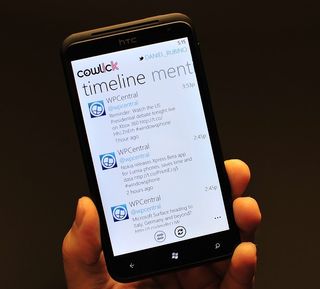 Moolicious. And temporarily free.
Twitter apps are like shoes—everyone has their favorite and there is tons of variety out there. The client glƏƏk! has been quite popular lately what with its unique design and more rare features like "Extras", "glƏƏks", "pƏƏks". But what if those distinctive add-ons are just not your thang?
Enter in Cowlick! It's light in a few ways: for one, it is light themed and two, it doesn't have those aforementioned features. Instead, you're left with just a really robust and awesome Twitter client.
What makes Cowlick! fun is the humor found within the design and settings—it basically has a personality. Whether it's "the Verge" setting (blames Twitter errors on Microsoft), font size selection ("Normal for 'Normal People'), the app feels quite fresh.
Sure, your other features are there too: multiple account support, inline images, search, auto-contact fill, font effects, shrink URLs…it's all onboard. So it's not lite on features by any means.
Oh and did we mention it's free for the next "few days"? It is, so that means if you should go and download it "lock in" that price for future updates. Speaking of, if you notice on page transitions the screen momentarily flickers to black, no worries. That was a small oversight and will be addressed in the already submitted version 1.1 update due out soon.
What else is there to say? Cows are cool and so is Cowlick! by Liquid Daffodil. Grab it here in the Windows Phone Store and let us know in comments what you think (the devs are listening). And don't forget about the other recent and interesting LD app, Cumulotweetus.
Windows Central Newsletter
Get the best of Windows Central in in your inbox, every day!
Daniel Rubino is the Editor-in-chief of Windows Central, head reviewer, podcast co-host, and analyst. He has been covering Microsoft since 2007 when this site was called WMExperts (and later Windows Phone Central). His interests include Windows, laptops, next-gen computing, and for some reason, watches. Before all this tech stuff, he worked on a Ph.D. in linguistics, watched people sleep (for medical purposes!), and ran the projectors at movie theaters because it was fun.
These guys really mean business. Their apps are fully functional, fun and well supported.

yeah, great work all around. would love to see an APP.NET app from these guys!

My world stopped working when I started using Liquid Daffodil apps. Its not my fault that I can't get a job, get sexed up, or get a bus pass. Its all Liquid Daffodils fault. He ruined my world, nothing works! Any future medical issues are the result of Liquid Daffodil. Wait, what? Liquid Daffodil has email support that actually fixes issues?

I shall be looking into this definately. Gleek became my choice after Carbon anounced they were jumping from the WP ship...and as powerful as it is, I've found it a little bit too bloated with all the extra 'fun stuff' that is anything but...fun (IMO). For instance when retweeting with Gleek, there's no momentary message displayed to tell you its been sucessfully done so.. I've felt that for all the updates they push out, the dev's seem to be missing some of the smaller but more instinctive things. A little too much style over substance perhaps?

Of course there are always a few things here and there we fix or enhance along the way, but hope you give Cowlick! a spin. Our goal is to make your Twitter life a little easier and more fun, and although glƏƏk! will always ve tons of fun extras, and be a little on the "wild side", our goal is to ALWAYS give our fans what they want. We'd LOVE to hear from you in an email what you'd love to see changed in future updates....we only do this for the love of the fans! :)

Well thank you for a thoughful and gracious response guys. I cant believe it sounds like I cant cope with the wild side of a twitter app lol (i think thats a new low for me,, but i take your point..) but certainly, I will be supplying feedback! What cannot be denied is your fresh approach to the platform, a great thing undoubtedly. Got Cowlick downloaded, so im off to try it out!

Amazing how awesome twitter apps can be yet the official Windows Phone twitter app is so lacking.
In any case, I'll give this app a spin even though I am not a fan of the light theme.

We weren't fans of the Light Theme either, until users pointed out to us how AWESOME glƏƏk! looked in Light Theme, and yet because we used Dark Theme we couldn't see it. That was a key goal for Cowlick! ...Light, light, light! ...because Albinos rock! :)

Ever thought to add twilonger support like twabbit...they seem to be the only one that does

Could the light/dark theme be an option setting?

Liquid Daffodil apps are so awesome. Weird, but awesome!

LD (Codesmith) is actually one of the best WP developers out there, no doubt. Wish we had more dedicated and platform loving developers like him. Kudos LD,.I'm proud of ya ;-)

I agree always answered me right off. there are a few out there who really stand behind the products they make.

Very nice. Paid for Carbon a while back after trialing a few and was sad to read on here the developer won't be taking it through to WP8. This looks like the perfect replacement for me. Would still like the option for a dark theme though. Just find it easier to read white text on black background.

We are still open to that of course...maybe we need to create a "Reverse Mode" for Cowlick! ...like a photo negative!

I'd really like that feature. I already have Glëëk, but I don't use pëëks. The wallpapers are actually from Outsider, which I also have (and love). A "reverse" Cowlick would be right up my alley. :)

+1 would be a great option

Slight teething issue, I added an account, pinned it to the start screen. Added another account. Pinned the app from the start screen, deleted that pinned tile. Opened the app from my original acccount pinned tile and it showed me the welcome message and had lost both authorised accounts and the preferences I'd selected.

That's a very strange scenario and behavior. If you can reproduce it we'd love a support email and walk through together to make sure we catch anything for the next update! :)

It's a bit sluggish on my lumia 900. UI is nice though.

UI is nice? come on, it's the same UI as 90k apps have! boring similar panorama!

I'm a gleek guy I like Mehdoh as well. I'm very happy with both I could never figure out which one i liked best so I use both though Gleek I tend to use more because I can color code people that I enjoy reading the most....

I like Glëëk the best since inline pictures are bigger than in any other Windows Phone Twitter apps.

Carbon has bigger inline pictures. Plus Carbon offered the Video Thumbnails too. Gleek needs to add that

The image of the sideways cow...reminds me of something. Not sure what.

Trust me, it was originally "more reminiscent" of something but my wife made me change it. :)

I seem to have the same problem. I added my two accounts and pinned one of them to my start screen. While reading tweets the application crashed. I opened it back up and it forgot my credentials, took me straight to the welcome screen.

If you can reproduce this please shoot us a support email, although every new app will have a bug here and there we want it tight for our users! :)

don't we have such great Facebook clients?

Everything looks good but the icon. I don't get it. It's so ugly, I couldn't ever have that on my homescreen. I am not a fan of the Gleek icon either, but meh. I guess I'll have to try both out when I switch over to WP.

I think the agreement is highly technical and to much to ask of some people...

Another problem here with the app forgetting my account. Only had the one account authenticated and was using it great all last night and early this morning. Just gone to check my tweets when I got in the office and my account wasn't there and everything had been reset to defaults.

I've had this happen twice in less than 24 hours.

I, went and used all last night. an great I didn't notice any problems though and this is just me the white BG i can't get use to but that's me other than that it was grate my wife took a peek at it and though it was sleek so she went and got it and used it as well last night. all and all really nice on the lite end. nice job...

Always loved Gleek! , but used it on a trial mode only. Just downloaded Cowlick. Looks impressive, but setting up the account timeline for the first time is taking ages! So do few other tabs!
Maybe i should try it under a wi-fi connection. Looks impressive though. Once fully ready to go it should be great hopefully!

This will be perfect for me. I like Gleek but like the 360 dashboard, I skip past all of the extra stuff to get to what I want to do. I'll add my voice to the chorus of folks who'd like a dark theme.

Coming from iOS I am used to some fairly decent Twitter apps on that system. Namely Tweetbot & Twittelator Neue. When I made the move to WP I started the search of getting the same, or somewhat of the same, apps to use on my Lumia 800. The closest I could get for a Twitter client that I liked was Carbon. While I still use it I am, like others, miffed that Carbon is no longer supported in WP OS. So I started demo'ing new clients. The minute I fired up Gleek! I was taken aback as to how cumbersome it looked. I am also trying Rowi and Mehdoh, where so far I'm growing partial to the latter. However, I will try Cowlick! as well. I'm not a big fan of the names Liquid Daffodil use but that's just me. I really wish Twittelator Neue was available on WP. Oh well!

I loved Gleek!, but I ultimateley stopped using it because it was ridiculously sluggish on my HTC Arrive. Cowlick! has solved that problem completely! Amazing how much faster this app is just by striping the extra features that Gleek offers.

Outside of the prett ugly logo, and the lack of a dark theme (you really have no choice but to add on at this point LD lol), this app is great! May be my new main client...but it will be hard to knock of Mehdoh.

I had a problem as well. Closed & reopened the app & all of a sudden my account was gone & preferences were reset. This is the second time it happened. No idea why :/

wpcentral says "...it doesn't have those aforementioned features"
that's a LIE..... this version is THE SAME as the black geek version, the only difference is that is in white....... I wish it really didn't have those "it doesn't have those aforementioned features"

I wish CARBON developers give the source code to somebody else so he can continue with it..... carbon is STILL the best twitter app on WP!

Can these people ever up with come up with normal names?
Windows Central Newsletter
Thank you for signing up to Windows Central. You will receive a verification email shortly.
There was a problem. Please refresh the page and try again.