Goat Simulator is among June's free Xbox Games with Gold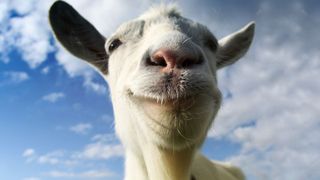 Members of Xbox Live Gold will be able to get up to four Xbox One and Xbox 360 games for free in June. Included in this round are Goat Simulator, The Crew, Super Meat Ball and XCOM: Enemy Unknown.
Goat Simulator, the open-world game where you play as a goat that wrecks havoc on the land, will be free for the entire month of June (opens in new tab) for the Xbox One. From June 16 to July 15, Ubisoft's racing game The Crew will be free for Xbox One owners as well. From June 1-15, Xbox 360 gamers can get the challenging arcade game Super Meat Boy for free, and June 16-30 will see 2K Games' sci-fi strategy game XCOM: Enemy Unknown going free. The Xbox 360 games can also be played on the Xbox One via the console's backwards compatibility feature.
Super Meat Ball :DDD Priceless!

I thought the same thing. I want to play Super Meat Ball!

Super meat ball?! that's the best game ever!

Goat Simulator. Well clearly Games with Gold has just hit rock bottom.

Bottom?! This is grade A stuff here! I considered buying, but kept holding out. Sure enough, here it is. Can't wait!!

Oh yeah. Because nothing is more fun than purposeful, repetitive, boring glitches.

You must be real fun at parties

Ew parties. Parties aren't any fun. They're loud and crowded and smelly.;)

Because the rest of the games aren't great..

Oh those are fine. But Goat Simulator is so awful it's actually dragging the others down xD

Goat Simulator is indeed awful on the technical side, and yes it is indeed a rather pointless game, but it is fun when you just want to do something random at the end of your work day.

I never thought it was fun. Glitches are only fun when they happen randomly and dynamically. They're fun when they're not supposed to happen. Goat Simulator just throws the same glitches at you over and over again. And I just love all the downvotes I'm getting in these comments. Fanboys are awesome.:D Windows Central for Windows 10-Nokia Lumia 830

Well its a old PC game what you expect

Never played it, so I couldn't say anything about it.

Not everyone have money to buy games everyday.

Dude I don't have money to buy games everyday haha.

goat sim eh ok but the flappy bird thing will drive me nuts, the crew eh garbage ,super meat boy never played, xcom= cool

My daughter wants to try this. She loves animals and she loves destruction.

This might be the most excited I've been for a Games with Gold. Not saying it's actually the best game, but I am excited at the prospect of goat destruction.

Never owned Super Meat Boy so great. The Crew, even though it didn't get great reviews is still a "full retail" game and looks like it will be good for a bit of fun. XCOM - Been tempted by this on PC numerous times but never pulled the trigger, so cool! Goat Simulator - Heard it's good for a laugh and there's worse games out there, another one I almost picked up on PC when it was dirt cheap. Should be a laugh Not a bad month TBH

Xcom is aweosme. Never played it on console so idk the control scheme, but it's def fun.

The Crew is an intriguing add. I will probably play it, since FH2's price has stayed too high for too long for me to ever really consider buying it. The rest is meaningless to me, not at all interested in the other stuff.

It's a fun game. A bit shallow, but masses of content especially for getting it free.

Exactly what I though, and you might as well wait for the end of the year, FH3 should be coming out

Super Meat Boy is the correct name it seems. It is listed as Super Meat Ball initially.

I was wondering if this was going to come out on gwg. I own it on iOS for my iPad. The other day I was tempted to check the price on Xbox and buy it if it were cheap

I'm glad to see they are all games that I don't own already.

Super Meat Boy is fantastic and worth it if you've never played. Hard as nails, but you only have yourself to blame when you die (and die you will)

So no Goat Simulator on 360?

Pretty fantastic month with gold again! :) Sony need to step up their game! There's getting consumers to buy their consoles, and then there's getting them to use them!

whyyy. i allready purchased the game. i need to stop buying games so i get new games for gold lol.
Windows Central Newsletter
Get the best of Windows Central in in your inbox, every day!
Thank you for signing up to Windows Central. You will receive a verification email shortly.
There was a problem. Please refresh the page and try again.